One always ponders over why the witnesses should not have poor memory when answering cross examination questions or recounting events that occurred six years ago.
Too many witnesses seemed to have drunk some Harry Potter-esque Philosopher's Stone magic elixir that has Botoxed their fading memory to make it as good as new again.
Vaihayasi Pande Daniel reports from the Sheena Bora murder trial.
Illustration: Dominic Xavier/Rediff.com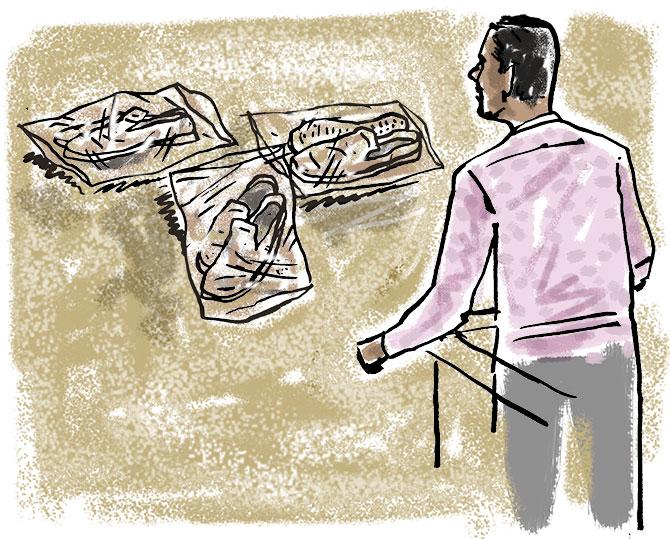 July 13, Friday saw a blink-and-you-will-miss-it kind of witness in the Sheena Bora murder trial at CBI Special Courtroom 51, Mumbai city civil and sessions court.
It was a rather quiet day in court.
Not much excitement. Or adrenaline. Nor any accidental eyewitnesses with astonishing accounts.
No geography Or dramatics. Just a little bit of shoegraphy.
The corridors outside the courtroom did not buzz with anticipation either. There didn't seem to be any hearing in the PNB-Nirav Modi scam before CBI Special Judge Jayendra Chandrasen Jagdale.
Ganesh Yashwant Ghadavale, the store manager of the Bata shoe shop at Grant Road, south Mumbai, gave his evidence on Friday.
But before he took the witness box there was a small row.
Accused No 1 Indrani Mukerjea's lawyer Gunjan Mangla stormily approached the judge to say that the prosecution had changed the witness at the last minute and informed the defence about the new witness only at 11.30 am that morning.
Mangla said they were not prepared for the cross-examination and Indrani's trial lawyer Sudeep Ratnamberdutt Pasbola had excused himself for the day in advance.
The witness that had been scheduled for Friday, the owner of a liquor shop in Worli, south central Mumbai, was sick.
Mangla: "The witness is not well, we understand. But we are not conducting the cross-examination today."
Judge Jagdale queried icily, in a perplexed tone that suggested Mangla was speaking in Swahili: "You are not 'conducting'? It is not your prerogative!"
Mangla agitated: "We were only informed at 11.30 (who the new witness would be)."
The judge turned to CBI Special Prosecutor Kavita Patil: "You have to inform the court."
Patil said there were over 200 witnesses on file.
Judge Jagdale: "But you are bringing witnesses as per the convenience of the prosecution. How many witnesses today?"
Patil: "Two," mentioning Ghadavale's name and one other.
The witnesses, who were sitting in the front row, were unfamiliar with court procedure and solemnly got up when they heard their names, raising a few smiles. They were gestured to sit down.
Patil said she had so many witnesses to go through and though one of the witnesses had cancelled abruptly, she felt it was most important to keep calling fresh ones and finish with them as quickly as possible, keeping the process going.
Mangla said she didn't dispute that, but if she was given the names of a selection of few witnesses beforehand they could all be prepared and Patil could schedule them at her expediency.
The judge asked Mangla: "Have you read the earlier statement of the witness?"
Mangla firmly: "I have read it, my lord."
Judge Jagdale baffled: "Still you feel..." implying that even for this not very significant witness she felt it necessary that Pasbola conducted the cross examination.
Mangla said she did.
The judge, who is easy going and good-humoured -- he loves to crack jokes -- abhors unnecessary delays.
His face begins to look like thunder when he discovers there is a delay being entertained in his courtroom, which is preventable.
It is something he is very strict about.
Since judges and courts are up against enormous systemic delays, Judge Jagdale strives to minimise any deferments in his control.
It doesn't matter a jot to him that the busy defence lawyers in the Sheena Bora murder case have several other clients and impossibly demanding schedules to almost mathematically balance, with one kink triggering an upset.
The judge is always adamant that they cannot delay proceedings.
Ghadavale, 37, wearing a light purple, checked shirt and grey trousers, and sporting a thin moustache, took the stand.
His testimony lasted all of 10 minutes.
From 2010 to 2014 Ghadavale had been working at the Century Bazar, Worli, outlet of the shoe chain, that has a turnover in India of Rs 24,972 million.
On the morning of Sheena's murder -- April 24, 2012, which happens to be Ghadavale's birthday according to court records -- Indrani had allegedly stepped into this outlet to buy three pairs of shoes.
These shoes, according to former Mukerjea driver Shyamvar Pinturam Rai in his testimony before the court last year, were worn by all three accused when they went to Gagode Khurd, near Pen, Raigad district, to dispose of Sheena's body.
Where exactly the shoes were found, after the murder, has not been entirely established.
But one pair, at least, that Sanjeev Khanna, Indrani's former husband and a businessman from Kolkata, wore for two hours or so that ill-fated morning, were located in September 2015 at an estate that has been converted into an elegant heritage resort, in consulation with Sanjeev, in Raypur, 25 km south-west of Kolkata, according to news reports of that date.
Patil, shepherding Ghadavale through his brief deposition of evidence, asked in Marathi: "When did the Khar police station (north west Mumbai) call you to give evidence in the Sheena Bora case?"
Ghadavale: "2015."
Patil asked what happened at the police station.
Ghadavale replying in Marathi: "During their enquiries I was asked if I sold two pairs of gents shoes and a pair of ladies shoes (of a particular kind) in April 2014 or I think 2012..."
He looked at Patil unsure.
At Patil's prodding, he said all the three pairs were canvas shoes.
He never said or described to whom the shoes were sold to.
Perhaps being the store manager he had not handled the transaction directly with Indrani and whoever did was not available.
Indrani, looking attractive in a white kurta matched with a purple churidar, a green and purple chunni and a purple bindi, studied Ghadavale carefully when he spoke about the shoes purchased.
He did not look at her.
Patil checked if the Bata manager could identify an invoice.
A sheaf of two or three papers, stapled together, were pulled out.
Mangla, who was in a fiery mood, objected, saying the defence had not yet seen the document.
CBI Special Public Prosecutor Bharat Badami intervened: "Why are you taking objection in advance?"
The judge laughed.
The invoice turned out to be the note from Gyanchand Maurya, a lawyer who represented Bata India on legal matters, that was attached to a paper detailing the purchase in April 2012.
This time the judge objected, saying that a document could not be proved to be evidence because it was supplemented by oral evidence.
Patil vociferously argued about the legitimacy of the document and added, "He (Ghadavale) cannot be expected to have photographic memory."
Kavita Patil, who is apparently the only woman CBI prosecutor in this court, can battle a point out before the judge with the same vigour and fierceness as Pasbola does.
Patil, who smiles a lot -- warm smiles -- and loves to good-humouredly rib her colleagues at the lawyers' bench, has her roots in Gholvad on the north coast of Maharashtra and is the first lawyer in her family in three generations or more.
A tall woman, her special selection of black and white or black and gold court saris, always catch the eye, in a court where most women lawyers only wear shirt-pants or salwars. It is interesting that a pretty sari affords a woman a special presence in a courtroom.
Judge Jagdale countered Patil's argument and then in reference her remark about photographic memory mused, with a beam: "Then the witness is an honest one, if he does not have photographic memory. He is a reliable witness."
In that one casually uttered sentence the judge drolly imparted tremendous wisdom.
As a mere spectator in Courtroom 51 one always ponders over why the witnesses should not have poor memory when answering cross examination questions or recounting events that occurred six years ago.
Too many witnesses seemed to have drunk some Harry Potter-esque Philosopher's Stone magic elixir that has Botoxed their fading memory to make it as good as new again.
The documents were put before Ghadavale, who declared, "The said invoice is in relation to the purchase made on 24/4/2012."
Ghadavale, who has been working for Bata since 2007 and lives, as per court records, in Dhatkopane West (a locality near Mumbai Google was unable to locate) was an earnest, helpful sort, eager to be of assistance, often overstepping his brief.
Patil asked if he could identify the shoes sold that day at the Worli shop.
Ghadavale, cheerful, upbeat, a man you would love to buy shoes from, said he could provided they were in an identifiable condition.
The always well-organised court clerks pulled out three mangy-looking plastic bags.
Each plastic bag was gingerly opened by Ghadavale, with the assistance of the clerk and he peered delicately at the heel tag, triumphantly reading out some 6 or 8-digit number -- obviously an upbeat moment in the life of Bata shoe salesmen, whose footwear one did not have a chance to view.
The number indicated maybe the style of the shoes and perhaps that the pair of shoes matched the numbers in the invoice.
Ghadavale repeated the procedure for each pair rattling off its price (then?).
The two pairs of men's canvas shoes were "MRP 249" and the ladies pair was "MRP 299."
The pairs of sad-looking shoes, that had been seen before in this courtroom -- when they were identified by Rai -- were then unveiled in a cloud of dust.
They were canvas shoes of an indeterminate colour. They might have been beige or grey at one time, but in July 2018 they were simply dust coloured.
They were packed away, never to be seen again perhaps and never to have further owners.
Had any of them ever had an owner?
Ghadavale's examination in chief ended. He was not asked to identify Indrani. Perhaps they had never met. Or he had told the prosecution that he did not remember her. It was not clear.
Before the proceedings began the prosecution had primed Ghadavale that Indrani would be the woman sitting in the middle in the accused box.
Judge Jagdale turned to Mangla: "Would you like to examine him?"
Mangla shook her head, looking uncomfortable. She added: "These are important witnesses to us. We will examine both the witnesses on the next date."
The judge looked displeased: "But is there anything in his statement that is against your client? Why are you prolonging the matter?"
Rather irritated, the judge went on to say that there was nothing that substantive in the witness's testimony that it called for a delay in completing the cross examination and altering the schedule of the court.
Mangla, sticking to her guns: "But maybe something later might be relevant. I will make an application for an adjournment."
Judge Jagdale's ire grew.
"Without seeing the next chief?" He continued to reason with Mangla, saying it was an inconvenience to the witness and the witness was not significant enough to merit this kind of delay.
Mangla, who was wearing a white embroidered shirt, a smart black jacket and trousers, asked for a few minutes of time. She and her assistant went out (her assistants are mainly young women). Perhaps to call Pasbola and take his inputs. Or see if he could come.
When she came back into court she pored over her papers for a bit and then began the cross examination of Ghadavale, with the firm approval of Judge Jagdale, first asking if he was comfortable speaking in Hindi.
She asked about 15 questions speedily and efficiently.
After asking him when he joined Bata, she asked him how many times he had been called to the Khar police station.
Ghadavale: "Do baar (Twice)."
Mangla: "Dono din aap ka statement liya? (Both times did they take your statement?)":
Ghadavale: "Panch tareek (September) ko statement liya. I went on the 18th too."
He said he had gone to the CBI just once as far as he could remember on October 1.
Mangla enquired a bit about his working hours, which were 10 am to 9 pm with one day off a week.
Mangla: "Aap ke dukaan mein kitne log aate hai daily? (How many people come to your shop daily?)"
Ghadavale checked: "At Grant Road where I work now or at Worli where I was working?"
Mangla: "Dono jagah (Both places)."
Ghadavale: "Worli mein 60 to 70 aate the daily kyo ki 50 bill banta tha. Grant Road mein 100 ke upar aate hai or 90 bills banta hai. (At Worli about 60 to 70 people came in daily and 50 bills were rung up. At Grant Road over a 100 come in and 90 bills are rung up daily)."
Ghadavale said he worked in the Worli shop from November 2009 to early 2014.
Mangla: "Can you tell me what your daily sales figures were in April-May 2010?"
Ghadavale could not give any daily figures offhand because they only had yearly totals.
Mangla: "April 2012 bhi nahi bata sakte? (You can't give figures for April 2012 either?)"
Again Ghadavale explained that he could seek documentation for it and calculate, but he could not give her a rough figure on the spot.
Amit Ghag, Vishal Gupta, Sushmita Sherigar and Shreyansh Mithare -- the other defence lawyers present in court -- kept feeding questions to Mangla.
The lawyer asked Ghadavale if the shoes sold in one shop were also found in another.
Ghadavale: "The Worli shop is small."
Mangla corrected him: "Woh nahin pooch rahein hai (I am not asking that). Are the same shoes available at all Bata stores?"
Ghadavale: "Ha (Yes)."
Mangla; "Style bhi same hoga? (The style will also be the same?)"
Ghadavale: "Ha."
Mangla then asked the most critical question of Friday: "Joota dekh ke aap bata sakte hai ki kis branch se khareeda gaya? (By looking at a pair of shoes can you tell from which branch they were sold?)"
Ghadavale: "Nahin bol sakte hai (I cannot do that)."
Mangla then went through the formality of declaring that the evidence they heard from the witness was false.
Mangla: "Yeh jo bole hai sab jhoot hai. Joota kabhi nahin becha tha (Whatever you have said is false. You never sold the shoes)."
Ghadavale taken aback and semi-offended, asked in surprise: "Becha nahin matlab kya?!! (Didn't sell it means what>?!!)?!"
The judge explained that that was for the record and Ghadavale relaxed.
The cross examination ended. Judge Jagdale was satisfied.
One of Mangla's colleagues, whispered to her: "Well done."
The second witness scheduled for Friday, who was present and was someone from Maruti Couriers, from where Sheena's resignation letter to Mumbai Metro One had been sent by Indrani's secretary Kajal Sharma, was not produced.
Patil felt it was best he be produced at the next date when his cross examination could be done simultaneously, and Pasbola was present.
There was a quick 5 minute discussion about the next date and if four witnesses could be examined in quick succession since The List was long. But two were settled on.
The accused lingered speaking with their lawyers. Peter enjoyed a Theobroma bakery brownie and with an absent-minded expression on his face, departed heading downstairs to the prison buses.
One of the senior cops in his escort stopped him: "Hello, hello, hello, Pitar, Pitar, Pitar, where you are going?"
Sanjeev Khanna was not yet done meeting his lawyer and Peter was asked to wait.
Five minutes later they were off, trailed by a tail of khaki.