The Bharatiya Janata Party's hot saffronite swami is yoga teacher Ramdev. Sunil Sethi explains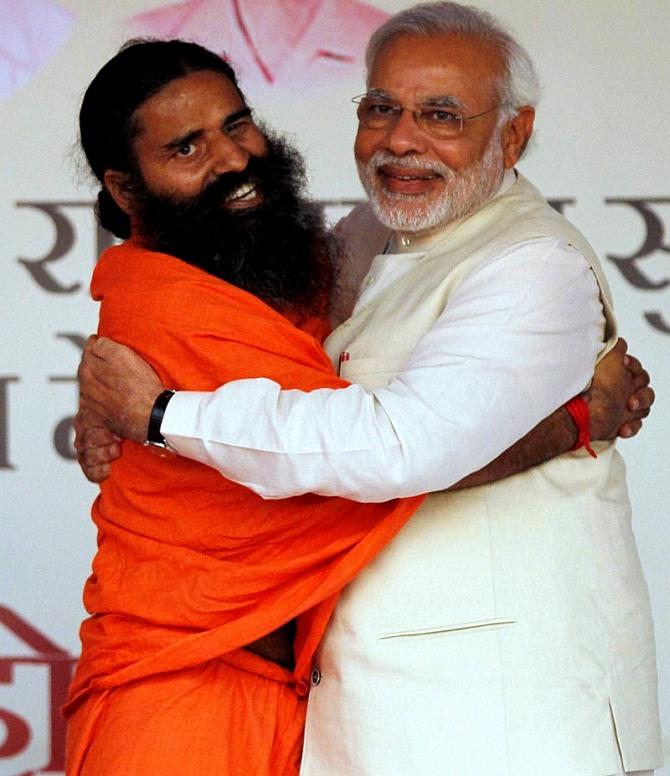 Prime Minister Narendra Modi hugs Baba Ramdev during 'Yoga Mahotsav' at Ramlila Maidan in New Delhi. Photograph: Vijay Verma / PTI Photo

In rishi bhoomi, Land of Sages, there is a godman for every season -- and every reason.
Indira Gandhi's yoga teacher Dhirendra Brahmachari amassed a fortune. P V Narasimha Rao and K Natwar Singh had Chandra Swami, an ace globetrotting fixer who hobnobbed with crooks and kings.
Sathya Sai Baba counted leading judges, bureaucrats, editors and even a former prime minister of Italy among his devotees.
The Bharatiya Janata Party's hot saffronite swami is the yoga teacher Ramdev.
This week, Prime Minister Narendra Modi received the glittering-eyed televangelist and anti-corruption crusader at his residence for a one-on-one. It's unlikely they were discussing mundane matters like trimming beards or colour-coordinating their apparel.
The meeting, it was said, was to discuss issues of "national importance".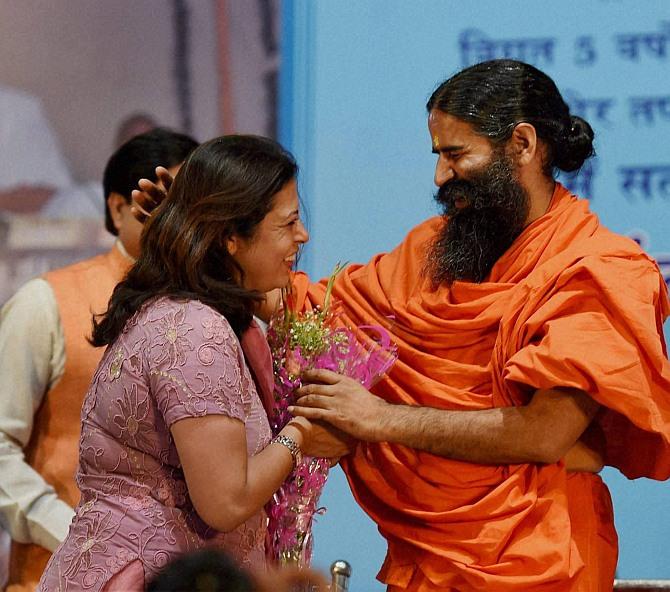 Sachin BJP MP Meenakshi Lekhi being greeted by Baba Ramdev during the 'Sankalp Purty Mahotsav' organised by Bharat Swabhiman Trust in New Delhi. Photograph: PTI
Among this meddlesome maverick's bizarre beliefs is that AIDS can be treated with Ayurveda, that sex education in schools should be replaced by yoga lessons, that homosexuals can be "cured" in six months through "yoga, pranayam and meditation" and that Rs 500 and Rs 1,000 currency notes should be abolished -- perhaps like Muhammad Tughlaq he believes we should return to copper coinage.
Nothing concentrates his mind, however, than the higher plane of politicking.
With the support of sections of the Hindutva brigade, the Haryana-born Ramdev once had ambitions of starting his own political party and announced he would contest every seat in the general election.
But he abandoned the idea by latching on to Kisan Baburao Hazare and Arvind Kejriwal's campaign to cleanse the country of black money; in 2011 he swamped them by flooding the capital with 65,000 supporters for his own indefinite fast.

The Congress-led government got the jitters and sent four ministers, led by Pranab Mukherjee, to receive him at the airport; it then went down on its knees to throw him and his followers out.
Ramdev escaped disguised as a woman but many were injured in police clashes. The government went steadily downhill from there.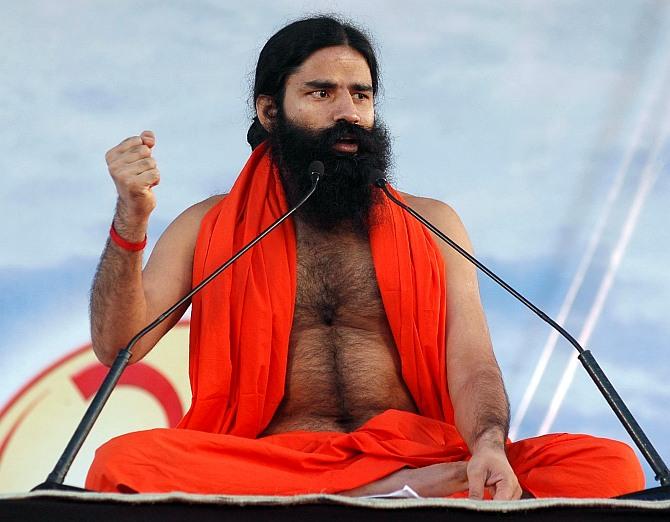 Baba Ramdev at one of his Yoga camps. Photograph: PTI
Ramdev has now pole-vaulted right into the BJP's heartland.
He once claimed that if all the money stashed by Indians in Swiss banks came back, it would put Rs 3 lakh in every poor Indian's pocket.
It's a nifty proposition that chimes nicely with Modi's Jan Dhan Yojana -- perhaps that's the issue of "national importance" they were discussing -- but the problem is that it's riddled with holes.
Estimates of illegal Indian wealth in Swiss banks fluctuate wildly from more than $1 trillion to $2 billion.
How much black money is swirling in the Indian market is also a guessing game, though some of it is generated by politicians themselves through opaque regulations in real estate, bullion trade, government licences and contracts.
In his immensely readable book 2014: The Election That Changed India, out this week, Rajdeep Sardesai says that "there was so much cash floating around for the BJP ... [that] ... one senior leader had bundles of 1000-rupee notes lined up along the walls at his house".
He reckons that Rs 5 crore to Rs 10 crore was the average expense for each seat, but in Andhra Pradesh and Maharashtra the figure could be between Rs 15 crore and Rs 20 crore.


Prime Minister Narendra Modi with Baba Ramdev during 'Yoga Mahotsav' at Ramlila Maidan in New Delhi. Photograph: Vijay Verma / PTI Photo
For nearly 20 years, the BJP and others have been shouting from the rooftops of Congress party's corruption scandals (from Bofors that lost Rajiv Gandhi the 1989 election to the Commonwealth Games, the spectrum and the coal mining scams that heaped humiliation upon it in 2014), but there is no evidence of any of the ill-begotten wealth lining the pockets of the poor.

Ramdev is unlikely to open the sealed envelope of 672 names with Swiss accounts that the Supreme Court, the special investigation team and the finance minister are treating like a pass-the-parcel nursery game.
The BJP's "saffron schemer" is no newcomer to wealth creation: his empire of yoga centres is said to be worth Rs 1,000 crore and he claims a following of a billion people around the world.
In 2010, Sunita Poddar, a rich Glaswegian of Indian origin ("obese was the right word to explain my condition" she said) was so impressed by Ramdev's weight-loss regime that she bought an island for him off the Scottish coast as a spiritual retreat for Rs 100 crore.
"He used to call me Sunitaji, but when he made me a trustee three years ago, he began calling me Mataji." There are pictures of them performing havans together and roaming the isle of Little Cumbrae.
From Mr Modi to Glasgow's Mataji, Ramdev is the godman for all reasons.