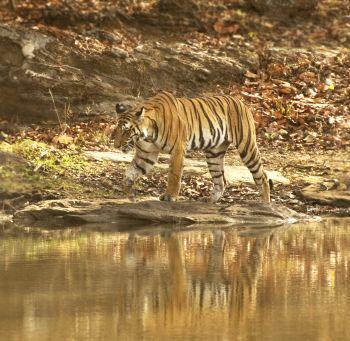 Jhurjhura was 16 months old when I saw her for the first time at the Bhandavgarh tiger sanctuary in Madhya Pradesh. The striking orange coat with bold, clear and unique black stripes, and a wonderful thing almost half as long as its entire body to maintain balance was her tail.
I could easily identify her with her forehead, body stripes, shape of the ears and marking on her legs. Just like human fingerprints, no two tigers have identical markings and the patterns of stripes vary immensely.
Her deep-etched lines, charcoal ridges by her nose, she poised with regal grace, her sovereign style, I saw her when she ate. Righteously proud in stripes of self-esteem, she smiled and growled, her two blank eyes like moons stared.
Herein lies the quandary of a feline tale upon one summer day when the young tigress was found dead. Murderers, I call them, those who killed her.
She is dead now. The twig broken before it became a branch. A Madhya Pradesh minister's son's SUV may have killed the tigress. He owns a resort in the Bhandavgarh sanctuary. This is called over-commercialisation and is nothing but man-animal conflict under the 'tourism' umbrella!
Jhurjhura was found dead at the Tala range of the reserve in Umaria district. The post-mortem on the tigress was done only after we (nature lovers and conservationists) sent letters to the President, Environment Minister Jairam Ramesh and the MP chief minister.
The forest department spread various stories to confuse us and put us off the trail. We got eight vehicles confiscated for forensic examination after collecting data from the register of the national park. The vehicles include that of state PWD Minister Nagender Singh Nagod's son and those of the forest department.
The tourist operators, all big names from Gujarat and MP with political connections, have united to protect their commercial interests. The operators blame a forest vehicle for hitting the tigress.
The forest department is rubbing salt on the wounds of the tigress. It's unbelievable that since 2008 the state wildlife board never met. The state wildlife board at present is unconstitutional and a farce. The Congress and the Bharatiya Janata Party both are playing with the forests of Madhya Pradesh.
After the efforts of animal rights activists, the forest officials finally agreed that the tigress died due to internal haemorrhage. "The autopsy report said the haemorrhage was caused perhaps by being hit by a vehicle," said Madhya Pradesh chief wildlife warden R S Negi.
"The post-mortem also revealed that the tigress was around eight years old, and not three years as presumed earlier by the forest department."
Now we have the tigress's three cubs at the mercy of the forest officers.
Image: A file image of Jhurjhura at the Bhandavgarh tiger sanctuary | Photograph: Kamaljeet Hora