Despite dire threats to life and property, they have brought together over 50,000 lovers under one roof across India.
Sneha Bhattacharjee reports.
Illustration: Dominic Xavier/Rediff.com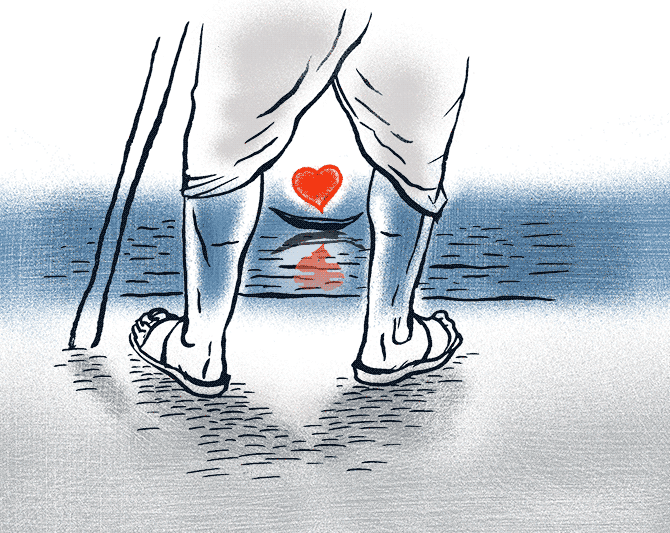 Sometime in the winter of 2010, the family of a girl charged a boy with raping her.
In her statements to the police, doctors as well as the court, the girl said she was a major and in a consensual relationship with the boy.
Shocked and surprised at the turn of events, a group of men reached the sessions court where they found the couple's lawyer had not reached in time.
Seeking permission from the judge, one of the men decided to argue the case.
By the time, the man finished his argument, the lawyer had reached, and all the formalities and paperwork was done.
Today, the boy and the girl are happily married and are parents to two children.
The man who fought for the rights of the couple is a 57-year-old 'serving' journalist Sanjoy Sachdev, the chairman of an NGO called Love Commandos.
Taking a friend's advice that they should go beyond their peace-keeping force for Valentine's Day, Sachdev along with Harsh Malhotra, chief co-ordinator, are committed to bringing young lovers together -- whether they are victims of honour killings or Khap panchayats or communal tension.
"A photo journalist called us that day and asked: 'There's a lot of news on honour killings; are you guys doing something?' I said: 'We are starting a helpline', and handed him the number," says Sachdev.
The helpline hasn't stopped buzzing since.
With seven shelters across Delhi-NCR, and over 450 make-shift shelters across the country, Love Commandos operates out of a dingy lane in Paharganj in Delhi, which they call their base shelter.
Despite dire threat to life and property, teamwork has helped them bring together over 50,000 lovers under one roof across India.
"There are several in my team whom we don't even introduce for fear of their safety. It is the grit and determination of the young boys and girls who act as our volunteers and help other couples," says Sachdev, adding, "Whoever has ever wanted to make a difference in the world for the good, has had to face obstacles."
But that hasn't deterred this old gun, whom the young couples call 'Baba', from helping rescue couples from all parts of the country.
In India, where families are oppressive institutions, young lovers face a hostile environment.
"It is a concocted notion that honour killings are limited to the northern belt of the country. Our helpline receives calls from Gujarat, Andhra Pradesh, Telangana, Tamil Nadu and even the north eastern states. The fear for their life exists across the length and breadth of the country," rues Sachdev.
Helping the young couples has't been an easy task for this usually in-debt NGO.
Listening to the stories of rescue is akin to the romance of the movies that you see on screen. But it is a risky effort that incurs a lot of expense.
"We are broke. I don't know how my children manage. I just give them whatever I get, and that's how we sail every month," says Sachdev adding that "it is people like you who talk about us and thus, we receive some help."
Talk about how he plans to keep things afloat, Sachdev says, "as long as there is love in the hearts of everyone, Love Commandos will thrive everywhere."
"It is only a matter of time before the young decide to take decisions on their own and reject being treated as a property of their parents."