Men and women of the Indian Air Force who conducted rescue missions in Kerala's worst deluge speak to Rediff.com's Archana Masih.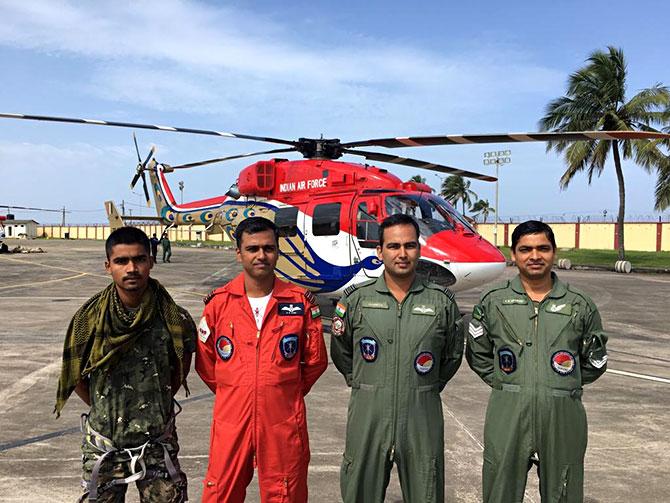 Two years after she was commissioned as an Indian Air Force pilot, Flight Lieutenant Swati Rathore was on her first rescue mission.
Among the youngest and the only lady pilot from her unit deployed in the Kerala flood rescue effort, the Ajmer native flew four sorties on day one with her commanding officer Wing Commander Shivang Kumar.
"It was raining and there was water everywhere. People were holding out cloth pieces as a signal and waving out. The first house we approached had two men and three ladies. We maintained a low hover position 10 metres above the roof and winched them up. They clapped in relief," says Flight Lieutenant Swati who also flew Home Minister Rajnath Singh and Kerala Chief Minister Pinarayi Vijayan for aerial surveys of the affected terrain.
"The waters were rising so fast. Those people would not have survived the night if we had not reached them. When people desperate for survival look up to you save them, it is a great responsibility," she adds.
While flying the chief minister, Flight Lieutenant Swati had landed the Russian made Mi-17 V5 helicopter, the IAF's latest helicopter acquisition, in a school field. When the girl students discovered that she had flown the machine, they were amazed.
"I always try to speak to young girls and tell them it's not impossible and they can do it too," says the officer who wanted to be a pilot from the time she was in Class 8.
In Kerala's worst calamity, the young air force pilot served as a beacon of hope and inspiration.
Pilots, engineers, commandos, technical and ground staff played an exemplary role in the relief and rescue operations. Two helicopter units from Sulur near Coimbatore, the nearest to Kerala, were pressed into service from August 15.
In the first three days, the 109 Helicopter Unit, to which Flight Lieutenant Swati belongs, rescued close to 300 people. Rescues had to be conducted from the rooftops of houses, even balconies because most homes in Kerala have slanting roofs.
Hauling people up with the aid of a winch motor that wheels out a cable attached with a harness to pick people one by one can take up to 3 to 4 minutes.
The helicopter is required to maintain a steady position in the air for the duration of the winching.
"Maintaining a steady hover over a spot without moving left or right needs a lot of concentration and skill. That's why helicopter pilots are supposed to have the best skills amongst pilots," says Wing Commander Shivang Kumar, the Commanding Officer of the 109 Helicopter Unit.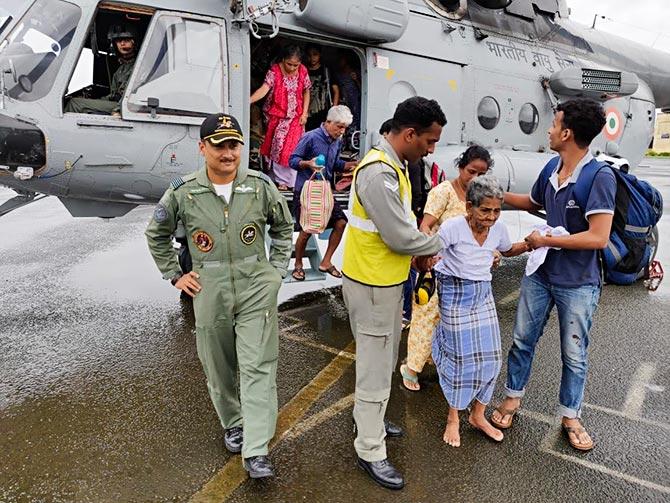 When young children and infirm elders have to be winched up, they are accompanied by a Garud commando whom they cling to while being hauled up.
Heavy rain, low visibility and Kerala's dense foliage posed the greatest difficulty for aerial rescue and relief operations.
"It was like a carpet of coconut trees. Twenty metres at times. Looking down for people in low visibility, strong winds, in between wires, poles, -- you had to ensure that you don't go into an obstruction and keep the machine safe," says Wing Commander Girish Komar, the Flight Commander of the Sarang Helicopter Display Unit also based in Sulur.
Sarang is the IAF's only helicopter aerobatic display unit and undertook rescue operations during Cyclone Ockhi. In the Kerala deluge, it conducted over 140 sorties and deployed 16 pilots, 6 engineers and 30 ground crew.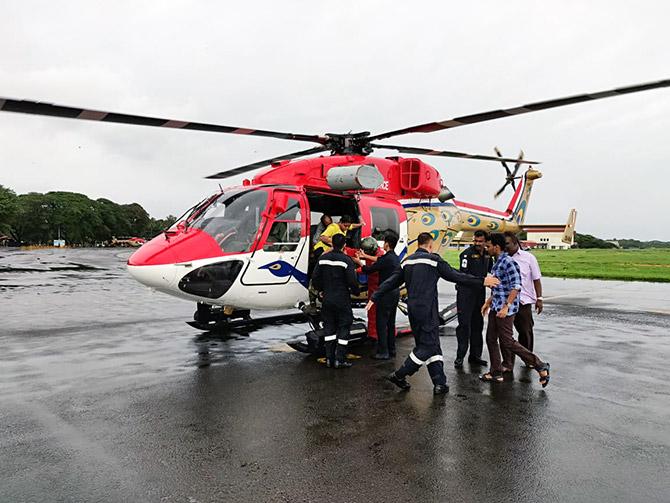 Pilots flew from day break at 6 am to night fall at 7 pm, doing as many sorties depending upon the limits of the helicopter and human endurance, sometimes exceeding both.
The HAL-made Dhruv helicopter flown by Sarang can fly for 3 to 3.5 hours with a full fuel tank. It can carry up to 14 people.
"I had never seen such a vast expanse of flooding before," says Wing Commander Sachin Gadre, Commanding Officer of the Sarang Unit.
"In the first 4 or 5 days, we knew however much we did, it won't be enough. My team was working for 16 hours a day, but no one said they were tired," says the Nashik native who graduated from the National Defence Academy in 1999.
The Sarang unit deployed in the rescue and relief work also had a lady pilot, Squadron Leader Sneha Kulkarni.
Roof landings are a close call for pilots, even if the area is clear of obstruction because it is difficult to gauge the strength of a roof. The downwash caused from a helicopter can generate winds up to 55 to 70 km per hour capable of blowing off fragile roofs and damaging property.
"The greatest thing for a helicopter pilot is to save lives," says Wing Commander S K Mishra, a Ranchi native who has served 14 years in the IAF. Recalling his experiences he says he has been touched by the humanity of the people in distress.
"There were occasions when people pointed out to the home next door indicating that there were others who needed more help than them. Or that they had enough food and directed us to someone else who needed it more, says Wing Commander Mishra.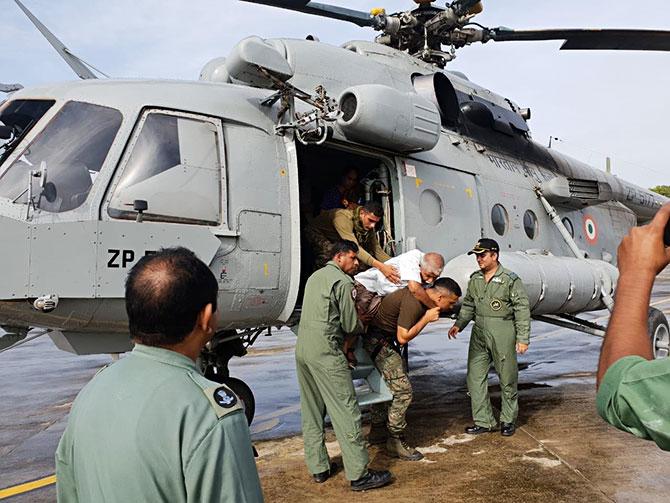 One of the precarious rescues undertaken by the unit was on a bridge over the raging Pampa river. A part of the bridge had submerged and people had congregated on one side. Many had driven their cars on to the bridge and taken refuge inside the vehicles.
Wing Commander B K Sahu spotted them after rescuing a woman and three children under the age of 5.
Since winching up people from the bridge would take considerable time, he took the decision to go down to the railing of the bridge.
"I lowered one skid of the helicopter just above the railing. It was about 4 or 5 feet above where people were standing. They had to hang on to my skid and then get pulled into the aircraft. One mistake and they could fall into the river," says Wing Commander Sahu, a test pilot who has flown 14 types of helicopters.
He had to slide his chopper towards the bridge so that even if anyone fell, it would be back on the bridge and not in the river.
The rotors spanning 13 metres had to be kept away from the poles on the bridge.
"I was half on the bridge and half on the river. My co-pilot, gunner were guiding me while another was pulling people inside. We took 8 people on board -- all this while executing a precise, steady hover during which the pilot and the helicopter are tested to their limits."
"I had to take a calculated risk to save people and military aviators are trained to take such risks. It was precarious, but at no point, man or machine was unsafe," the wing commander says over the phone from his hotel room in Kochi.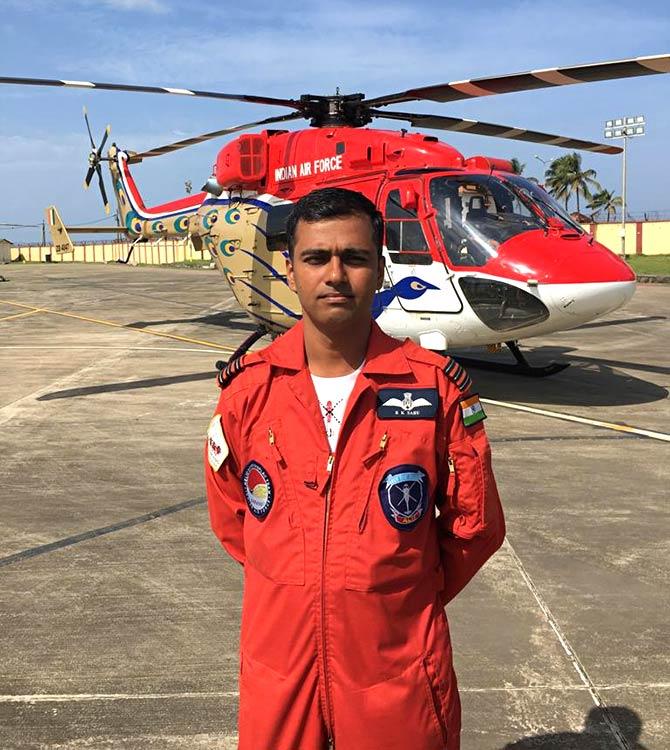 With flood waters receding and roads/trains opening, aerial relief work has reduced.
On August 26, Kerala plans to bid farewell to the defence personnel who worked admirably in helping the state cope with its worst calamity ever.
As they prepare to fly back to base, will they be getting a day off?
"A soldier is never off duty," says Wing Commander Sahu.
"When you save lives, you automatically sleep well and don't need extra rest."