A month before it happened, on December 28, Sheela Bhatt/Rediff.com revealed that S Jaishankar was likely to replace Sujatha Singh as foreign secretary!
Read the story if you missed it!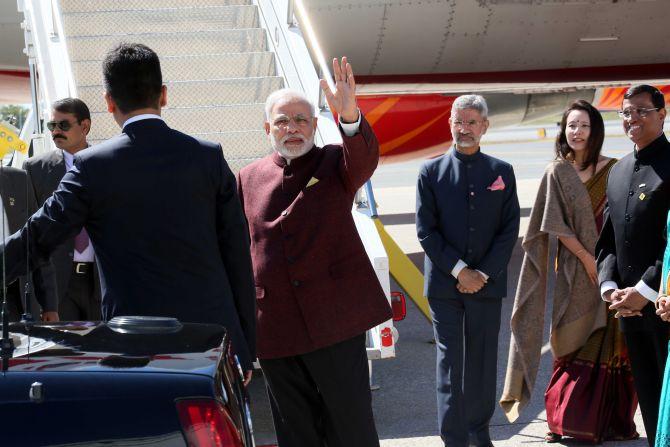 Subrahmanyam Jaishankar, India's ambassador to the United States, is likely to be appointed as India's next foreign secretary, replacing Sujatha Singh, who is due for retirement in August 2015, a top source in the Narendra Modi government told Rediff.com
The radical administrative decision is likely to create a strong reaction within the Indian Foreign Service.
As the foreign secretary enjoys a fixed two-year tenure, Sujatha Singh would not like to make way willingly eight months before her retirement.
External Affairs Minister Sushma Swaraj is backing Singh to stay on as foreign secretary. Swaraj's reluctance is understandable because the move will reflect on her own performance as EAM.
Swaraj has, so far, made her mark amongst serving diplomats. Most senior diplomats swear by her talent to grasp quickly complex issues of international affairs.
The prime minister and his advisers feel Indian foreign policy's main aim is to propel the nation's economic growth. Modi has truly outstanding plans to implement in the SAARC bloc of countries. Nepal and Bhutan have already received special attention under the new government.
Sujatha Singh -- only the third woman diplomat to serve as foreign secretary -- has not served at Indian missions in any of India's neighbours.
Dr Jaishankar is seen as a bigger player on a larger stage and considered suitable to go along with Modi's worldview.
Dr Jaishankar -- whose father was the legendary guru of strategic affairs, K Subrahmanyam -- has the appetite to take bold decisions and capable of out of box thinking. Before he moved to Washington, DC, Dr Jaishankar served as ambassador in China and as high commissioner in Singapore.
From the foreign service's 1978 batch, Dr Jaishankar was considered the front-runner to succeed Ranjan Mathai as foreign secretary last year.
Then prime minister Dr Manmohan Singh, who valued his work on the India-US nuclear agreement (Dr Jaishankar has a PhD in international relations, specialising in nuclear diplomacy) was willing to appoint him as foreign secretary, but succumbed to the pressure of his advisors and two senior Congress party leaders.
Dr Singh settled for Sujatha Singh -- whose father is the former Intelligence Bureau director T V Rajeshwar -- going by the criteria of seniority.
Dr Jaishankar would have retired from the IFS in January 2015 in due course, but Dr Singh extended the tenure of six IFS officers in August 2013 by two years which included Dr Jaishankar who was then appointed India's ambassador to the US. Dr Jaishankar will now retire in December 2016.
Image: Dr S Jaishankar, India's ambassador to the United States, near the stairs of the aircraft with his wife Kyoko Jaishankar and India's Consul General in New York Dynaneshwar Mulay during Prime Minister Narendra Modi's visit to the United States in September 2014. Photograph: Mohammad Jaffer/SNAPSIndia