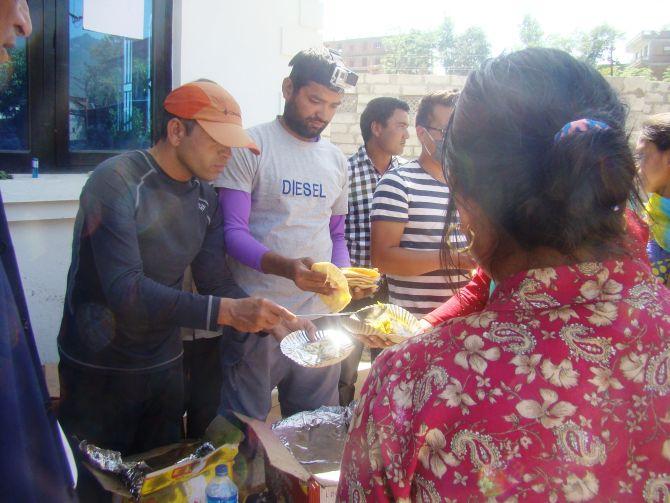 Kishore Dhankude and Shaikh Rafiq serve puri-bhaji to earthquake survivors in Sanku, Nepal. Photograph by Anusha Subramanian.
Three mountaineers escape the avalanche at Everest Base Camp, come back to Nepal and decide to get involved in the earthquake relief work, serving puris and vegetables to the affected families. Text and photographs by Anusha Subramanian for Rediff.com.
No climber wants to be caught in an avalanche. But, being caught in it and coming out of it unscathed is like getting their full quota of nine lives.
Three climbers from Maharashtra -- Kuntal Joisher from Mumbai, Kishore Dhankude from Pune and Shaikh Rafiq from Auragabad -- survived the huge avalanche at Everest Base Camp on April 26 soon after the 7.9 magnitude earthquake hit Nepal. They were part of a team put together by Snowy Horizon's, a Nepali adventure company and were on an expedition to Mount Everest.
The three climbers had just about finished their first rotation of climbing up to camp 2 and returned to EBC when the avalanche struck. They then took a collective call to call off the expedition and over three-four days walked back from EBC to Lukla from where they were heli-lifted by the Indian Air Force and brought back to Kathmandu.
In the Nepalese capital city, waiting for all their personal baggage to come back from EBC, the three of them decided to lend a hand to the relief work that is going on all across Kathmandu and Nepal, instead of just sitting by. "Right now we are physically fit and ready to help in any kind of relief work," they say.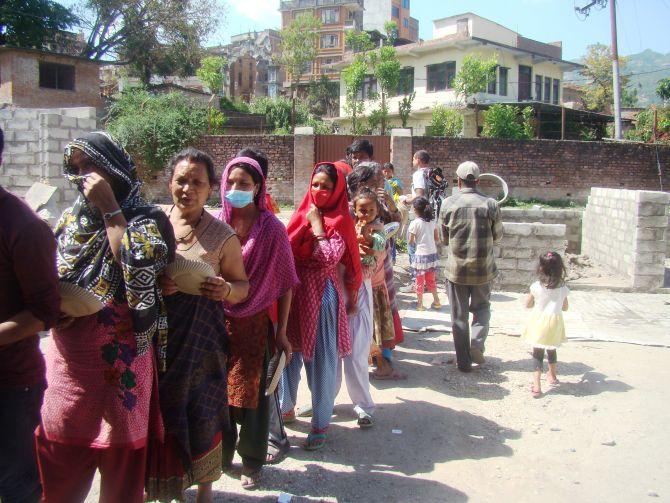 Earthquake survivors waiting to collect their puri-bhaji at a relief camp in Sanku, Nepal. Photograph by Anusha Subramanian.
On Monday, the three climbers volunteered for relief work with Puri and Tarkari for Nepal Earthquake, a local initiative by G S Guraya and Gyaneshwar Karki. Puri and Tarkari offers free meals to earthquake victims who have been displaced and are living in relief camps. The initiative started on April 29. While Guraya took the responsibility to prepare puris and tarkari, Gyaneshwar is in charge of bringing in volunteers to help out in the preparation and packing of the meals and also going out to the affected areas with the food and distributing them.
"On day one we managed to make puri-tarkari for 2,000 persons wrapped in silver foil and distributed them with the help of volunteers in hard-hit areas. Similarly, on day two, we managed to prepare food for 2,500 people and on the third day we managed it for 4,000 persons. As of now, with the support from volunteers we have managed to distribute and serve 19,000 packs of puri-tarkari across the affected areas. On day six, that is today, we are targeting 8,000 packs," says Guraya.
The distribution took place in hard-hit areas like Bhaktapur, Sankhu, Kirtipur, Kavre and even further, up to Sindhupalchok.
On Monday, Joisher, Dhankude and Rafiq initially helped out with cutting vegetables and kneading the dough for puris and then took the packed meals to a village called Sanku, 17 km from Kathmandu.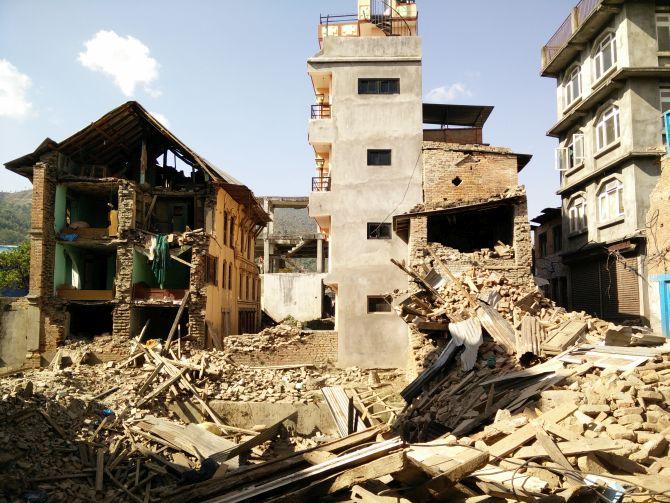 Sanku, on the outskirts of Kathmandu, has been reduced to rubble. Photograph: Kuntal Joisher
Sanku, a historical city on the outskirts of Kathmandu because of its old temples, is one of the worst affected areas in Nepal. Its once busy market is now reduced to rubble and there is barely anything left of the place. Bhavesh Shrestha, a resident of Sanku who lost his home in the earthquake, says, "We were lucky to survive as most of us were out at the time of the earthquake."
Locals claim that the casualty figure in the area is only 75 and all the missing persons have been found. The survivors have moved into makeshift tents and living on fields nearby.
The three climbers say they had a satisfying day having been able to make howsoever small a difference. "I did not see any point sitting here doing nothing while we wait for our luggage to come. We are fit and can lend our support to do any work as of now," says Dhankude. He has decided to stay back and do some relief work wherever possible.
Concurs Rafiq. "Watching Kuntal and Kishore dada, who are my seniors, working hard and lending support I was happy to do the same. I felt good to be part of the relief work and to feed people," he says.
"Just a few days ago this was a lively and boisterous market, one of the oldest suburbs near Kathmandu. Today there are barely any standing structures here. The earthquake has reduced this once lively place to rubble. So many lives have been lost and a majority of the people are without shelter. There are so many crushed dreams, and so many Sankhus across Nepal. It is a tragedy of unprecedented and unimaginable level," says Joisher.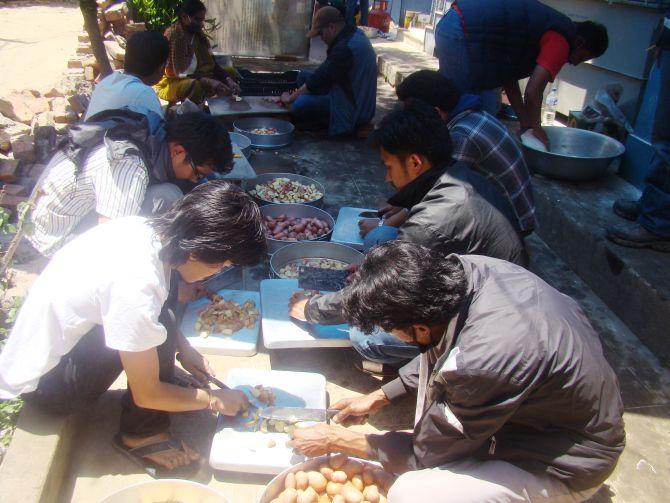 Volunteers cutting vegetables at a relief camp in Sanku, Nepal. Photograph by Anusha Subramanian.
"As a mountaineer, sometimes I'm very selfish. After the earthquake and avalanche at Everest base camp, I wanted to continue climbing for a brief moment. I wasn't seeing the bigger picture, I was in my own bubble," he adds. "The Nepal government needs to focus on rehabilitation of its people and rebuild the country. Nepal needs to heal. The Nepal government needs to use its resources and strength to take care of the severely affected people who really need help."
As of now the three climbers have decided that they would come back to climb Mount Everest whenever it's possible.
"The Everest expedition is inconsequential and if any accident happens there the government's focus gets diverted. There is absolutely no point climbing the mountain this year. It's going to be there for millions of years to come, we can come climb it next year too. This year Nepal needs to heal and rebuild," Joisher says.
Anusha Subramanian is a mountaineer and independent journalist who has worked on disaster relief in Uttarakhand, Kashmir and Nepal. She is currently helping in the earthquake relief work in Nepal.