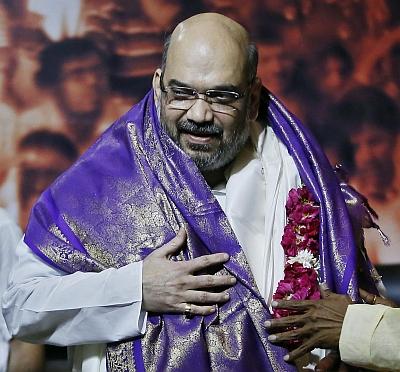 Narendra Modi and Amit Shah completely control the BJP and are taking it to the next level ruthlessly, without carrying forward any past baggage, says Sheela Bhatt/Rediff.com
Much before he actually starts living in Lutyens' Delhi, Bharatiya Janata Party President Amit Shah has added more mystique to his public persona.
Shah is all set to add Maharashtra and Haryana -- two states which enjoy the highest real estate value, have seen massive urbanisation, have the largest concentration of middle class, are hyper manufacturing hubs and financial centres -- to his party's kitty.
A couple of weeks after the election results the Shah family will shift to Delhi. The man who wears his Hindu identity on his sleeve will move to Akbar Road, named after the Mughal emperor.
When newspaper columns and television debates discuss the exit polls from the two states which suggest that the BJP will emerge as the single largest party in both Haryana and Maharashtra and is likely to form the government as well, Amitbhai's focus has already shifted to West Bengal.
There are two reasons why Amitbhai is sitting pretty in his rented home in Jangpura in south Delhi.
The huge undercurrent against the Congress governments in both Haryana and Maharashtra and Prime Minister Narendra Modi's popularity helped him gamble in a big way, the twin facts helping him take major decisions that are likely to change the premise of contemporary politics.
Instead of enjoying the sweet success from Uttar Pradesh, where his party posted a mind-blowing performance winning 71 out of 80 seats in the Lok Sabha election, Shah decided to risk it all to gamble for more.
What the Congress always wished but could not achieve, the Modi-Shah duo are giving a more convincing try. Steadily, the two most powerful politicians in the BJP want to move to a two party-dominated politics.
If the BJP forms a government in these two states without help from allies, then severe cramps will be felt on the regional political turf.
Amit Shah's success -- if it does materialise on Counting Day, October 19, will substantially diminish the clout of regional parties. A conclusive win for the BJP in these two states will also put tremendous pressure on the regional parties in Uttar Pradesh and Bihar. They will have to put up a defensive fight to survive against the ever-expanding BJP.
From November, the BJP will launch a massive, never-before-seen membership drive in states where regional parties call the shots. The BJP is highly confident that it will win a historic verdict in Uttar Pradesh if the assembly election is held anytime from now. Only Bihar remains a political challenge for the Modi-Shah duo in the near future.
If the BJP wins Maharashtra and Haryana, then many analysts will churn out reasons for the Modi-Shah duo's success. But the decision to break the decades-old alliance with the Shiv Sena and the three-year-old alliance with the Kuldeep Bishnoi-led Haryana Janhit Congress only speaks of the reality that Modi and Shah completely control the BJP and are taking it to the next level ruthlessly, without carrying forward any past baggage.
Many people forget how, when and under what terms and conditions Pramod Mahajan tied up with Balasaheb Thackeray in the late 1980s. The Shiv Sena always considered itself the 'big brother' in the alliance.
Modi and Shah have been watching the unequal Maharashtra alliance silently, from neighbouring Gujarat. At the time of each election, Mahajan, his brother-in-law Gopinath Munde and the then state BJP chief would visit Matoshree, the Thackeray home in suburban Bandra in Mumbai.
They would go with a certain number of seats. Balasaheb would hand over the list to his office assistant, a few jokes would be cracked over tea and snacks and the BJP leaders would leave Matoshree to announce to the waiting media their demand before Balasaheb.
The Sena chief would not even talk to them about seat-sharing, at the most he would say, 'Talk to the party unit.'
Unfortunately, Uddhav Thackeray, the Sena's current leader, did not read the writing on the New Delhi walls. He tried to enact the same arrogant drama before Modi's BJP and fell flat.
Amitbhai, after meeting Uddhav Thackeray on September 4, found that a logical and merit-based discussion and equal and mutual respect was missing in the relationship.
Shah, a tactful politician, guessed that the times required him to take a risk, act fast and go for broke.
He rushed back to New Delhi to meet Modi. Both made up their minds before the BJP Parliamentary Party could discuss the issue. Modi, an ever-conscious leader, did his calculations and Shah, the ever-ready risk-taker, found that 'upholding the party's honour' was a just cause. The Shah camp still claims that its decision was solely driven by 'merit.'
In the first round of talks Uddhav was not even ready to debate seat-sharing on equal terms. Two, Modi would have retained the Sena-BJP alliance if the formula of seat-sharing -- 147 for the Shiv Sena, 127 for the BJP and 14 for other allies -- was accepted by Uddhav. But Balasaheb's youngest son is still living under the shadow of his legacy. He remained stuck at 119 seats for the BJP.
It is not just for eight seats that Modi and Shah broke the alliance, but, as the Shah camp puts it, it was all about the mentality of the Shiv Sena leaders. More importantly, it was high time Modi and Shah put a full stop to the Mahajan-Munde legacy. Amit Shah's team was shocked to know that in 160 out of Maharashtra's 288 assembly seats, the BJP had never fought an election. The party did not have even a taluka chief in these seats.
Amit Shah had to act and act fast. Once he convinced Modi about the ground situation, there was no looking back. Shah camped in the BJP's Mumbai office, conducting discussions till 4 am. He appointed caretakers in 36 Maharashtra districts. Minister of State for Petroleum and Natural Gas Dharmendra Pradhan and Minister of Chemicals and Fertilisers Ananth Kumar, MPs like Bhupendra Yadav were given responsibilities to overlook everything in their areas.
Between September 23 and 29, many workshops were held away from the media glare. One elaborate workshop was for party chiefs in the districts. Under them, one special in-charge with a GPS-equipped car was nominated from all 288 seats; they were not from the area in their charge but came from all over the country. They were then sent to their respective areas and asked to stay there till the last vote was cast on October 15.
The 288 workers were asked to focus on anti-incumbency. One senior BJP leader told this 288-strong special team, 'We don't have time. We will have to fight elections out of thin air!'
Shah, fresh from his Uttar Pradesh election success, took no time to create an illusion of organisation from scratch.
If Amitbhai tastes success once again this Sunday, it would not be for his organisational skill, but for the political instinct with which he took his leader to the nooks and corners of Maharashtra.
Shah took the decision where, how and when Modi's public meetings should be organised. He took inputs from his team. A total of 26 clusters were created to arrange Modi's meetings, each cluster categorised into A, B or C based on the BJP's s winning prospects.
Modi addressed some 26 meetings in the state, Transport Minister Nitin Gadkari more than 80 and Home Minister Rajnath Singh addressed some 22 public meetings. Amit Shah too addressed more than a dozen meetings, and in a few he had an audience of more than a lakh. He started his campaign from the Mahalakshmi temple in Kolhapur where he proudly claimed that he was a 'son-in-law' of the ancient city as his wife Sonal's family belonged to it.
All BJP leaders were told to exploit the prevailing sentiment against the Congress-Nationalist Congress Party.
They also kept mum against the Shiv Sena with whom the BJP has an alliance going in the BrihanMumbai Municipal Corporation, considered the source of funds for the Sena in Mumbai. Ramdev, Sri Sri Ravishankar and people from the Patit Pavan Sanghatana and Gaytri Parivar also held separate meetings on the eve of the election.
The election campaign in Mumbai and neighbouring Thane was fascinating. The region has around 40 per cent Marathi voters, but some 33 per cent non-Marathis and minorities.
If the Sena talked about Marathi manoos and their asmita, they consolidated the non-Marathi votes in the BJP's kitty. The minority votes were divided between the Congress and NCP so the Shiv Sena could not add to its Marathi votes, claims a member of Shah's team.
Similarly, in Haryana, as the Jat vote got consolidated in favour of the Indian National Lok Dal and other small Jat-based parties, the anti-Jat votes shifted en masse to the BJP. Shah asked his team to work hard for the Dalit votes.
Amit Shah, although a conservative and traditional man, uses modern terminology when he talks and plans his political moves. He never accepted the Gujarati versus Marathi vote bank or Jat versus Dalit vote bank theories, leading his men to think his actions were nothing but a crazy gamble.
But Amitbhai is a moody man. He knew Modi's brand was too strong and he was in a mood to risk it more in the vote bazaar.
Many people thinks that Maharashtra, which is a much bigger state and a grander political battleground, was more complex than Haryana, but Amit Shah's team does not think so. For them Haryana was politically more complex and a bigger challenge because the Jats had an option in the form of INLD leader Omparkash Chautala, who has been convicted in a corruption case.
Chautala, though down, is not out. He has charisma among the Jats and is accepted as a political leader in spite of his conviction.
If the BJP forms the next government in Haryana and Maharashtra, there should remain no doubt whatsoever that India has got a full time politician as prime minister. Quite like Indira Gandhi.
Image: Amit Shah. Photograph: Anindito Mukherjee/Reuters