The new Congress president is building a core team of youngsters while waiting for his mother's coterie to retire, reports R Rajagopalan.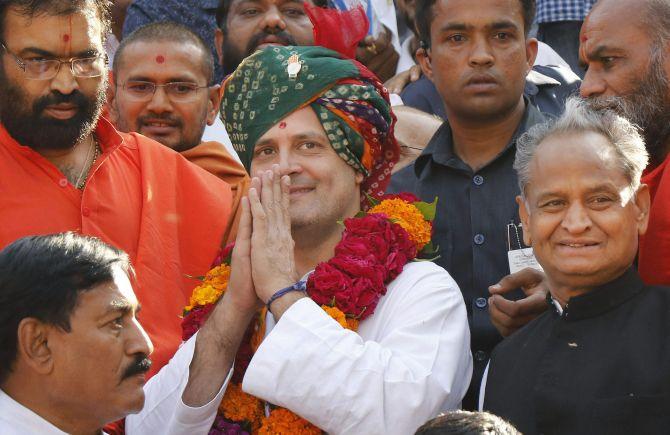 Congress president Rahul Gandhi is ready to give a tough fight to Prime Minister Narendra Modi and the Bharatiya Janata Party in the 2019 Lok Sabha elections. But it is the 2024 polls that he is really aiming for.
Rahul has a mega plan for 2024, for which he has been injecting new members to his core group of youngsters.
His focus would be the year 2024 as by then the old guard of the party like Ahmed Patel, Motilal Vora, A K Antony, P Chidambaram and Digvijaya Singh will most likely have retired.
They were all part of his mother Sonia Gandhi's coterie, and Rahul Gandhi prefers that they retire gracefully.
In the meanwhile, he will continue to gather a new lot of younger leaders to work under his leadership.
New faces have been emerging in the Congress now. All of them are Rahul's confidants. And they have five years (2019-2024) to groom themselves, for they are not seasoned politicians.
For the 2019 polls, too, Rahul wants a novel election campaign which is not hamstrung by old philosophies.
Pamu Sampath Kumar, a 45-year-old IAS officer of the Meghalaya cadre, is a fresh face in Team Rahul.
Sampath Kumar, a 1997-batch IAS, is from Andhra Pradesh. He is still serving, but will resign in February to join Rahul's core team in March.
Rahul likes Sampath's articulation of a 'New Congress'. He was requested by sister Priyanka to resign from government service and join the Congress.
K Raju, another IAS officer of the 1981 batch who is considered to be close to Sonia, has been handpicked by Rahul to join his team.
Raju, being projected as a Dalit face of the party, has been working with Sonia for the past 10 years.
It was Raju who drafted the bills on right to information and land acquisition.
Kanishka Singh, 40, son of former foreign secretary S K Singh, is Rahul's blue-eyed boy. Singh, an MBA from overseas, is looking after Rahul's campaigns in the capacity of treasurer.
Apparently, it was at his behest that Rahul tore the copy of an ordinance by the Manmohan Singh government on saving convicted lawmakers from disqualification in 2013.
There are 20 such youngsters in Team Rahul.
Sampath Kumar, Raju and Singh spoke to Rediff.com about Rahul's plans and politics, based on which I can make the following inferences.
Rahul has improved since the Gujarat election campaign
The Congress president has certainly improved in the past six months. Though he still falls back on a few elders, he opens up his mind to his best friends.
He discusses with them the basic political issues. He has taken many youngsters into confidence.
Rahul believes that the BJP will weaken by 2020-22.
It has reached its peak, and has saturated in almost all northern states.
Rahul feels that the Congress is the only alternative to the BJP.
Hence, he's awaiting his turn.
Threat to his leadership from Siddaramaiah and Amarinder Singh
The party cadre is abuzz with preparations for the Karnataka assembly elections later this year. It will be a litmus test for Rahul's leadership.
Interestingly, there is a personality clash between Rahul and Karnataka Chief Minister Siddaramaiah.
The All India Congress Committee depends on Karnataka, helmed by Siddaramaiah, and Punjab, helmed by Chief Minister Capt Amarinder Singh, for party funds as these are the only two major states where the party is in power.
If the BJP wins Karnataka, it will certainly derail the enthusiasm of Team Rahul.
Congress poll managers who are working on Karnataka from New Delhi are also confused by Rahul's 'inability' to control Siddaramaiah.
Encouraging Pilot, Scindia alongside Gehlot, Kamal Nath
Unless Rahul resolves the leadership tussle in Rajasthan and Madhya Pradesh, he cannot plan for 2019 general elections.
These are the two states where the Congress is expected to gain electorally.
The BJP has been ruling Madhya Pradesh for 15 years. And in Rajasthan the Congress cadre and vote-bank are intact.
On one side, Rahul is encouraging Sachin Pilot, but also takes Ashok Gehlot's inputs like visiting temples in Gujarat and disclosing that he wears a sacred thread (janeu).
In MP, Rahul wants Kamal Nath on one side and Jyotiraditya Scindia on the other.
Such are his compulsions of dependency that he will have to wait till 2024 for things to resolve. By then his older opponents in the party will also retire from active politics.
Senior leaders do mention, in this context, that it was Rahul who was instrumental Pranab Mukherjee being elevated as President in 2012, as the latter was against his elevation as party chief.
Approach to Tamil Nadu politics and relations with DMK
Though Rahul doesn't want to shift his attention to Tamil Nadu until the Karnataka elections are over, he wants to get along with M K Stalin, the second generation leader in the Dravida Munnetra Kazhagam.
Rahul wants to introduce new faces in Tamil Nadu too by 2024.
He did not phone or visit former telecom minister A Raja the day he was acquitted in the 2G spectrum scam case. But he phoned Kanimozhi and also asked Ghulam Nabi Azad and Anand Sharma to visit her.
Rahul also spoke to Stalin and greeted him on the 2G acquittals.
Similarly, Rahul does not want to comment on the tax raids on P Chidambaram or his son Karti.
These are certain actions that gives one an insight into Rahul's political thinking.
Is he tilting towards the Left?
Many senior leaders from the Congress only consulted Sonia or Priyanka on important matters, and sidelined Rahul.
After becoming party president, he hopes a change in the practice.
If the Congress wins Karnataka, his clout will certainly improve and Priyanka will most likely enter politics.
And by mid-2018, Sonia will completely retire from political life.
Rahul is fond of Leftist ideology, and many believe that Communist Party of India-Marxist chief Sitaram Yechury is his 'guide'.
Together, they want to ensure that the BJP is thrown out of office by 2024.
It is also said that after the Aam Aadmi Party won 67 of 70 assembly seats in Delhi in 2015, Rahul was fascinated by Arvind Kejriwal's 'hit-and-run' style of politics.
However, to balance it, he later incorporated some elements of West Bengal Chief Minister Mamata Banerjee's style also.
Antagonism towards India Inc
The fact that Indian business stalwarts meet Sonia and ignore him worries Rahul.
But he must understand that if he continues to criticise corporate houses day in and day out, it will only help the BJP, especially when the government is going the extra mile to save them from tax nets.
In the run-up to 2024 polls, Rahul must try to not burn all the bridges.