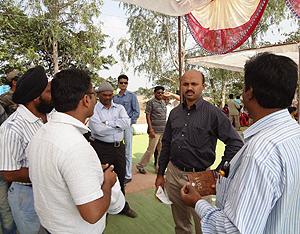 Kidnapped Sukma collector Alex Paul Menon's friend and collector of Bastar district in Chhattisgarh, Ponnusamy Anbalagan, speaks to A Ganesh Nadar
They are both Indian Administrative Service officers, they are both Tamils, they are both collectors in the Chhattisgarhs's Naxal belt and, most important, both are friends.
Alex Paul Menon was kidnapped by Maoists in Sukma district on Saturday. In Bastar district, too, the Maoists have been calling the shots for decades. However, being the collector of such a district, gives Anbalagan a rare insight to the kidnapping that others will not have.
Here is Ponnusamy Anbalagan on his friend Alex Paul.
"We have known each other for six years, since he has been working in this area. We meet up regularly when we are in nearby districts, like now. When we are in districts far off from each other we meet once in a blue moon.
"There are different ways of looking at the kidnapping. We can go to the villages with full security, which will keep the Maoists away but it also keeps the villagers away. When we go in with minimum security the villagers come to us more freely. As collectors we have to go with some security. Other government staff move around with no security at all.
"But you have to consider the fact that we move around every day of the year. This (the kidnapping) happens once in a lakh trips.
"To win over people that are very backward, very poor -- they fear everybody. If a collector wants to win their confidence in himself, in the system, in the government, he has to reach out to them. He has to go to them and sit with them as one of them, not surrounded by a thousand policemen.
"Alex has gone further into the interiors with full security when needed. You have to understand the larger perspective. Identifying the pitfalls is difficult. We make a decision every day for every trip, as to how much security to take with us.
"We are here to develop the region. Only through people is development possible. If people are kept away from us, even by our own security, it goes against our attempt to develop the area.
"Modern, highly-educated people will understand if you tell them once. They understand fast. But these people are not educated or modern. All their lives they have seen cheats and hooligans. The collector has to establish his credibility, the system's credibility and the government's credibility.
"So if he chooses less security to be more accessible to the people, it is the right decision. Full security, little security or minimum security is a decision we make and sometimes we go wrong.
"Our first priority is to get Alex back safely and the entire government machinery is working to that end."
Image: Ponnusamy Anbalagan (second from right) at a community welfare event in Bastar district