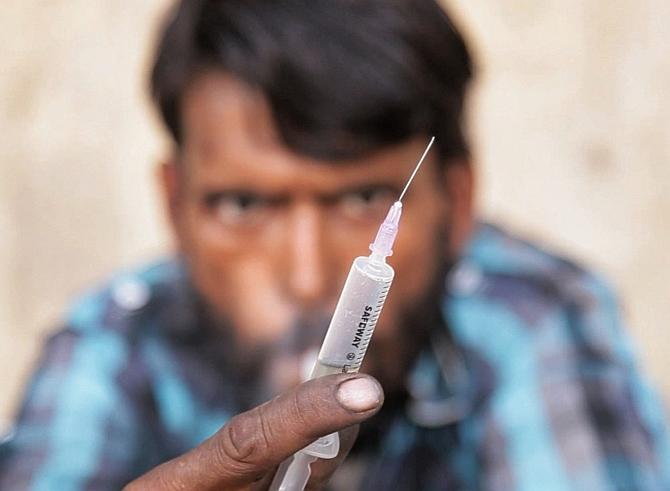 2.3 million people are opioid-dependent. 860,000 people are opioid users. 123,000 people are heroin-dependent. Rashme Sehgal reports on the shocking situation in the state.
An unprecedented wave of drug abuse has extended its tentacles across north India.
The National Drug Dependence Treatment Centre at the All India Institute of Medical Sciences is having to tackle large numbers of drug addicts from Punjab, Haryana, Uttarakhand, Uttar Pradesh, Bihar, Jharkhand, Jammu and Kashmir as also from the north-eastern states.
The NDDTC along with the NGO Society for Promotion of Youth and Masses recently released the results of its 2015 study on drug abuse in Punjab which threw up some alarming statistics.
Not only were drug addicts found to be spending up to Rs 2.5 crore (Rs 25 million) per day on the purchase of drugs, but the numbers of addicts were much larger than had been highlighted by earlier studies.
The Punjab study discovered that from a population of approximately 2.77 crore (27.7 million) people, around 2.3 million people are opioid-dependent, around 860,000 people are estimated to be opioid users. More than 123,000 people are heroin-dependent.
The NDDTC also found that drug users are getting younger. The largest number of addicts are in the 18 to 35 age group. Older men in their forties and fifties also consume drugs.
Over Rs 7,500 crore (Rs 75 billion) worth of drugs is consumed on an annual basis in Punjab. The money spent on heroin abuse is calculated to be a whopping Rs 6,500 crore (Rs 65 billion).
"What is really alarming is the large numbers of drug addicts coming to us from UP, Uttarakhand, Bihar and Jharkhand," says Dr Atul Ambedkar of AIIMS, the principal author of the NDDTC study.
"Our present study is confined to drug abuse in Punjab, but the government needs to conduct similar studies in the other states to get a correct perspective on the extent of this problem," adds Dr Ambedkar.
"A similar situation must be happening in the other states," he warns, "but we can provide accurate numbers of drug abuse only after we have conducted ground level surveys similar to what was done in Punjab."
Two kinds of drugs are presently being used in the Punjab. Opiote drugs, which are derived from opium plus synthetic, and pharmaceutical drugs which fall under the category of psychoactive substance abuse.
"There is a recreational factor associated with drug abuse with the majority of addicts admitting they started taking drugs under pressure from their peers who act as magnets in initiating them into this deadly routine," says Dr Ambedkar.
"Once hooked, many of them admitted to spending around Rs 1,400 per day on buying these opiates," Dr Ambedkar adds.
Most of the heroin coming into Punjab is known to be smuggled via Pakistan. Afghanistan and Iran are known to grow large quantities of heroin with Afghanistan alone known to be producing more than 80 per cent of the world's heroin. Some of this opium makes its way into India with Pakistan's Directorate of Inter Services Intelligence known to be masterminding this operation.
Doctors at the NDDTC believe the widespread drug abuse in northern India can be attributed to the easy availability of drugs which young people consume for 'recreational' purposes.
The Punjab study revealed that addicts are to be found in both the rural and urban parts of the state. Among the men aged between 18 and 35 years, four in 100 are opioid dependent, while 15 in 100 could be opioid users.
The survey covered 10 districts -- Bathinda, Ferozepur, Gurdaspur, Hoshiarpur, Jalandhar, Kapurthala, Moga, Patiala and Tarn Taran.
Businessmen, transport workers, labourers and farmers are consuming drugs, the survey found, but college students are taking it in increasing quantities.
What is of concern to doctors at the NDDTC is that 80 per cent of the patients brought to the centre have tried quitting drugs, but only 35 per cent have succeeded in getting some kind of treatment in deaddiction centres.
"The most effective treatment is the Opiote Substitution Therapy which has been endorsed by WHO (the World Health Organisation), the United Nations and by the Indian Psychiatric Society," says Dr Ambedkar.
"This requires the user to take a course of opioate medicines over a course of several years. These are not very expensive and cost between Rs 30 and Rs 50 a day, but have to be taken for years."
"Most addicts believe all they need to do is join a deaddicton centre for a few days and they will get cured," he adds. "This is not going to happen. The state and central governments must allocate adequate resources to ensure they receive sustained treatment."
The other source of concern is the apprehension that increasing drug use will cause an HIV/AIDS epidemic. "Everyone thought the HIV epidemic was limited to the north-east," says Dr Ambedkar, "but our evidence shows that this epidemic has spread to Delhi and Punjab."
"Delhi is paying more attention to the use of injectables. Drug users in the capital are being given clean needles and syringes so that they can take drugs in a safer manner," he adds. "The reason why this is being made available to drug users is so as to control HIV/AIDS. India has been applauded for this. The Punjab government needs to pay attention to this as a key step to control HIV."
Photograph published only for representational purposes.