Image: Arvind Kejriwal at an election rally in Jhilmil Colony in New Delhi. Photograph: Kamal Kishore/PTI Photo
'Poor people need to survive, and with the prices of vegetables, petrol, electricity and water high, there was no option but to vote for AAP to change things.'
Delhi's slum dwellers share their hopes and expectations with Rediff.com contributor Upasna Pandey.
For the millions of Indians who live in Delhi's slums, the Aam Aadmi Party's victory promises better delivery of government services.
For starters, they can use the public shauchalays (toilets) for free -- a facility they say was extended during AAP's 49-day government in 2014.
Residents of the Udayan Marg slum, which is located in the heart of Gole Market, cheer for the AAP and the rise of Arvind Kejriwal.
The slum is part of Kejriwal's assembly constituency and its residents hope AAP will lower prices and provide them access to essential services.
Lakshmi, who lives in a jhuggi (shanty) at Udayan Marg with her husband and six children, has a lot of expectations from Kejriwal and his party.
"We don't have any toilets in the jhuggis, we go to the nearby public toilet and get drinking water from a CNG gas station. Every family collects two, three cans of water every day," she says.
"We pay Rs 300 every month for electricity, even though it is unauthorised. In spite of paying for it we face power cuts. We hope all this will change soon," adds Lakshmi.
The jhuggi residents, who go to government hospitals nearby for medical treatment, say they cannot always afford medicines. They hope the AAP government will provide free medicines to low income families.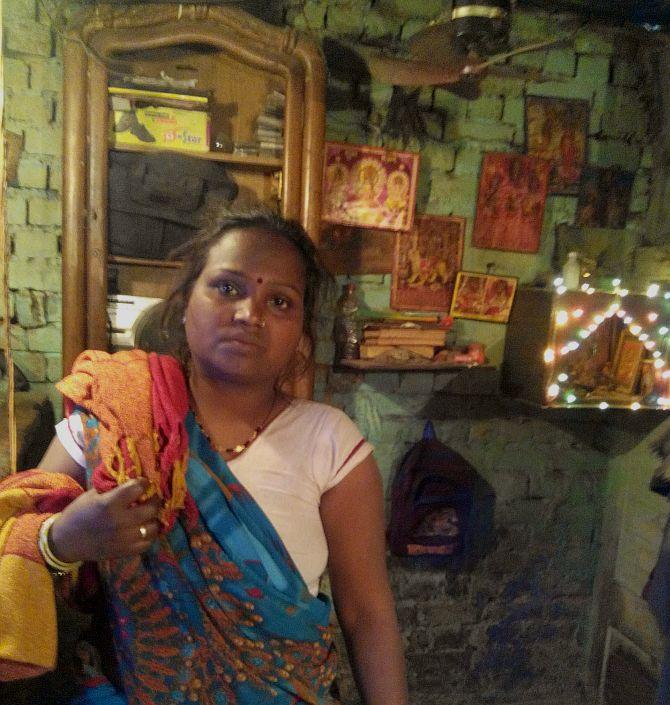 Image: Lakshmi, a resident of the Gole Market slum. Photograph: Upasna Pandey
Lakshmi laments that she could not vote in the election, but is happy her husband, who works as a construction worker, has been voting for AAP since 2013.
"There was improvement in our day-to-day life -- the prices of vegetables, petrol and electricity came down," she says of AAP's government last year. "Corruption reduced and also police harassment."
Surendra, a resident of the JJ colony in Gole Market, hopes for relief of a different kind. He met with a road accident while on the job, but the contractor refused to provide him proper treatment at a hospital.
"I have no earnings and the case is being prolonged in court. I hope to get some redressal," he says.
Akshay, a Class 10 student, is excited about the AAP victory. "I hope there can be free tuition classes for students like me. I want to join the army," he says with a smile.
Another resident of the JJ cluster, Divya, says the anganwadi for children used to offer free service earlier, but later began charging Rs 50 per month per child. Now that charge has been hiked to Rs 100 per child, she says.
"I hope we can send our children to anganwadis for free, as we used to earlier," she says.
Women in the slums attend sewing classes offered at a local NGO-run centre and hope they can add to their income in the future. "I want to work and earn for my family. I hope the new government can bring more facilities in the area," says Divya.
Shankar, an elderly resident of Trilokpuri, another low income resettlement constituency, says "I always voted for the Congress, but now there are no strong Congress candidates to work for the poor, so I opted for the jhadu (the AAP's electoral symbol) this time."
Shankar is miffed with (Prime Minister Narendra) Modi. "He has forgotten all the promises he made to the people, he has not done anything since he came to power. Poor people need to survive, and with the prices of vegetables, petrol, electricity and water still high, there was no option but to vote for AAP to change things," says Shankar.
He feels Kejriwal's government will need to deliver on its promises of creating more jobs for the youth if they want to build faith among poor voters.
Laloo is a flower vendor and a resident of Trilokpuri. He points out that he did not have to pay a monthly bribe to the police during the 49-day AAP government last year, which was a major reason why he opted for the party this time.
"I was a BJP supporter, but didn't see much action on the ground since Modi became prime minister. I thought we should give Kejriwal a chance to make some positive changes in the city," he says.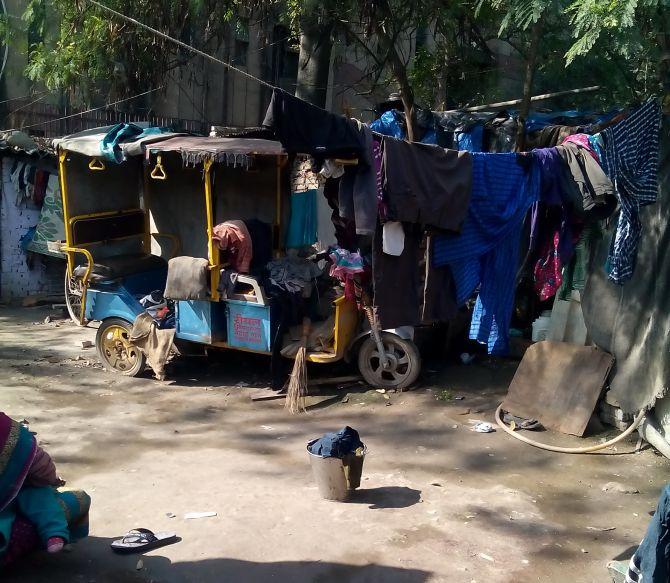 Image: Arvind Kejriwal's government will need to deliver on its promises of creating more jobs for the youth, if they want to build faith among poor voters, says a resident of Trilokpuri. Photograph: Upasna Pandey
Naresh, who works with the Municipal Corporation of Delhi, has always voted for the Congress, and continues to be a loyalist. But he says he is "happy with AAP's victory as it is a victory of the poor people of Delhi."
"I believe a lot of development work has been done by the Congress in Delhi. There were good leaders in the party. But during Sheila Dikshit and Manmohan Singh's term many scandals were reported. The party could not control the hike in prices," he says.
His sentiment is echoed by Kundan, another resident of Trilokpuri.
"If the AAP government brings in new companies into the electricity supply services and reduces prices as it has promised, it will bring a lot of relief to the common man," he says.
Kundan says residents rallied around the AAP candidate, supporting him with funds and providing services. "Few people were interested in taking bribes in the form of liquor or cash from other parties," he says.
Kundan compares Arvind Kejriwal to (actor) Anil Kapoor, who plays a larger than life one-day CM in the Hindi film, Nayak.
"Modi has been taught a sound lesson by Delhiites," says Nethra Pal Singh, another resident of Trilokpuri.
"He has been busy wooing the international audience; he is busy giving high budgets to his home state Gujarat and he was overconfident about Delhi."
"The people of Delhi have given a majority to AAP, so there is no possibility of the party quitting government like last time. We won't let that happen," she says.
Delhi's economically underprivileged lived up to its end of the bargain and voted decisively for AAP. It is up to Arvind Kejriwal and his party to deliver on its promises now.