Commander Abhilash Tomy of the Indian Navy will set sail from France on the 30,000-mile Golden Globe Race only with a compass, printed maps, star and planetary movements and 140 litres of fuel.
Ajai Shukla reports.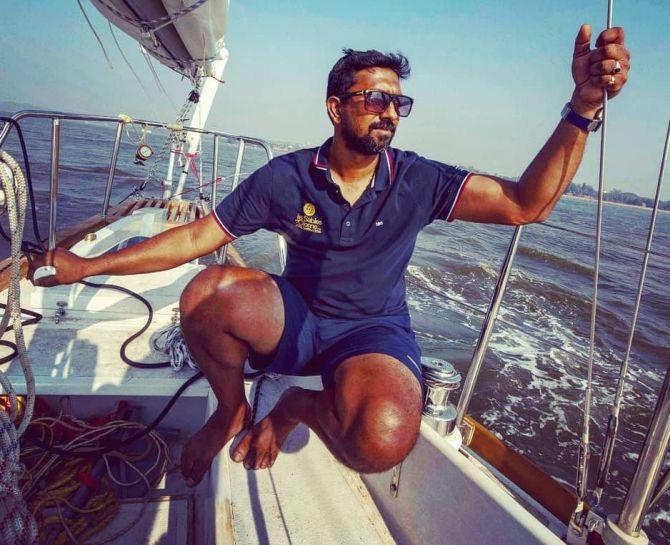 On April 6, 2013, Commander Abhilash Tomy of the Indian Navy completed a solo circumnavigation of the world -- a non-stop, round-the-world voyage in a small, Indian sailboat named Mhadei.
At the finish of what was dubbed the Sagarparikrama, then President Pranab Mukherjee received him at the Gateway of India, Mumbai.
Commander Tomy, now, faces a more hazardous challenge.
On Sunday, he will set sail from France on the 30,000-mile Golden Globe Race, held to commemorate the 50th anniversary of the world's first successful solo, unassisted, non-stop circumnavigation by sailing legend Sir Robin Knox-Johnston.
As in the original Golden Globe Race, no modern digital or satellite gadgetry will be permitted.
Navigation and communications equipment, tools, and the boat itself, may only incorporate technology that was available to Knox-Johnston.
In 1968, nine skippers had started the race from Falmouth, UK.
Only Knox-Johnston completed the challenge, taking 312 days -- almost a year, alone at sea.
This time, 18 skippers are starting from Les Sables d'Olonne, France.
Commander Tomy, now famous and winner of the Kirti Chakra for peacetime gallantry, is a special invitee.
The officer says he aims to complete the race in 311 days, one less than Knox-Johnston.
"During the Sagarparikrama (the first circumnavigation>/em>), I had used GPS-based maps and other satellite-based technologies. At the Golden Globe Race, I have to make do with a compass, printed maps, and star and planetary movements. There is a solitary high-frequency radio set for contact. The size of the boat limits the water I can carry. Sir Robin had stored and used rainwater and I will do the same. There is no help from the outside world throughout the race," says Commander Tomy.
Sailors are allowed to carry satellite phones exclusively for medical emergencies.
The boats have outboard engines, but are allowed only 140 litres of fuel, usable only under strict conditions.
Starting from Les Sables, the race route heads south till Cape Agulhas at the southern tip of Africa.
Rounding the stormy cape, the skippers will sail eastward past Cape Leeuwin (Australia) and Cape Horn (South America).
From there, they will sail north into the Atlantic for the final leg back to France.
A key element of Commander Tomy's quest is his sailboat, the 10 metre-long Thuriya, built to a design identical to Knox-Johnston's famous boat, Suhaili, which was built in Colaba, Mumbai.
Ratnakar Dandekar, who built the Thuriya at the Aquarius Shipyard, Goa, had also built the Mhadei -- the sailboat on which the pioneer of Indian solo sailing, Captain Dilip Donde, Commander Tomy himself, and most recently a crew of Indian Navy women earned their spurs.