Ram Pujan Rai is on his khatiya under a shady thicket of bamboo trees. Four, five cows rest around him. A lota of water is under the bed. Birds chirp melodiously. It is a perfect village picture.
But the story he tells is not as pretty.
Archana Masih spent an afternoon in his village of Bajidpur, by the side of a wasted rice crop, as Rediff.com looks at Bihar through the stories of its people.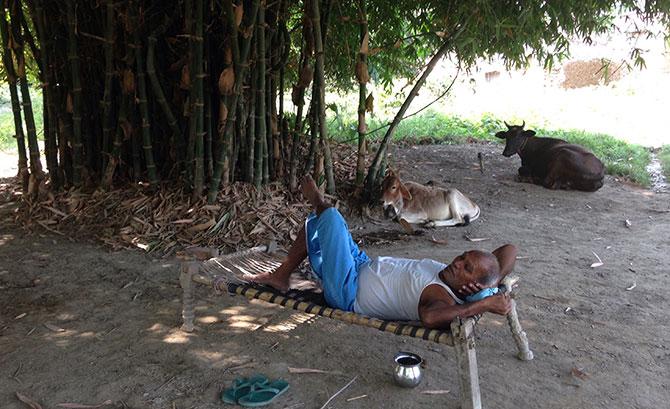 IMAGE: Ram Pujan Rai takes an afternoon nap on a hot October day. Photographs: Archana Masih/Rediff.com
Rajput gaon. Harijan gaon. Ahir toli... You can call them the gated communities of our villages, ones that have predated the fancy ones built in big cities by generations.
The village boundaries are drawn by caste. Much as we would want these divisions to disappear, they seem etched in stone.
I get off the main road and turn into the 3.5 kilometre road leading to Bajidpur village. The rural road has been constructed by a central government scheme. There is a board that provides details of the construction. It took a year to be constructed and was completed last year.
It is afternoon and it is quiet. The village does not have any mud houses; they are all made of brick. Most are unpainted.
A man on a cycle sells hand-woven baskets that you don't get to see in the cities.
He points to the Harijan basti which lies behind the house. I follow the directions and walk towards what is a picture perfect scene.
Ram Pujan Rai is settling down for a nap on his khatiya under a shady thicket of bamboo trees. Four, five cows are resting around him. A lota of water is under the bed. Birds chirp melodiously.
He used to be a truck driver, driving up to Calcutta in the east, but returned home some 15 years ago to work his small field. His wife Parvati Devi comes to join him as they tell me what has changed in their village.
***
IMAGE: Parvati Devi with her married daughter who is visiting. Both women never went to school.
Look, that is the toilet built by the government two years ago. In two months, it started sinking into the ground and couldn't be used.
It was made of such poor quality that our village saandh (neutered bull) mowed down one of its walls with just a brush of its horns.
You can see him standing there by the wall. He is a moody fellow. To some he is indulgent and won't do a thing, but some he can't stand the sight of!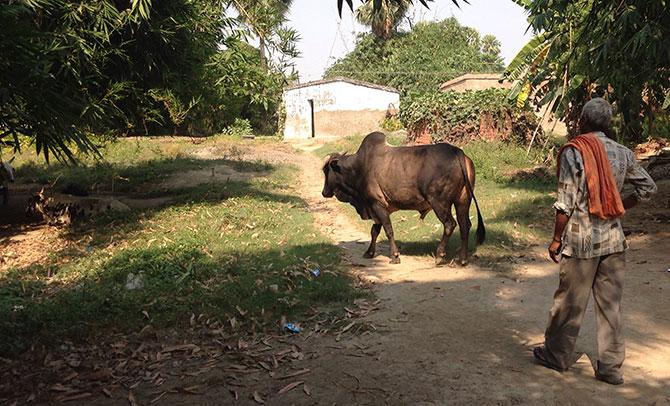 IMAGE: The village saandh who brought down a toilet wall. He is an old native of the village.
We had provided the bricks while the government gave sand and cement for the toilets. They built around 20 of them -- not one of them is fit to be used now.
There are around 150 homes in this village, only about 10 have toilets. They have been made by those who have the means to build one.
The thekedar (contractor) whom the government had given the work to, used material of very poor quality. He just ate most of the money.
Since we don't have toilets, we go in the fields. It is worse for the women. Men and women have demarcated different area for themselves. But it is most difficult for us during bhado (the monsoon).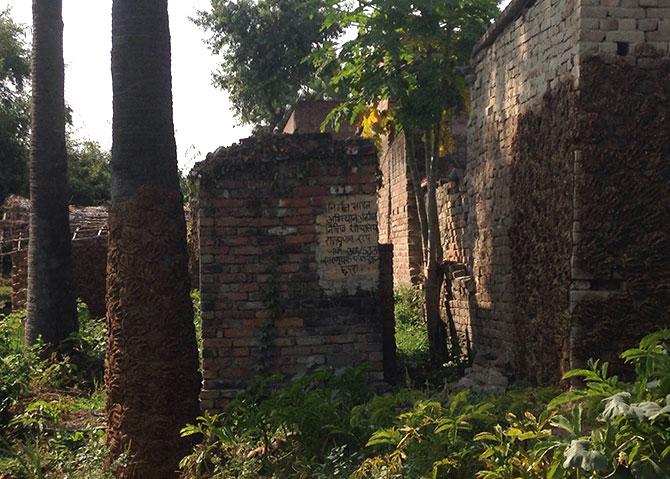 IMAGE: Toilets constructed by the government. Villagers say they were made of such poor quality that they started crumbling in two months.
We used to have a mud house, but have made a pucca house with some money through the Indira Awas Yojna. We built it recently.
You ask me what has changed? I feel things have got worse. If that was not enough, our crop failed this time. First it was wheat; now dhaan (rice) is going to meet the same fate.
See, it has turned yellow and has not sprouted any flowers. By this time rice would have started to form in the pods. If it doesn't sprout, we will chop it and use it as cattle fodder.
We are a basti of ahirs (cow rearers). We have 2, 3 cows per family and sell the milk for Rs 24 to Rs 28 per litre. We use dried cow dung cakes to build fires for our cooking.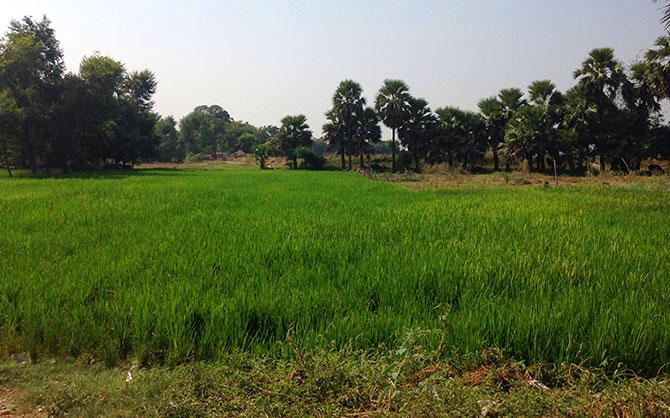 IMAGE: Don't get taken in by this lush green patch, this is a rice crop on the verge of failure.
***
Most of the people here work in the fields, a few do some odd jobs like driving autorickshaws, working in shops etc.
There are two government schools close by that the children go to. They get the midday meal, but say the meal is better in one school. Today they were served khidchi. They also get dal, bhaat and chokha (rice, dal, mashed potatoes).
Parvati Devi walks me to a circle of ladies sitting on the ground some distance away. One of then is her married daughter who is visiting.
The women tell me they all go to vote, but don't remember any neta coming to their door.
***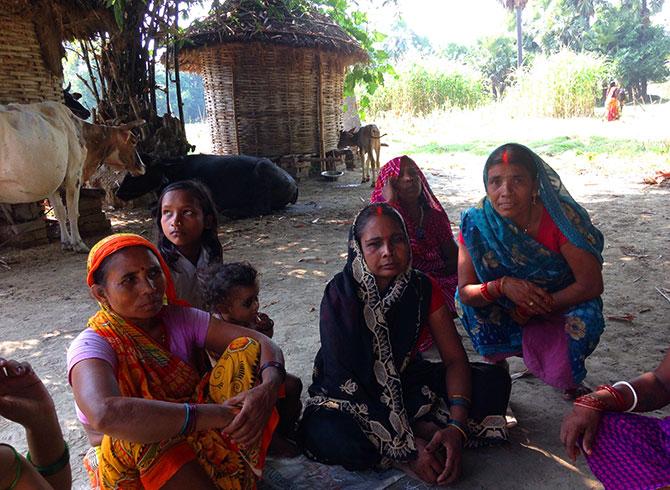 IMAGE: The womenfolk will walk to the polling booth in the primary school to vote on election day.
Neta log don't come this far inside the village. Even if they come, they don't come and talk to the women. They will call some influential man from the village and tell him to ask us to vote for them.
How can we know which neta is good and which is not good. The men tell us which button to push and we do that. We hear that there is even a button now that you can push if you don't want to vote for any neta.
Now that's something to think about. (And they all laugh.)
In my experience of election reporting in the Hindi heartland, I have learnt that village voters will indulge you with an answer about whom they will vote for, but you would be naive to believe that they have truthfully revealed their choice to you. They understand what a secret ballot means, and that is how it should be, even when faced by prodding reporters.
THE I AM BIHAR SERIES