'He destroyed many of our tanks, and finally, it was just the two of us left facing each other with our tanks just 200 m apart.'
A tale of valour excerpted from Rachna Bisht Rawat's 1971: Charge Of The Gorkhas And Other Stories.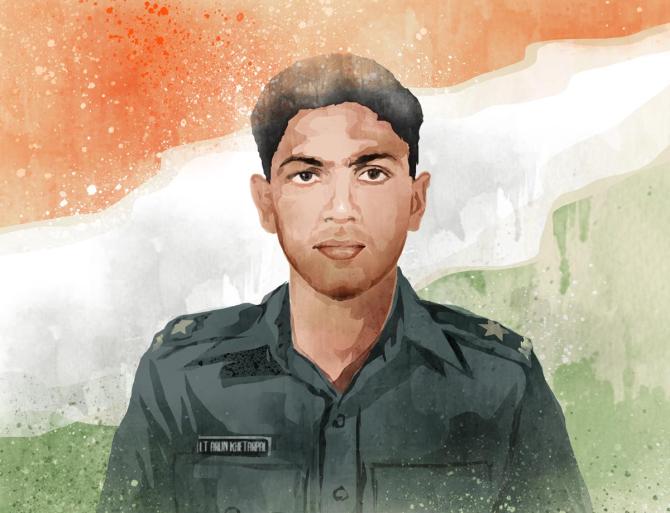 19 December 1971
0745 hours
B-24, Naraina, Delhi
Brigadier K L Khetarpal is in his dressing gown, shaving, when the bell rings. Running his razor along his foamy chin, he hears the soft scrape of his wife's slippers against the floor and her footsteps leading to the front door.
The latch clicks and the door creaks open.
There is a hushed conversation.
He hears the distinct rustle of paper changing hands. And then a scream and a dull thud.
His wife appears to have fallen down.
His face still soapy, Brig. Khetarpal rushes out of the bathroom.
He finds Maheshwari Khetarpal collapsed on the floor and a postman at the door.
In her hand there is a telegram.
Gentle, soft-spoken Mukesh, the Khetarpals' younger son -- barely twenty and a student of IIT Delhi -- is home too.
He also hears the noise and comes out of his room, still in his pyjamas.
As Brig. Khetarpal bends down to assist his wife, Mukesh takes the piece of paper from his mother's loosely clasped fingers.
Tears spring to his eyes as he reads the telegram and then wordlessly passes it on to his father.
'Deeply regret to inform your son IC 25067 Second Lt Arun Khetarpal reportedly killed in action sixteenth December. Please accept sincere condolences,' it says.
---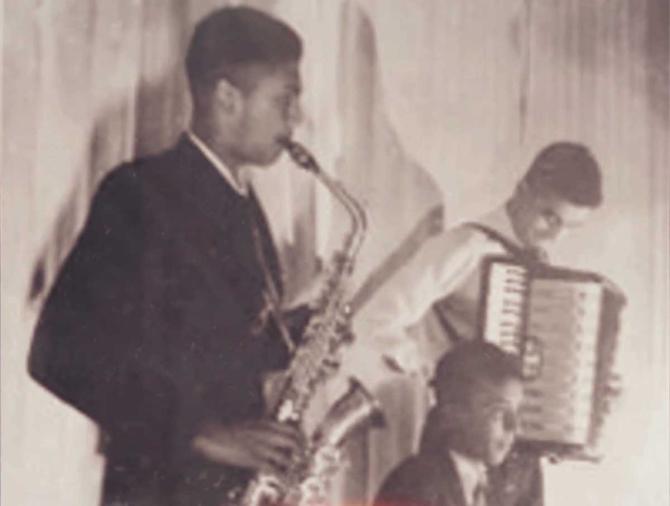 May 2020
Khetarpals's bungalow
Forest Lane, Ghitorni
Delhi
Fifty years have passed.
Mukesh Khetarpal is now seventy years old, while his elder brother, Arun, who smiles rakishly from a portrait on the wall, dressed in army fatigues, is an eternal twenty-one.
Mukesh points that out himself. 'I have aged but Arun never will,' he says, his eyes crinkling up at the corners as he smiles.
He says he clearly remembers the cold Delhi winter of 1971 when he was studying in IIT Delhi and Arun's Young Officers course at Ahmednagar had been interrupted by the war.
Arun was recalled to his unit like all the other officers, and he had taken a train to Delhi, travelling in the pantry car since he could not get a reservation at such short notice.
He had carted along his beloved Java motorcycle, a gift from his dad.
Since there were a few hours before he had to catch the Punjab Mail to Jammu, he had unloaded his bike at Delhi and decided to ride it home.
'I was home that day,' remembers Mukesh.
'Arun parked his bike and walked in, looking extremely handsome in his black Armoured Corps dungarees.
'I was so envious, particularly of his uniform.
'He was in the peak of his physical health, just as most young officers are after their intensive physical training, and he knew it.
'He had the lithe body of a panther, a confident prowl, and he was so extremely proud of his uniform, his regiment, his country that it showed.'
'We were so young then. I never once thought that Arun might not come back. For me, he was just going on an adventure.'
Arun had packed up his golf clubs and his Blue Patrol uniform, explaining to Mukesh that he planned to play golf in Lahore and that he would need his ceremonial dress to attend the dinner night that would surely be held after the war was won.
The Khetarpals had an early dinner, and it was at the dining table that Mrs Khetarpal said to Arun those famous words that would become part of army folklore.
Recounting to him how his father and grandfather had both fought in wars, she had said, 'Sher ki tarah ladna, Arun, qayar ki tarah wapis mat aana.'
Arun had looked into her eyes and smiled.
Later in the evening, Brig. Khetarpal had taken out his grey Standard Herald car and, giving a warm hug to Mukesh and his mother, Arun had got in.
Arun, sitting next to his father, had pushed his head out of the car window and saluted his mother as she fought back tears and the car sped out of the driveway.
Early December went by in a haze.
'We had an imported Hitachi transistor.
'We would carry it around and spend all our time listening to Radio Ceylon, which was reporting the war in detail.
'Sometimes the signal was good and sometimes we could hardly hear anything, but we all sat around with our ears glued to it,' Mukesh remembers.
On the evening of 16 December, Radio Ceylon reported that a massive tank battle had happened in Shakargarh.
'We knew Arun's regiment was in that area and our hearts sank.
'There was a dreadful stillness in the house all evening.
'In our hearts there was this terrible fear about Arun's wellbeing, but nobody wanted to say it out loud.'
The very next morning, there came the announcement that Prime Minister Indira Gandhi had declared a ceasefire.
The war had finally ended.
'It was such a relief to us,' Mukesh recollects.
'We started smiling and talking once again.
'My mother got Arun's room cleaned up and we started looking forward to the day he would be back home, recounting stories from the battlefield.'
And then, on 19 December, the bell rang, and his mother opened the door to the postman.
---
'That telegram shattered our lives forever,' remembers Mukesh.
'After that, a sadness seeped into our lives.
'My father, who was bursting with pride when Arun graduated from the Indian Military Academy and joined Poona Horse, was never the same again.
'He had so many dreams for Arun. But Arun left us all so suddenly.
'Both my parents never recovered from the loss.
'My mother immersed herself in household chores.
'Papa became quiet and withdrawn.
'He stopped going to the Delhi Gymkhana Club and meeting people, something that he used to love doing earlier.
'He would spend most of his time locked up in his room,' Mukesh remembers.
Thirty years passed as the Khetarpals slowly accepted their loss and came to terms with their grief.
Mukesh studied at IIT Delhi, found a job, got married and had a daughter, though he continued to stay with his parents.
And then one day, he and Mrs Khetarpal were surprised to see Brig. Khetarpal smiling again. He looked happy.
'He said he was going to Sargodha, his ancestral place in Pakistan where the family had lived before Partition,' says Mukesh.
Both Mukesh and Mrs Khetarpal tried their best to dissuade Brig. Khetarpal, but he would not hear a word from them.
"You are eighty-one. Where will you go?" we asked him, but he dismissed all our pleas.
"It is decided. I am going," he told us.
"Don't argue with me."
'I am staying with another graduate of our college, a Pakistan Army officer who lives in Lahore,' he told her.
'That reassured us a little, and finally, when the day arrived, we drove him to the airport, where he got on to the Air India flight and waved us a happy goodbye.
'He was as excited as a schoolboy,' says Mukesh.
Brig. Khetarpal called his family from Lahore.
He told them his host was a perfect gentleman who had come to receive him at the airport and was taking very good care of him.
Three days later, it was time for Brig. Khetarpal to return, and Mukesh drove to the airport to pick up his father.
He found in him none of the excitement with which he had gone.
A week later, the Khetarpals were visited by 1971 war veteran Maj. Gen. Ian Cardozo, who was releasing a book on Param Vir Chakra award winners.
Since Arun's story was also in the book, he had come to invite Brig. and Mrs Khetarpal to the launch at the Ashok hotel.
A week later, Mukesh was reading India Today magazine when he came across an article that talked about his father's Pakistan trip and his meeting with the Armoured Corps officer who had been the cause of his son's death.
A shocked Mukesh read it and then went looking for his father.
'I confronted him and asked if what I had read was true.
'He said it was.
'When my mother and I asked him why he had not shared this with us, he said what could he have told us.
'It was not a pleasant episode.'
And that was when a shocked Mrs Khetarpal and Mukesh heard what had transpired in Lahore when Brig. Khetarpal had been a revered guest at Brig. Khwaja Mohammad Naser's house in Lahore.
---
1 March 2001
Lahore
It is day three of Brig. Khetarpal's Pakistan visit.
He has just returned from Sargodha and is tired, but is also touched by the fact that Brig. Naser has gone out of his way to make the trip comfortable for him.
Brig. Khetarpal is surprised to notice discomfort in the Pakistani officer's eyes.
Brig. Naser is looking at the grass. He looks up to find Brig. Khetarpal's eyes on him.
'Main kuchh qubool karna chahta hun, brigadier sahab,' he says softly.
'Kahiye, beta, main sun raha hun,' Brig. Khetarpal replies, looking affectionately at his host, who is younger than him by around thirty years.
'Sir, I too participated in the 1971 war.
'I was then a young major, squadron commander of the Pakistan Army's 13 Lancers,' he says.
Brig. Khetarpal is surprised -- 13 Lancers is the same regiment which had exchanged its Sikh squadron with the Muslim squadron of Poona Horse (his son's regiment) during Partition in 1947.
On 16 December 1971, in a sense, the Indian and Pakistani soldiers had fought their old regiments.
'We fought Poona Horse in the Battle of Basantar,' says Naser, 'Sir, I am the man who killed your son.'
A speechless Brig. Khetarpal listens quietly.
'On the morning of 16 December 1971, I was leading the counter-attack of 13 Lancers against the Indian bridgehead at Basantar,' Brig. Naser recounts.
'Your son was on the opposite side, standing there like a rock.
'In the battle, tank casualties were high.
'He destroyed many of our tanks, and finally, it was just the two of us left facing each other with our tanks just 200 m apart.'
We both fired simultaneously, and both our tanks were hit.
It was, however, destined that I was to live, and Arun was to die,' Naser says.
'Your son was a very brave man, sir. He was singularly responsible for our defeat.'
Stunned, Brig. Khetarpal can only ask, 'How did you know it was Arun's tank?'
Naser tells him that ceasefire was declared the next morning (17 December), and with that the war ended.
When he went to collect the bodies of his dead comrades, his arm in a bandage from the injuries he had suffered in the battle, he also checked on his damaged tank.
That was when he saw Indian soldiers trying to extricate the tank he had battled with a day before.
Curious about the identity of the brave man who had fought him so fiercely, Naser walked up to the soldiers and inquired who had been commanding the tank.
He was told it was 2nd Lt Arun Khetarpal of Poona Horse.
'Bahut bahaduri se lade aapke sahab. Chot toh nahi aayi unhe?' he asked the soldiers.
They told him that Arun was martyred on the battlefield.
'Sahab shaheed ho gaye.'
A crestfallen Naser returned to his tent.
Brig. Khetarpal is listening in complete silence.
Naser tells him that he realized much later, when Arun got the Param Vir Chakra and became a national hero, how young he was.
'I didn't know he was only twenty-one, sir,' he says.
'We were both soldiers doing our duty for our nations.
'I salute your son for what he did.
'I salute you too because I now know where he received his values from.'
The two officers sit quietly under the moonlight for some time.
Then Brig. Khetarpal slowly gets up from his chair. Naser springs to his feet as well.
The two stand together in an awkward silence, the moon lighting up Naser's grief-ridden face.
Brig. Khetarpal looks at his moist eyes and moves forward to gently hug the man who killed his son.
---
This edited excerpt from 1971: Charge Of The Gorkhas And Other Stories by Rachna Bisht Rawat has been used with the kind permission of the publishers, Penguin Random House India.
Feature Presentation: Ashish Narsale/Rediff.com