How Raipur's District Collector Om Prakash Choudhary ensures that poor children study at good schools.
R Krishna Das reports.
Illustration: Dominic Xavier/Rediff.com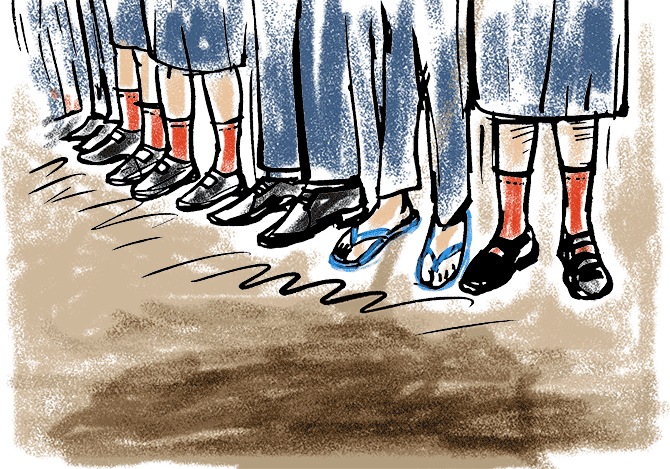 The daughter of a cook sharing a bench with a 'raj kumar' (prince) in a classroom sounds like the premise of a film.
In Chhattisgarh's capital, Raipur, Janvi Yadav and several others like her are enacting this script in real life.
Janvi has got admission in Class I at the Rajkumar College, which, since its establishment in 1882, has traditionally admitted children from royal families.
Janvi's father, a cook, earns Rs 8,000 a month -- an amount several of her classmates spend on fuel.
More than 5,000 children from economically weaker sections and disadvantaged groups in Raipur district have got admission into elite private schools.
Their admission is thanks in large part to the initiative of Om Prakash Choudhary, the young district collector of Raipur.
"Soon after I took charge (in April 2016), the admission process started in schools," Choudhary says. "I noticed several institutions indulging in malpractices to avoid admitting poor children."
Several schools claimed they did not receive applications under the Right to Education Act, which mandates that private unaided schools reserve 25 per cent of their seats for children from financially disadvantaged backgrounds.
The records of RTE admissions were fudged and did not reveal how many poor children actually got admission.
The manipulation compromised the future of several poor children, who would otherwise have got the chance to a better education, he says.
A 2005-batch IAS officer, Choudhary was brought up by his mother after his father died when he was in Class II. His mother had not completed Class V.
The school he attended in Bayang village in Raigarh district had no teacher in Class XII and there were only four classes on mathematics during the entire academic year.
"When you think of any concept, your background and life experiences play an important role," says Choudhary.
He believes that every child -- whether the one living in remote Dantewada or the one in New Delhi's posh RK Puram area -- has equal opportunity to education.
"Like equality in society, there should also be equality in education," he says.
The collector and his team decided to use technology to build a transparent system for admission under RTE.
They introduced the Right to Education Pardarshi (transparency) project after updating the management information system.
As part of the project, applications were invited online. "Initially, I was sceptical of the success of the system, given that poor people would have limited or no access to the Internet," he says.
Choudhary was surprised when more than 90 per cent of the applications were received online.
In all, 5,589 children from EWS and DG got admission into top-tier schools.
Last year, 2,800 children were admitted under RTE, although Choudhary doubts the figure because of charges of falsification.
What was his biggest challenge?
"Changing the mindset of prestigious institutions to admit poor children," he says. The collector took the lead and talked to the managements of the schools.
Janvi and other students enrolled under the RTE Act will get education free of cost. Typically, private schools in Raipur charge anywhere between Rs 30,000 and Rs 150,000 a year.
Choudhary acknowledges that his responsibilities don't end here.
"We have set up a separate wing for monitoring the progress of the students admitted under RTE," he says. The monitoring system will track students' attendance and progress in class and identify where they are facing difficulties.