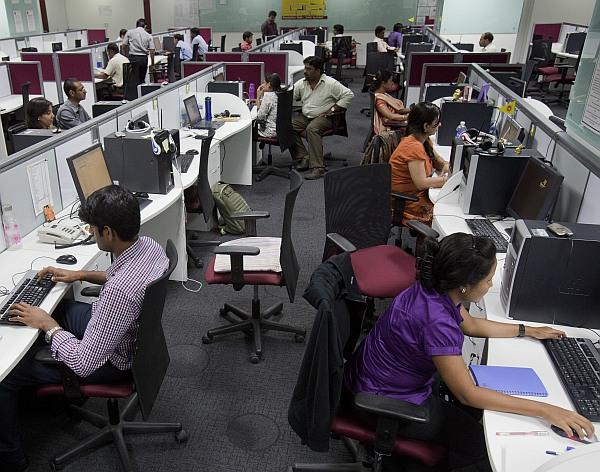 By some estimates, India will become the world's youngest country by the year 2020, with 64 per cent of its population in the working age group.
But if jobs do not grow in tandem, it could become a demographic nightmare.
Rediff.com's data journalists accessed data about India's unemployment rate in 2009-2010 and 2011-2012 from the Ministry of Statistics' National Sample Survey Office, India's largest establishment for conducting regular socio-economic surveys.
We then aggregated this data to a district-wise mapping to arrive at the change in unemployment rate.
The NSSO defines unemployment rate as the number of persons unemployed per 1,000 persons in the labour force.
We graded the change in unemployment rate into four categories: Declined a Lot (meaning maximum number of unemployed people became employed), Declined a Little, Rose a Little, and Rose a Lot.
Straightaway, you can tell from the resultant map that India's fabled contrasts are mirrored in the job market too.
While some places like Valsad in Gujarat, Mandi in Himachal Pradesh, and Sikkim boast of some of the sharpest declines in unemployment rates from 2009-2010 to 2011-2012, others like Mizoram, Jhalawar-Baran in Rajasthan, and Korba in Chhattisgarh have seen a dramatic rise in unemployment rates in the same time period.
We invite you, Dear Readers, to share your observations from this data.

What do you think causes these sharp contrasts in unemployment rates across the country?

What about your constituency -- where does it stand on the unemployment spectrum and what are the reasons?

Please share what you think in the message board below: