Photographs:
Vaihayasi Pande Daniel/Rediff.com
Vaihayasi Pande Daniel
in Colaba
South Mumbai wears a deserted look hours before US President Barack Obama's arrival in the city.
Traffic, including taxis, is still moving freely albeit cautiously on Colaba Causeway. But traffic cops say they will pull all traffic off the road around 11 am. After that only residents' cars with passes will be permitted. But getting a car pass is next to impossible on Saturday at the police station.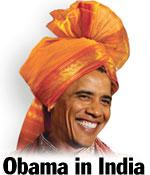 Along the Gateway, early morning walkers were allowed to walk right up to the barricaded Taj corner.

...





Only residents with passes are allowed on roads

A pandal is visible that guards the entrance of the heritage wing of the Taj Mahal hotel where Obama will stay.
The police say that a little closer to Obama's arrival time they will only allow residents with passes.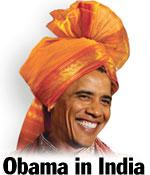 Two fire engines, including a Bronto skylift, have been parked at the Radio Club end of the Gateway promenade.
'America ke rashtrapati aa rahe hai'

"America ke rashtrapati aa rahe hai (The American president is coming)," say the sweepers sprucing up the Gateway promenade. 

"Koi mantri aa rahein (Some minister is coming)," says a beggar woman.

The doorman of one of the nearby hotels disagrees with her.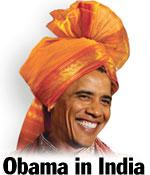 "Obamba aa rahein hain, Obamba (Obamba is coming, Obamba)."
Gateway is totally deserted

A lone tourist boat hovers in the sea near the Gateway.
"We will tell him to move when the time comes," says a policeman.
Two warships are parked in the distance off the Gateway. But in the early morning haze their markings are not visible.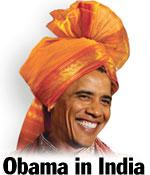 The usually bustling Gateway of India is totally deserted, apart from police personnel.