Archaeologists have discovered the long lost remains of Miguel de Cervantes -- the author of Don Quixote -- in a Madrid chapel.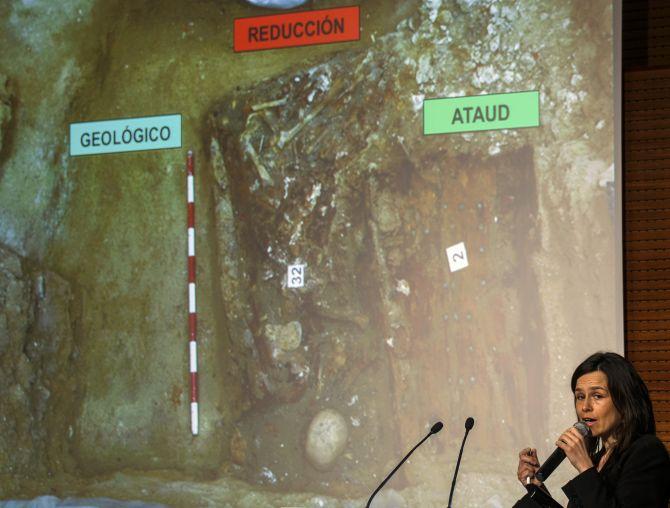 Forensic anthropologist Almudena Garcia speaks about the search of the remains of Spanish writer Miguel de Cervantes, in front of a picture of its probable location, in Madrid. Photograph: Andrea Comas/Reuters
They believe they have found the bones of Cervantes, his wife and others recorded as buried with him in Madrid's Convent of the Barefoot Trinitarians.
Separating and identifying his badly damaged bones from the other fragments will be difficult, researchers say.
The Don Quixote author was buried in 1616 but his coffin was later lost. When the convent was rebuilt in 1673, his remains were moved into the new building and it has taken centuries to rediscover the tomb of the man known as Spain's 'Prince of Letters'.
The team of 30 researchers used infrared cameras, 3D scanners and ground-penetrating radar to pinpoint the burial site, in a forgotten crypt beneath the building.
Inside one of 33 niches found against the far wall, archaeologists discovered a number of adult bones matching a group of people with whom Cervantes had been buried, before their tombs were disturbed and moved into the crypt.
Born near Madrid in 1547, Cervantes has been dubbed the father of the modern novel for 'The Ingenious Gentleman Don Quixote of La Mancha', published in two parts in 1605 and 1615.
His influence on the Spanish language has been so great that the language is often referred to as "the language of Cervantes".
Cervantes was shot twice in the chest and once in his left hand during a 1571 naval conflict, the Battle of Lepanto, in which the Holy League led by Spain defeated the Ottoman fleet. His bones would still show signs of the injury.