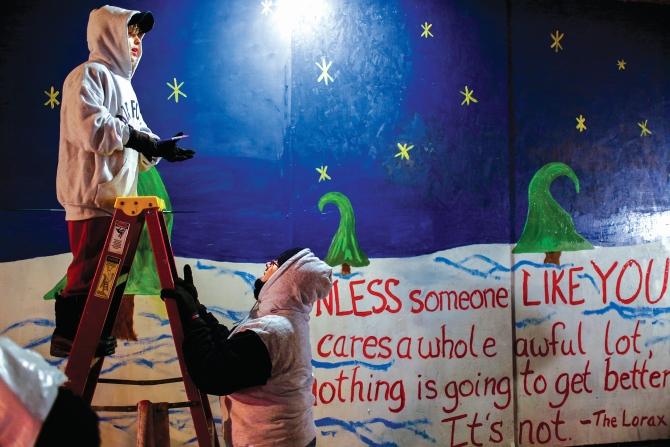 Civil rights activist Deepa Iyer, former executive director, South Asian Americans Leading Together, a social justice organisation thought after a visit to the minority businesses hit in recent weeks that the tragic story in Ferguson, Missouri, offers Indian Americans an opportunity to stand up and decry police brutality and show sympathy and support for African Americans in the beleaguered city
"The Ferguson Market & Liquor clerk and other immigrant workers might not be on the streets of Ferguson with African-American protestors night after night," she wrote in Colorlines last month, "But there seemed to be an understanding of the racial realities in Ferguson, especially when it comes to the police.
And, there seemed to be tacit support of the call for justice, which might also be the opening to have deeper and broader conversations."
She talked about how Neelu Panth, who works with A Better Family Life, a community development corporation in St Louis of which Ferguson is a part, has been planning roundtables between immigrant small-business owners and African-American leaders.
"Perhaps Ferguson is sparking not only a national awakening about the urgency of police brutality," Iyer wrote, "But also opportunities for people to address their shared struggles at the most local level -- based on the simple understanding that this is 'our community'.
She cited the example of Palestinian-American Zuhdi Masri, who has owned a store for 32 years in St Louis and who is working closely with local African-American leaders, including Metro St Louis Coalition for Inclusion and Equity.
He has been able to broker agreements between area gangs. Similar challenges exist for Indian-American peace makers.
"Having heard many Indian Americans discuss Ferguson and other related histories and having experienced their attitude on race and African Americans for more than two decades, I can say that many of our people have no sympathy for the problems blacks face, and also have a very little understanding of history," she said.
"Over two decades ago, when I wrote in Newsday about our racial attitudes, many in our community were offended. The story recalled meeting a colleague and her 5 year old who had just arrived from Mumbai. As we sat down in a pizzeria, I heard the kid whispering to his mother, "Yeh kallu hai (Is he black)?"
It dawned on me that he had been warned of black people, either by his mother after his arrival, or in India itself.
I remember how many of my family members would ask if I had been mugged in New York. When I said yes, they would look at me as if I would describe a hefty black man. But I would disappoint them by telling them about how my very desi landlord had mugged me by not giving heat in the winter.
I remember how many Indian newspapers, based on unattributed sources possibly in America, had run stories of how a big and tall black man was suspected of killing two cousins from India, a man and a woman, near St Louis. Later, the police would declare the first cousins were victims of a murder-suicide. They were in love, it was suspected, and could not bring themselves to deal with it and get permission from their parents to marry each other.
I remember a discussion between a young desi and older motel owner in Atlanta many years ago. Atlanta has a large African-American population, and is also the city where Dr Martin Luther King Jr amplified his civil rights movement, invoking the lessons of Mahatma Gandhi's fight across India.
The younger man was telling the motel owner, who had fled Idi Amin's Uganda and its anti-Asian policies, how the Indian community had benefited from the African-American struggle for equality and more inclusion which had seen some success.
"Listen, today all of us can sit anywhere on a bus in the South, thanks to Rosa Parks who did not want to sit at the back of the bus, in a segregated section," the young man said. "You know she was black."
He then went on to say how Indian migrants had benefited from small business administration incentives to start a business, a plan that was started to help black and Latino entrepreneurs.
"I could have done without any of those things," the older man said. "Listen, I had the courage to leave Uganda and come here with nothing in my pocket. Much of what I have is all self-made."
The discussion then went on to how African Americans created trouble. "Our desi cab drivers in New York and Chicago are scared of them," the older man said. "Store owners have problems with black school kids."
"But do you get upset over white crimes on Wall Street, how some big corporations evade taxes, swindle the country?" asked the young man.
"But they don't threaten my life at a gun point," the older man said.
Many in the Indian and larger South Asian communities across America could speak sadly of the breakdown of social and family structures in African-American society, though not as harshly as Dinesh D'Souza, the ultra conservative writer from Mumbai, has been doing. Ask them if they are doing anything for the black community, the answer is mostly a No.
"How can we do anything for them when they refuse to take responsibility for their actions and go on blaming the world?" asked a woman who did not want her name published. "Some times I think they have brought all this misery on themselves. Slavery went away a long time ago, and so did many unequal laws."
Meanwhile, Mike Patel, Andy Patel and many business owners in Ferguson and elsewhere in St Louis must think hard whether they should continue to operate in the troubled city.
The Klu Klux Klan has been camping in the city, backing the police and running down all minorities. On the other hand many African-American fringe groups, including one calling itself the Revolutionary Communist Party, have been egging fierce confrontation that should lead to armed conflict with the authorities.
"We have been used to all kinds of problems," said one convenience store owner, "but this is too traumatic."
If they decide to relocate, said a motel owner who has been operating a motel with bullet-proof glass in the lobby, they would be called by 'bleeding Indian liberals' as being anti-African American.
The man, who is an engineer, did not want to be named because he said he could be dubbed a racist. He recalled how Mira Nair's film Mississippi Masala two decades ago had shown Indians as being insensitive towards blacks.
"If indeed Indian businessmen leave the St Louis area," he said, "Would she make Missouri Masala now?"
Image: Volunteers Elliot Bailey (left) and Maria Whelan paint a mural on boarded-up businesses before a third night of protests in reaction to the grand jury verdict in the Michael Brown shooting in Ferguson, Missouri. Photographer: Lucas Jackson/Reuters