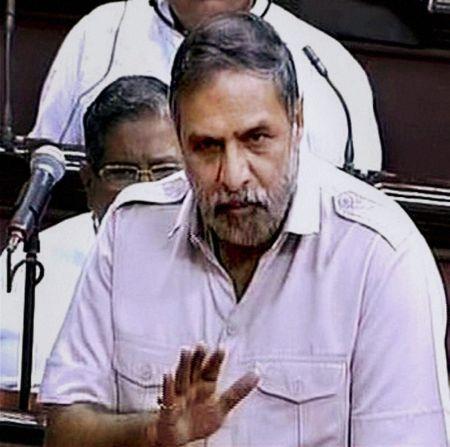 Opposition parties led by the Congress on Wednesday charged the government with making Parliamentary Standing Committees "irrelevant" by bypassing them while passing legislations.
Raising the issue during Zero Hour in Rajya Sabha, Anand Sharma of the Congress said that out of 51 new bills brought by the government, 43 have not been sent to any standing committee.
"If bills are not going through the scrutiny of standing committees, what does the government propose to do with standing committees? Standing committees have to continue, legislative scrutiny cannot be bypassed," he said.
Sharma said departmental standing committees are made up of 10 members of the Upper House and 21 from the Lok Sabha. "They do useful work," he said.
He charged the government with bypassing these panels by introducing all bills in the Lower House, where it has a "brute majority".
"It is a matter of concern that standing committees are being virtually made worthless and irrelevant," he said, adding, "The government must come clean on this. Why are you avoiding parliamentary scrutiny?"
As almost the entire opposition associated with the Sharma's mention, Naresh Agarwal from the Samajwadi Party said former Prime Minister Manmohan Singh is a member of the Standing Committee on Finance while senior Bharatiya Janata Party leader L K Advani too is a member of one of the panels.
Observing that there was a difference between a standing committee and a select committee, to which bills like insurance amendment bill was referred, he said standing committees comprise of both Houses while select committee belongs to only one House.
Terming the standing committees as 'mini Parliament', Sharad Yadav of the Janata Dal-United said the sittings of Parliament were getting reduced. "It is difficult to build institutions and easy to demolish them," he said.
While the Opposition members wanted the government to respond, none of the ministers present including Leader of the House and Finance Minister Arun Jaitley chose to reply.
Image: Congress's Anand Sharma accusing the Modi sarkar of making Parliamentary Standing Committees "irrelevant in the Rajya Sabha. Photograph: PTI