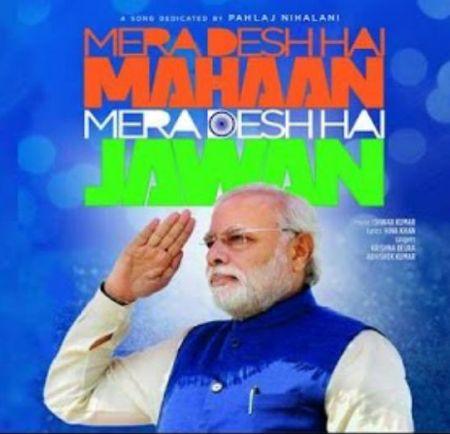 Salman Khan is now lending a helping hand to Prime Minister Modi. How one may ask? A six-minute video of the PM, titled 'Mera desh hai mahaan, mera desh hai jawan' which is attributed to Narendra Modi, directed by Central Board of Film Certification chief Pahlaj Nihalani, was released on YouTube on November 10, and it is being played during the interval of Salman's Sooraj Barjatya-directed film, Prem Ratan Dhan Payo in cinemas across the country.
"Since I am from the film industry, I have good relations with Rajshri Productions, who have made Prem Ratan Dhan Payo. I requested them to attach it to the film," Nihalani, chairperson of the Central Board of Film Certification, was quoted as saying to the Indian Express.
When asked about spreading propaganda, the CBFC chief said, "The song doesn't glorify anybody except the nation. It says 'Bharat ko swachh banana hai, jo sapna dekha Bapu, Modi ne, usse mil-jul kar humein sach kar dikhana hai'.
"So it talks about how we all should come together and work towards the betterment of the nation." He added that the song is part of a film he is making. He claimed that the film is slated to release in February 2016.
The song shows Modi sitting on an icy mountain top, in a meditative pose, with school children waving flags and shouting "Modi kaka", apart from a spread-out montage of his several meetings with world leaders such as US President Barack Obama and Russian leader Vladimir Putin.
The song also references Swachh Bharat Abhiyaan and compares Modi with Mahatma Gandhi. Nihalani, whose stint as Censor Board chief has been turbulent, also appears in the video.
However, the decision to club the song with the movie hasn't gone down too well with social media users.
Film critic Mayank Shekhar tweeted, "The scintillating Modi film, by Pahlaj Nihalani, playing in all Indian theatres along w/ Prem Ratan... Must watch… Has anyone seen the Modi film made by Pahlaj Nihalani playing in theatres along w/ Prem Ratan... You've to see it to believe how tacky it is."
Another Twitter user with the handle @apurvnagpal wrote, "If #PRDP wasn't painful enough, a 5 minute ode to @narendramodi by Pahlaj Nihalani you'll have to sit through in the break."