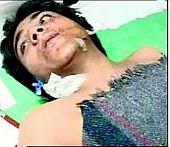 Deputy Police Commissioner Tanaji Ghadge, who questioned 26/11 gunman Mohammed Ajmal Kasab at a civic-run hospital in Mumbai hours after he was nabbed, on Wednesday said the attacker had confessed to being a Pakistani national and a member of terror outfit Lashkar-e-Tayiba during the first interrogation itself.
Ghadge, often seen questioning Kasab in the video footage that was leaked to the media, said, "The execution was required to send a strong message to the terror outfits."
The IPS officer, who was Assistant Police Commissioner (ACP) at the time of the heinous attack, said, "After Kasab was caught alive and taken to Nair Hospital, I immediately arranged a video camera to record his statement at the instructions of my seniors. I began questioning him a little after midnight."
"The terrorist not only admitted that he was from Pakistan but also revealed his name and said that he was part of the ten-member group from LeT that landed on the Mumbai shores to launch attack on select targets," he recalled.

The terrorist responded to many questions, Ghadge said adding, "When Kasab was caught alive, he pleaded 'maaro mat' (don't kill me)."
The 26/11 convict had also stated that five groups with two members each had spread at different places to carry out attacks in the city, Ghadge said.
"Kasab had then revealed the names of his associates and which group attacked which site. My questioning was over by 4.30 am on November 27, 2008," he said.
Ghadge was one of the officers who had sneaked into the Oberoi and rescued a few injured after the posh hotel was attacked by terrorists.
"It was nightmare that can never be forgotten," he said.

Also Read:
Kasab's last words: Allah 'kasam, aisi ghalati dobara nahi hogi'
The cop who asked Kasab: Kitne aadmi the?
What Kasab said after 26/11: 'We were meant to die here'