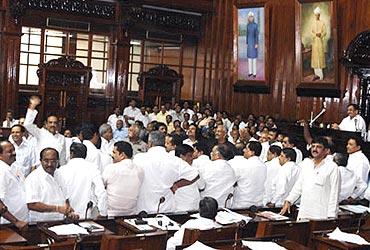 Rs 1 crore, 90 lakh. That is what Karnataka lost out, thanks to the Opposition boycott, which entered its third day on Thursday.
Explained: What the Karnataka mining row is about
Though the Opposition has decided not to take their salary and allowances, they managed to save a meagre Rs 7 lakh per day. The overall amount includes the Rs 40 lakh that was wasted last Friday when the House was adjourned when legislators almost came to blows.
The dharna, which has been on for the last 60 hours, now continues with the Opposition refusing to back out until the chief minister orders a Central Bureau of Investigation probe into illegal mining.
The chief minister is ready for a Lokayukta probe. While the dharna in the House continues, the loss continues to rise.
Statistics available from the legislative assembly suggests that per day Rs 41 lakh is being spent on the proceedings in both the Houses. The break-up provided by the assembly staff suggests this expenditure, includes salaries of staff, MLAs and MLCs and also power and decoration charges.
The breakup: (per day)
Salary for officer and staff: Rs 9.6 lakh
Staff Honorarium: Rs 15.2 lakh
Salary for members of both Houses: Rs 2.55 lakh
Payment for parliamentary functionaries: Rs 6,000
Honorarium paid to police and staff of horticulture department: Rs 2.8 lakh
Travel allowance to all members and employees at both Houses: Rs 48 lakh
Miscellaneous expenditure: Rs 8.46 lakh
Electricity: Rs 60,000
Decoration: Rs 60,000
Civil work by the Public Works Department: Rs 10.35 lakh
The BJP may adjourn House: While Chief Minister B S Yeddyurappa says that he will meet Governor H R Bharadwaj and discuss the issue of mining, he has made it clear that there is no way that this issue will be handed over to the CBI.
However, the BJP may try and counter the Opposition move by adjourning the House so that all activity in the assembly would be continued at a future date. However the government will have to wait until it passes the important finance bill before it adjourns the House.
Image: Legilsators stage a dharna in the assembly.