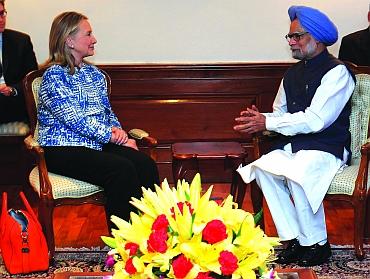 Foreign direct investment in retail and Teesta water sharing: 'certainly on the list': US Secretary of State Hillary Clinton on arrival in Kolkata
'Teesta? No, they did not raise it. FDI? No, they did not raise it': West Bengal Chief Minister Mamata Banerjee.
'Touching on issues, ranging from increasing US investment in West Bengal, including in the retail sector, US-India relations, regional affairs: The United States consulate in Kolkata, after the meeting between Hillary and Banerjee.
Clearly, someone is not telling the truth.
Clinton insisted that both issues were on her list. The US consulate confirmed that at least FDI in the retail sector was discussed. But the West Bengal chief minister emphatically denied any such discussion on the two contentious issues. Then what was discussed? What was the need for Clinton's decision to begin her state trip to India from West Bengal? The answer is simple.
One, the US is visibly happy about the change in government in West Bengal, and the ouster of the Communist Left Front. For the first time in over three decades it has got the opportunity to win over this crucial state, and Clinton's visit was a clear indicator of this priority.
The meeting was a first between the two, and while FDI in retail was clearly discussed as a desirable goal for both the state government and the State Department to work towards, it was made clear that Clinton was in no mood to read the riot act, which she is quite capable of.
The very fact that Banerjee has sought some space for her government on this issue by denying that it was even discussed is again a pointer towards a change of mind that will become visible over the next weeks and months.
On her part, Clinton's high-voltage visit to Kolkata was a major plus in her book, more so as it gave a formal fillip to US interests and investment in the state.
Meetings with select audiences were arranged, with a major television channel organising an audience interaction with Clinton and following it a day later with a long discussion about the close and necessary relations between India and the US.
It was a diplomatic offensive and initial reports suggest that it did pay some dividends.
Two, Indian Prime Minister Manmohan Singh, who has not been able to prevail on Banerjee on the Teesta water issue, seems to have prevailed on Clinton to help his government on this front so that relations with Bangladesh are maintained.
After her initial public confirmation that Teesta waters was on the agenda, Clinton remained at least publicly silent on the issue that is essentially a bilateral matter between India and Bangladesh.
Sources claim that the issue was raised 'in passing' and Banerjee urged to give it a second thought. This too will play itself out on the ground on the coming days and weeks.
It is sad, however, that the United Progressive Alliance that cannot control its allies has to rely on foreign intervention to raise matters of crucial importance to India and its relations with neighboring countries.
This is not the first time the Americans have intervened on this front, playing a known proactive role in India-Pakistan relations, and determining Indian foreign policy regarding Nepal and Sri Lanka in more recent days.
Three, FDI in retail remains a huge issue for the US as it will open up India's big market to American multinationals. Clinton has always been honest on this front, making it clear even before her meeting with Banerjee that she would 'certainly raise the United States' desire to open the market to multi-brand retail'.
She did so but then again the West Bengal chief minister, who has addressed many meetings against this, was unable to even confirm the discussion. She sought refuge in denying what did take place, but the juicy and seductive carrots offered by Clinton will eventually ensure a change of position.
The links have been established, the space created and aggressive US diplomacy targeting the mercurial Banerjee has already started making an impact.
Her subdued demeanor and her broad smiles reflected a positive body language, according to those in the know, with Clinton clearly having more of an impact on the Trinamool leader than the combined might of Manmohan Singh and Congress party chief Sonia Gandhi.
In Delhi, Clinton really had little else but Iran on her plate. And it was clearly a visit that would not have taken place at this stage had she not decided to combine her Bangladesh visit with the short but important foray into West Bengal.
There was little on Iran that the State Department has not already communicated to India, and if it came this time covered with a few threats, these remain outside the public domain.
Prime Minister Manmohan Singh has managed to play the US game at crucial junctures on Iran, keeping that relationship very much on hold despite foreign office assessments that these bilateral ties should be strengthened and the relationship moved forward.
The impending economic depression -- as The New York Times has virtually predicted for India -- has strengthened the argument in favor of Iran as a major energy source for India. It will be difficult thus for Singh to do the US bidding without cutting into the growth figures at this stage.
Hence the silence and the slightly more assertive 'it is for us to decide' kind of response from the otherwise not very independent Indian ministry of external affairs.
This can also be seen as Clinton's farewell visit to the region before the Presidential elections. If so, she has not gained much substantially although she can rest assured that she has a friend in the current government. The US will be announcing stricter sanctions on Iran and it will have to be seen to what extent these affect New Delhi's business with Tehran.
However, the United Progressive Alliance government does have a window to flex its weak muscles and strengthen these substantially, at least in this region. Whether it makes good of the opportunity afforded by the US polls, or whether it continues following a foreign policy 'congruent' to that of the US remains to be seen.
Seema Mustafa is a veteran New Delhi-based journalist
Pic: US Secretary of State Hillary Clinton with Prime Minister Dr Manmohan Singh