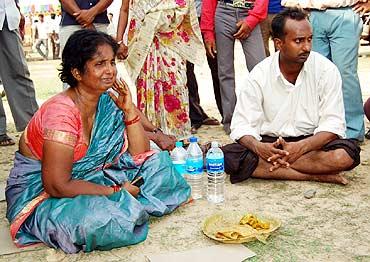 Rediff.com's Indrani Roy Mitra and photographer Dipak Chakraborty reached the accident site near Jhargram in West Bengal, where a Mumbai-bound train derailed, early on Friday morning. She chronicles the grim situation at ground zero and asks some tough questions.
It was a gory sight. Rescue operators were busy extricating bodies, most of them mutilated, from the mangled coaches of the Howrah-Mumbai Gyaneshwari Express which derailed near Jhargram in West Bengal's West Midnapore district early on Friday morning.
At least 100 passengers were feared killed and 160 injured in the incident. Only 65 bodies could be recovered till 4.30 pm on Friday.
The heat was unbearable and so was the foul smell emanating from the coaches.
Some of the passengers were crying inconsolably while others just stood there, their eyes wearing a vacant look.
A middle-aged passenger, who we heard was in S1 coach of the train, was mumbling something to himself.
As we approached him for his reaction, he turned and walked briskly to the other side. Understandably, he did not want any media coverage. No one does in such a situation.
As our photographer got himself busy framing glimpses of the accident site, some questions thronged my mind.
Why did it take the Railways about three hours to reach the accident site? Was it indifference or callousness? Had the railways acted promptly, more lives could have been saved.
What happened to the much-touted 'pilot engine' that is supposed to guide trains running through Maoist-infested areas? As tax-paying citizens of India, can't we demand an answer from Railway Minister Mamata Banerjee?
What was the Railway Protection Force doing when the derailment took place? Why couldn't it expedite the rescue operation?
Why did Banerjee not mention the word 'Maoist' even once on Friday? Is it because she herself had stated, during one of her fiery speeches, that there are no Maoists but only Communist Party of India-Marxist cadres in Bengal? It's time she rose above state politics and started analysing disasters of this kind from a national perspective.
Why did it take the state and the central governments more than 14 hours to come up with a list of the dead and injured?
Before more lives are lost, we, the citizens of India, need to know where the Maoists are, did they actually mastermind this gruesome event and when and how can they be brought to book? Enough of tomfoolery, dear ministers. We are tired and demand some concrete action now.
According to some news reports, the People's Committee Against Police Atrocities claimed responsibility for the incident. A few PCPA/Maoist posters were recovered from the site. If that is the case, where are those posters? Why did not the media get to see them? Why were such important pieces of evidence not shown to the media? (ThePCPA later disclaimed responsibility for the attack)
Was there a blast on the tracks? Union Home Minister P Chidambaram's version was different from that of Banerjee's. While the former ruled out such a possibility, the latter was certain that an explosion occurred. Can't we expect some clarity about such a grave issue?
According to preliminary investigations, fish-plates had been unbolted in a section of the track that may have led to the derailment. On reaching the site around 9.30 am, rediff.com's correspondent saw fish-plates lying unscrewed in a section of the track. The correspondent also found a two-feet deep crater near the railway track. If the state government was certain the Maoists had perpetrated this dastardly act (West Bengal Chief Minister Buddhadeb Bhattacharjee went on record on this), can't it give us a timeline as to when the culprits would be nabbed.
Let's not forget we elected our governments and it's time they served us.
Image: Lakshmi Rao, who is looking for her son-in-law, at the accident site