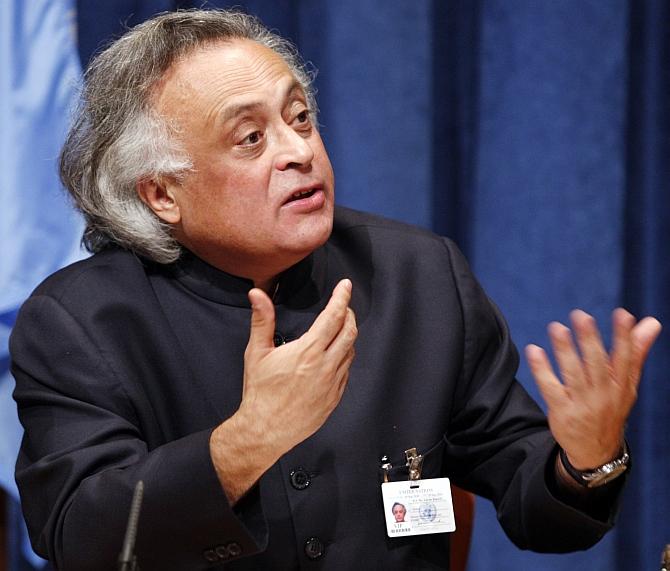 Congress strategist and Union Minister of Rural Development Jairam Ramesh in an exclusive interview with CNN-IBN has said that the 2014 general elections are not a battle between Gujarat Chief Minister Narendra Modi and Congress vice president Rahul Gandhi.
On the Muzzafarnagar tragedy
The Muzaffarnagar tragedy is horrendous...No question there has been a complete failure of responsibility on part of the state government. Also, Chief Minister Akihilesh Yadav or any other minister from the Uttar Pradesh government should have been there (in Muzaffarnagar). But none of them have been there. It is primarily a responsibility of the state government.
On Modi
Seeing what has happened in Muzaffarnagar, is it not expected that Rahul, who is the vice president of the ruling party should have given a statement?
Have Modi or Akhilesh or even Mulayam Singh Yadav issued a statement?
On Rahul Gandhi
We have a vice president in Rahul Gandhi who is active and who is hands-on; who is conceiving of the 2014 strategy and managing the execution of that strategy. We don't have to project anybody. Our people are there to be projected.
I don't think he is a reluctant leader. He is going with his own pace; his style is different than Modi. He is low key -- his style is more conceptual. Do not mistake his low-key as reluctant. He is doing things on the ground.
On Modi vs Rahul
Do not reduce the national elections in India to the contest of personalities. We are a party-based parliamentary form of democracy. Parties compete with each other on the basis of their manifestoes; their ideologies, the performance, the sentiments.
Yes, leaders are important -- leaders provide directions, they give shape and architecture to a strategy. This is not choice between Rahul vs Modi. But the fact of the matter is we have a Congress vice president who is active, and hands on.
What are we going to the polls in 2014 with -- we are not going like Modi is going saying I…I…I…me…me…me…I am your Ali baba…I am the guy who has got your 'Jaddu ki Chhadi' (magic wand),…I am the guy who is going to take you across and deliver all the great things you have been dreaming of -- that's not our strategy.
On Modi
Modi after Douglas Jardine (late English test cricketer)... Modi is a practitioner of bodyline (a cricketing tactic devised by the English cricket team for their 1932–33 Ashes tour of Australia).
You know what Bill Woodfull (Australian cricketer) said when bodyline was taking place? He said there were two teams out there, and one of them was not playing cricket. The abrasive and the abusive manner in which he carries on a campaign -- we do not want to follow in the same category but at the same time, he is a political reality.
Image: Union Minister of Rural Development Jairam Ramesh
Photograph: Jessica Rinaldi/Reuters