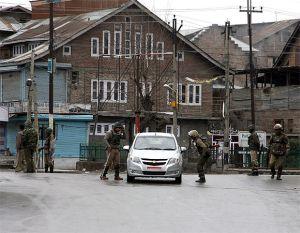 Expressing desire to bring about permanent solution to the Kashmir issue, the government on Monday said it is willing to have any dialogue under the ambit of 'insaniyat' (humanity) to address the problem and favours good relations with Pakistan.
"We want to find a permanent solution to Kashmir issue. We are ready for any kind of dialogue within Constitutional framework... If necessary, we are even willing to hold dialogue within the framework of 'insaniyat'," Home Minister Rajnath Singh informed Rajya Sabha.
In this context, he sought the cooperation of opposition Congress if it could help in any manner.
He said India also wants good relations with Pakistan and is ready to hold talks with that country to end the problem of infiltration.
Singh, while replying to a debate on the functioning of the home ministry, also said the government is willing to hold talks with North East insurgents as well as Naxals if they shun arms while promising to step up measures to deal with violence with a tough hand.
The minister also asserted that the government does not discriminate on the basis of caste, creed or religion and blamed "vote-bank" politics for the recent incidents of communal violence and said it will not tolerate such occurrences.
"We will not use any agent for resolving the Kashmir issue. We will do everything to resolve the issue with active cooperation of the state government," the home minister said.
On demands for revocation of the controversial Armed Forces Special Powers Act in Jammu and Kashmir, he said there is "no consensus" on the issue.
At the same time, he said a Governor is empowered to withdraw the provision from any particular area through a simple notification.
On communal situation, Singh said, "We are aware that India is not a country of any one community, caste or region. Our government is committed to ensure justice to all on the basis of 'insaniyat' (humanity). Our concern and priority is 'rozi, roti and suraksha' (employment, food and security)."
Referring to the communal incidents that have taken place in Uttar Pradesh recently, he said, "the situation deteriorated only because of vote-bank politics, nothing else."
He asserted that the Government will take all steps to ensure communal harmony.
"For establishing communal harmony in Uttar Pradesh, I assure you that we are ready to provide any kind of cooperation," the home minister said.
Rejecting the charge of BJP's involvement in the communal incidents, Singh said his party can never indulge in such acts as it believes in a culture where "even a snake is fed milk despite knowing that it will bite".
This comment evoked certain insinuations, prompting him to say, "I am sorry, I did not mean to target anyone".
The home minister said government will make all efforts to bring back fugitive underworld don Dawood Ibrahim to face Indian law for the crimes he committed in the country.
Singh said Government was ready to hold dialogues with insurgent groups in the North East within the framework of the Constitution.
"Attention will be given for the development of the North East as the region continues to be backward. We want to give them assurance that they too are part of India," he said.
The home minister said for the rehabilitation of the North East militants, government is planning to raise two service battalions where the surrendered militants will be absorbed.
Singh said the Home Ministry has decided to issue Indian citizen card to all genuine citizen within 3 to 4 years to identify the illegal immigrants.
The home minister said central forces are being used to provide security to poor people and assist the state government to maintain law and order.
"The first responsibility of the state is to provide security to weaker sections," he said.
Singh said a number of steps have been taken to check the crime rate in Delhi by deploying more forces, installing 8,000 CCTV cameras across the city and hiring more policewomen.
On left wing extremism, the home minister said the danger persists. "We will not allow violence. We will be tough," he said, adding, if they shun violence, "we are ready for talks. But not with guns".
With regard to fencing along the LoC, he said all damaged fencing will be replaced soon.
Facing attack over campaign on "Congress mukt Bharat" the home minister said it meant "a government sans Congress".