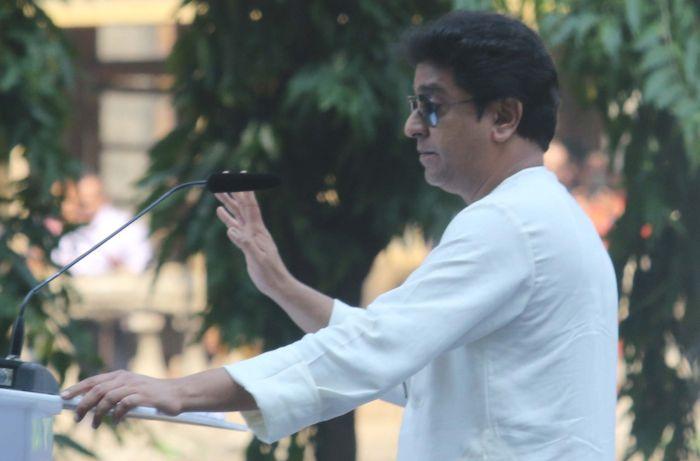 Maharashtra Navnirman Sena chief Raj Thackeray on Thursday led a march to the Western Railway headquarters here to protest the recent death of 23 people in a stampede on a foot overbridge in Mumbai and said he felt 'betrayed' by Prime Minister Narendra Modi.
Thackeray submitted a list of demands highlighting various issues concerning suburban passengers to the general managers of the Western Railway and Central Railway before addressing a gathering of protesters outside the Churchgate station in south Mumbai where he lashed out at Modi and Bharatiya Janata Party chief Amit Shah.
"Will you act only after people die in such (stampede) accidents? Profile of many areas in south Mumbai has changed over a period of time. Though the number of commuters travelling from far-flung suburbs has gone up exponentially over the years, the infrastructure has remained the same," the MNS chief said.
The MNS chief gave the Western Railway an ultimatum of 15 days to evict illegal hawkers from all railway stations, failing which, he said, he will deal with them in the 'MNS style'.
In his speech, Thackeray targeted Modi over his electoral promise of bringing good days for people.
"It seems as if only two or three people are running the country. BJP president Amit Shah himself called their own promises 'chunavi jumla' (election rhetoric). Even (Union minister) Nitin Gadkari said the promise of achhe din is like a bone stuck in the throat. It clearly means the government has failed on many fronts," the MNS chief said.
The Maharashtra Navnirman Sena leader, who had a good rapport with Modi and backed his prime ministerial bid in 2014, said he was angry because the country has seen very little progress in the last three years.
"I do not see any major changes in the last three years despite the government having a good mandate. We believed in him (Modi) and now we feel we have been betrayed," he said.
Thackeray, whose party has been marginalised in Maharashtra politics after successive electoral setbacks, has been firing salvos at Modi at growing frequency.
After launching his Facebook page recently, Thackeray has taken many potshots at Modi. Thackeray also accused the prime minister of shifting his stand on issues frequently.
During his meeting with officials of the Western and Central Railway, Thackeray handed over memorandum of demands, which mainly included improvement in infrastructure.
A senior Western Railway official said that most of the demands made by Thackeray are being acted upon.
"Raj Thackeray submitted his list of demands which we are taking care of," Western Railway's Chief Spokesperson Ravinder Bhakar said.
He said the MNS chief demanded operation of more trains during rush hours and sought implementation of measures to ensure the safety of commuters, especially women.
Thackeray also drew their attention to the condition of toilets at suburban railway stations.
He said the Western Railway will soon come up with a consolidated action plan to address the issues of passenger safety, security and amenities, which will be implemented in coordination with multiple agencies.
"Thackeray has also demanded evicting all hawkers from the premises of railway stations withing 15 days. We have already launched a drive to evict hawkers which will be completed within 10 days. We are also going to demarcate the station areas, as most of the complaints we receive against the hawkers do not come under our administrative zone," Bhakar said.
IMAGE: MNS chief Raj Thackeray speaks at a rally in Mumbai on Thursday. Photograph: Sahil Salvi