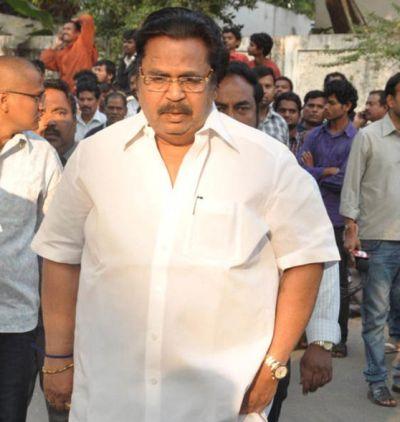 Veteran Telugu filmmaker and former Union minister Dasari Narayana Rao, who directed superhit movies with legendary actors like N T Rama Rao and Akkineni Nageswara Rao, passed away at a private hospital in Hyderabad on Tuesday at the age of 75.
He was an active politician in the Congress party and served as a minister during the United Progressive Alliance-1 regime.
"We are extremely sorry to announce the sad demise of Dasari Narayana Rao. His heart stopped functioning at 7 pm this evening. It did not revive though lot of effort was made to revive (the heart)," a senior doctor of KIMS hospital told reporters.
A major surgery related to his food pipe was performed and he also developed problems related to kidney, he said.
During his last minutes, his family members were by his side.
His cremation will be held on Wednesday at his farmhouse in Chevalli, on the outskirts of Hyderabad with state honours, Telangana cinematography minister T Srinivas Yadav said.
Rao, a versatile personality who directed about 150 films and worked for hundreds of others as a dialogue writer, lyricist and actor, was admitted to hospital couple of months ago, but was soon discharged.
He began his career as a theatre artiste and went on to work in films. Rao directed his first film in the early 1970s.
He won many prestigious awards, including the National Award, the Filmfare and received honours from the Andhra Pradesh government.
Rao's works Bobbilipuli and Sardar Paparayudu played a major role in NTR's entry into films. His movie Meghasandesam, with another legendary Telugu film actor Akkineni Nageswara Rao, won critical acclaim and fetched him several awards.
Rao's Osey Ramulamma, with popular yesteryear actress Vijayashanti in the main lead, highlighted the darker side of landlords in the Telangana region.
His Premabhishekam in the 1980s with Nageswara Rao was a runaway hit. His other major films include Swargam Narakam, Thatha Manavadu, Mama Garu and Chillara Kottu Chitteemma.
There were reports that the filmmaker, who celebrated his 75th birthday on May 4, was planning to direct a biopic on former chief minister of Tamil Nadu J Jayalalithaa.
Rao was also a journalist and ran a vernacular daily.
In 2014, he was questioned by the Central Bureau of Investigation in connection with alleged irregularities in allocation coal block. Leading producer C Kalyan said as a mark of respect, theatres in Telangana and Andhra Pradesh will remain closed on Wednesday and there will be no shooting of films.
Condoling Rao's death, Union I&B Minister Venkaiah Naidu said, "I am saddened by the untimely demise of Sri Dasari Narayana Rao. With his demise the Telgu Industry lost its big brother."
Andhra Pradesh Chief Minister N Chandrababu Naidu, his Telangana counterpart K Chandrasekhar Rao and Dada Saheb Phalke award recipient K Viswanath also condoled the death of Rao.
Recalling that he knew Rao even before his marriage to NTR's daughter, Naidu hailed the stellar contribution of the departed personality in films.
Expressing grief, Viswanath said Rao introduced a number of young actors into the film industry.
Actor Rajinikanth tweeted, 'Shri Dasari Narayana Raoji, my dearest and closest well-wisher and friend...One of the greatest directors of India...His demise is a loss to the whole Indian film industry. My heartfelt condolences to his family. May his soul RIP.'
Kamal Haasan also condoled the death of Rao. 'My sympathy and condolences to the family of Daasari Naryana Rao. His loss is truly a big loss for Telugu cinema. Late K B sir admired him (sic),' he said in a tweet.