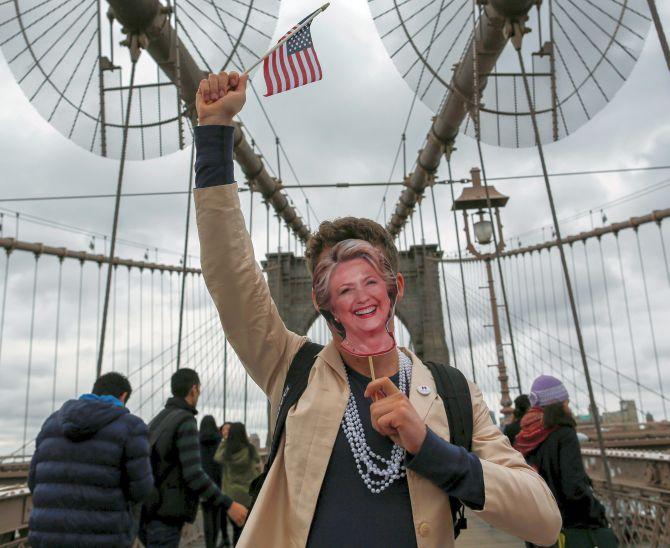 Hillary Clinton is the only candidate who will bring all Americans together and uplift them, outgoing United States President Barack Obama has said as he assailed Republican presidential nominee Donald Trump of lying with "impunity".
Addressing an election rally in Kissimmee in Florida, Obama praised his former secretary of state for embracing America's diversity as a strength, recognising that progress requires compromise, and promoting dignity, courtesy, and respect for all Americans.
Obama went on to criticise Trump as "uniquely unqualified to be president" and "temperamentally unfit to be commander-in-chief", citing his disrespectful and hateful rhetoric towards minorities, women, and people with disabilities as an "irreconcilable lack of character".
"Two days to decide the future of this country. And I need you to go vote. I need your help to help finish what we started eight years ago," he said.
All the progress that the US has made goes out the window if Clinton does not win this election. "We win this election if we win Florida. If we win Florida, it's a wrap. We win Florida, it's over," he said.
Obama added that Trump lies with "impunity" and went on to cite an incident that occurred in Fayetteville last week.
"I was in Fayetteville. Some of you may have seen this. And it was a packed hall. And a Trump supporter stood up with a sign. He was an elderly gentleman, had a military uniform on. I couldn't really hear what he was saying.
"And everybody in the crowd started shouting him down and booing. And I said to everybody, 'You know what? Just settle down. First of all, he's not doing any harm. Second of all, he's elderly. And, third of all, we have free speech in this country.' And fourth of all, I said, 'Don't boo. Vote.'"
"Just a few hours later, Trump gets up on stage in front of his crowd. This is just a few hours later. And he said, 'Do you see how President Obama yelled at a Trump supporter in his audience?' Just made it up, didn't just make it up but said the exact opposite of what had happened with impunity," Obama said.
He added that there was a video of the incident, "and some of the press called him out on it, but the point is that he thought it was okay just to lie in front of all his supporters on TV, wasn't even trying to be sneaky about it.
"But that says something about how unacceptable behaviour has become normal. And that's why he is uniquely unqualified to hold this job. And the good news is all of you are uniquely qualified to make sure he doesn't get the job. Florida, you've just got to vote," he said.
In Clinton, he asserted, there is somebody "worthy of your vote because she is smart, and she is steady, and she is tested, probably the most qualified person ever to run for this office, our next president, Hillary Clinton. Hillary. This is somebody who has dedicated her life to making this country better".
Obama urged voters to "reject the mean-spirited politics that would take us backwards" and instead, vote for candidates that will "put you ahead of politics, who are ready to do work and move this country forward".
Clinton has 65% chance of winning: Poll
Democratic presidential nominee Hillary Clinton has a 65 per cent chance of winning the US presidential election, according to a leading opinion poll website which said her decline in poll numbers has levelled off and her lead has held steady over the past several days.
The website FiveThirtyEight said that Clinton has a 65.3 per cent chance of winning the presidency, according to its polls-only forecast, which is less than the 81 per cent had been forecast for her just before FBI Director James Comey had told Congress in October that he was reviewing additional emails pertinent to the case of Clinton's e-mail server.
While the percentage declined for Clinton it is still ahead of Trump's who has a 34.6 per cent chance of winning the presidency.
A candidate needs at least 270 electoral votes to clinch the White House and Clinton is expected to get 291.9 electoral votes as compared to 245.3 for Trump.
The analysis predicted that Clinton could get 48.3 per cent of the popular vote while Trump 45.4 per cent.
-- Yoshita Singh
Image: Supporters of US Democratic presidential nominee Hillary Clinton take part in a march through the Brooklyn bridge in New York. Photograph: Eduardo Munoz/Reuters