Observing that amazing things have happened over the last 10 years, the former US President Barack Obama on Friday said that all this could be accomplished because of the hope and believe that his country had in him.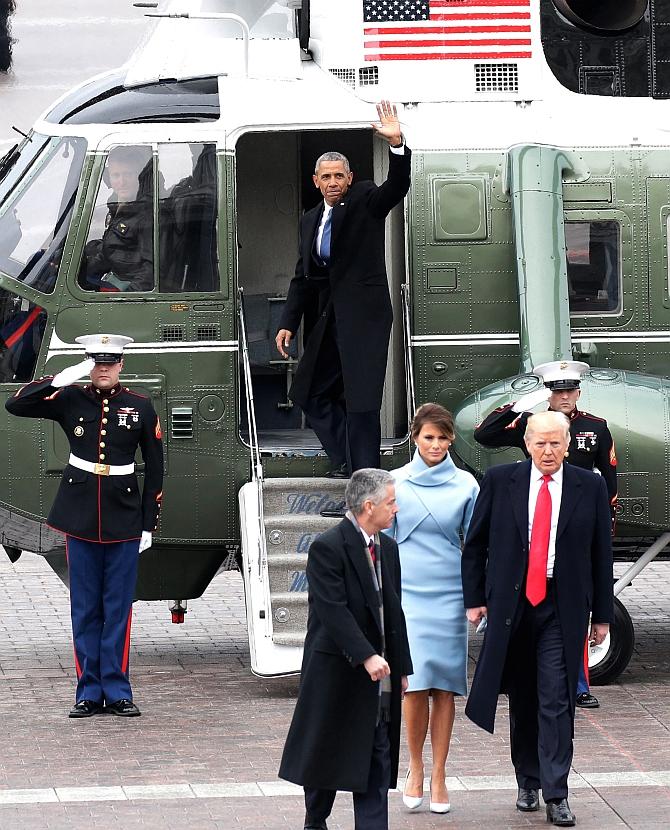 Image: Former US President Barack Obama waves from a Marine One helicopter as newly-elected United States President Donald Trump walks with wife Melania Trump back to the Capitol Building after Trump is sworn in at the 58th Presidential Inauguration on Capitol Hill in Washington, DC. Photograph: John Angelillo/Pool/Reuters
"As I said in 2004, it wasn't blind optimism that drove you to do all this work, it wasn't naivete, it wasn't willful ignorance to all the challenges that America faces. It was hope in the face of difficulty, hope in the face of uncertainty," Obama said minutes before boarding the Air Force One for last time, as is customary for former presidents after demitting office.
Roughly 1,800 people, many of whom had served in the Obama administration, were waiting for him as Obama landed at the Andrews Air Force Base on a military helicopter from the US Capitol after he handed over the baton to Donald Trump, the 45th President of the United States.
The attendees included many senior members of Obama's White House staff, such as Denis McDonough, Valerie Jarrett, Susan Rice, Neil Eggleston, Jeff Zients, Megan Smith, Jen Psaki, Shailagh Murray and Josh Earnest, who had his son perched on his shoulders.
Recalling the time when he began his journey, Obama said he "did so with an abiding faith in the American people and their ability, our ability to join together and change the country in ways that would make life better for our kids and our grandkids".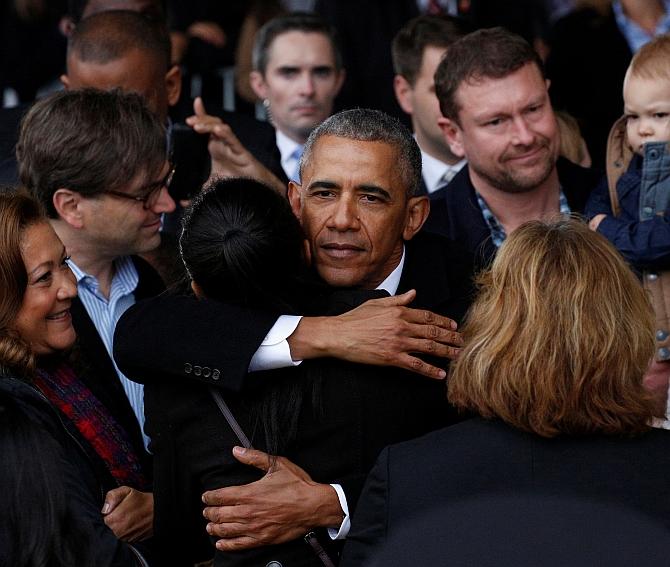 Image: Obama embraces a staff member before boarding Special Air Mission 28000, a Boeing 747 which serves as Air Force One, at Joint Base Andrews, Maryland. Photograph: Brendan McDermid/Reuters
Obama said the change didn't happen from the top down but from the bottom up.
"All of you came together and you decided to believe. You knocked on doors, made phone calls, talked to your parents who didn't know how to pronounce Barack Obama," he said.
Meanwhile, Obama's were headed to California for a vacation. They would soon return to Washington DC, where the former first family plan to stay in a rented house for their youngest daughter to complete her schooling.
"You proved the power of hope, and throughout this process, Michelle and we've just been your front men and women. We have been the face, sometimes the voice, out front on the TV screen or in front of the microphone," Obama said.
"But this has never been about us; it has always been about you. And all the amazing things that happened over these last 10 years are really just a testament to you in the same way that when we talk about our amazing military and our men and women in uniform, the military's not a thing, it's a group of committed patriots willing to sacrifice everything on our behalf," he said.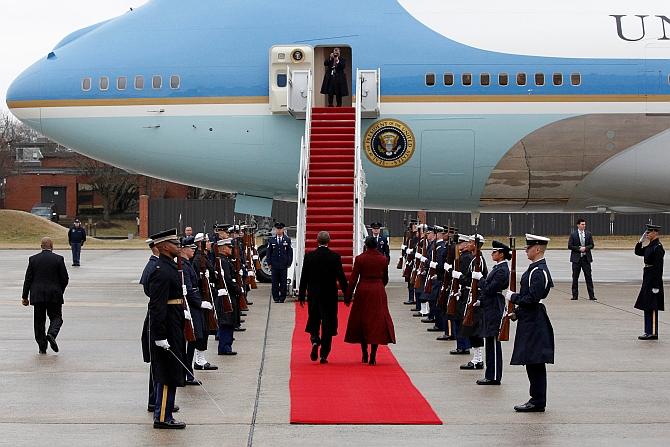 Image: Obama and his wife, Michelle, walk to board Special Air Mission 28000, a Boeing 747 which serves as Air Force One, at Joint Base Andrews, Maryland. Photograph: Brendan McDermid/Reuters
"This is just a, this is just a, little pit stop. This is, uh, this is not a period, this is a comma, in the continuing story of building America," he said to laughter, searching for the appropriate words.
"We have got cool hardware, as cool as the machines as weapons and satellites are, ultimately it comes down to remarkable people, some of them a lot closer to Malia's age than mine or Michelle's. Well, the same thing's true for our democracy," he said.
The former president and First Lady then walked through a line of their supporters, formers aides, colleagues and friends, hugging and greeting them as they bid an emotional farewell to their former leader.
Several of Obama's aides brought their young children, who were playfully greeted by Obama.
The former First Couple were then escorted by military personnel to a red carpet that lead up to the US air plane. Obama held Michelle hands as he walked along the red carpet, surrounded by military guards saluting their former Commander-in-Chief.
AS the Obamas reached the plane's door, they stopped and turned around, smiling and waving goodbye, to the people gathered at the air force base and symbolically to Washington.