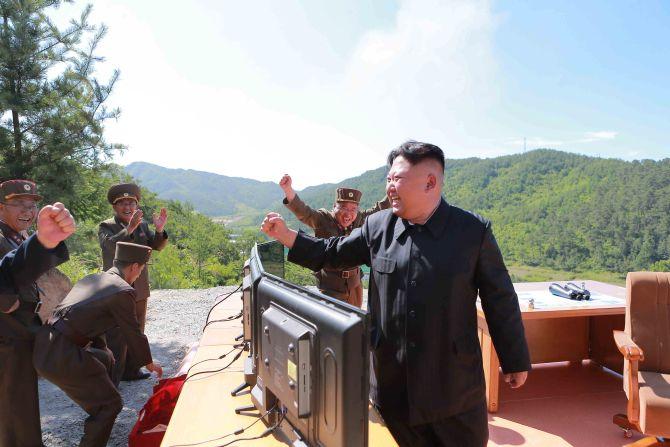 The United States does not seek a regime change in North Korea and wants to work with China to prevent the reclusive country from acquiring nuclear weapons, US Secretary of State Rex Tillerson has said.
Tillerson's remarks came after US President Donald Trump recently said China's efforts to rein in North Korea had 'not worked' out even as he appreciated Beijing for its attempts to pursue its closest ally to abandon its nuclear ambitions.
"We have reaffirmed our position towards North Korea, that what we are doing, we do not seek a regime change; we do not seek the collapse of the regime; we do not seek an accelerated reunification of the peninsula; we do not seek an excuse to send our military north of the 38th parallel," Tillerson told reporters at the State Department on Tuesday.
"We are trying to convey to the North Koreans we are not your enemy, we are not your threat, but you are presenting an unacceptable threat to us, and we have to respond," he said.
Tillerson said he hoped that at some point the North Koreans will begin to understand that the US would like to sit and have a dialogue with them about their future that will give them the security they seek and the future economic prosperity for North Korea.
"This is going to be a continued effort to put ever greater pressure on the North Korean regime because our other options, obviously, are not particularly attractive," he said.
Identifying North Korea as one of the first threats encountered by the Trump administration, Tillerson said the threat has materialised in the ways they expected it would.
"That's why early on we identified it as a very urgent matter, and the North Koreans have certainly proven the urgency of that to us," he said.
"We initiated a sustained and continued intensified campaign on what I like to call peaceful pressure, because the options available to us, I think as all of you well understand, are limited, and particularly if we think we are operating under a short period of time," he said.
"So we felt the appropriate thing to do first was to seek peaceful pressure on the regime in North Korea to have them develop a willingness to sit and talk with us and others but with an understanding that a condition of those talks is there is no future where North Korea holds nuclear weapons or the ability to deliver those nuclear weapons to anyone in the region much less to the homeland," he said.
In doing so, the Trump Administration has sought to partner with China, he added.
China does account for 90 per cent of economic activity with North Korea, Tillerson said, adding that the Chinese have been very clear with the US that they share the same objective of a denuclearised Korean Peninsula.
"They do not see it in their interest for North Korea to have nuclear weapons, just as we do not see it in anyone's interest. China has ways that they can put pressure on and influence the North Korean regime because of this significant economic relationship that no one else has," he said.
"We've been very clear with the Chinese. We certainly don't blame the Chinese for the situation in North Korea. Only the North Koreans are to blame for this situation. But we do believe China has a special and unique relationship because of this significant economic activity to influence the North Korean regime in ways that no one else can," Tillerson said.
"And that's why we continue to call upon them to use that influence with North Korea to create the conditions where we can have a productive dialogue. We don't think having a dialogue where the North Koreans come to the table assuming they're going to maintain their nuclear weapons is productive. So that's really the objective," he said.
'All options open to prevent North Korea from developing nukes'
The Trump administration is weighing 'all options' to prevent North Korea from developing a nuclear weapon, the White House has said.
"We're weighing all options, keeping all options on the table. As we've said many times before, we're not going to broadcast what we're going to do until that happens," White House Press Secretary Sarah Sanders told reporters during her daily news conference on Tuesday.
She said the US President Donald Trump has been very outspoken about the need to stop North Korea.
"We've been very focused on stopping the nuclear program, stopping the missiles, stopping the aggression. That still continues to be the focus, and we're keeping all options on the table in order to do that," Sanders said.
The Trump administration is continuing to work with its allies on the issue.
"The goals are to stop the nuclear program, stop the missiles, stop the aggression. With North Korea, we're going to continue looking at the best options and ways to accomplish that," she said.
Sanders was responding to questions on a comment by Senator Lindsay Graham in which he said that there is a military option to destroy North Korea's program as well as the country itself.
Meanwhile, Senate Minority Leader Chuck Schumer urged the US president to block the sale of a company founded by ousted White House communications director Anthony Scaramucci, along with most other major Chinese investments in the US.
"Even after North Korea's recent missile tests, China has maintained economic relations with the country and continues to be its largest trading partner. If North Korea's aggression is met with zero repercussions from its most important economically, it will have no incentive to reverse course on this dangerous activity," Schumer said.
In fact, China has even sought to weaken and water down the international sanctions regime to counter the threat posed by North Korea through the UN Security Council, he alleged.
As a result, Schumer urged Trump to exercise his authority over CFIUS to block mergers and acquisitions in the US by Chinese companies until China works to bridle its neighbour's aggression.
This economic pressure on China, Schumer said, would send a clear message to China that it is expected from it to step up and deter the North Korean threat.
"I urge you to apply additional pressure on China to play a constructive role in reining in North Korea. Given recent developments, it is my assessment that China will not deter North Korea unless the United States exacts greater economic pressure on China," Schumer said in a letter to Trump.
The US must send a clear message to China's government, he asserted in the letter that was released to the press.
"To that end, if China continues to passively address North Korea, I urge you to use your authority over the Committee on Foreign Investment in the United States (CFIUS) to suspend the approval of all mergers and acquisitions in the US by Chinese entities," Schumer said.
Schumer alleged that the North Korean regime, is increasingly dependent on China's goods and investments, especially its energy and manufacturing imports.
Reports indicate that over 90 percent of North Korea's foreign trade is with China and 95 percent of its foreign direct investment comes from China.
Even with North Korea's continued provocative actions, China's trade with North Korea rose 34 per cent over this past year, including a marked increase in iron ore trade.
Additionally, numerous reports indicate that China has unevenly enforced UN sanctions on North Korea and actively watered down sanctions in the most recent UNSC Resolutions, he alleged.
"Despite North Korea's recent missile tests –- a clear UNSC violations –- it remains unclear whether China will support additional sanctions against North Korea or intends to veto efforts led by the United States, the Republic of Korea and Japan," Schumer said.
"The robust China-North Korea economic and trade relationship makes it clear that China could exercise considerable leverage over the North Korean regime to alter course, but that far from trying to do so China's leaders would prefer to contain the problem – not solve it," said the Senator from New York.
IMAGE: North Korean leader Kim Jong-un reacts during the test-fire of intercontinental ballistic missile Hwasong-14. Photograph: KNCA/via Reuters