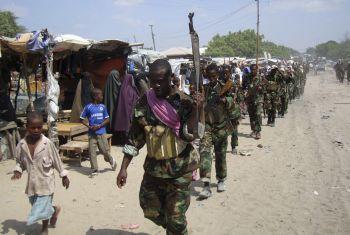 Citing rising threats and attacks on humanitarian operations, the UN World Food Program has suspended its aid operations in southern Somalia leaving millions of people without aid.
"The World Food Program has suspended much of its operations in much of Southern Somalia due to rising security threats and attacks on humanitarian operations," UN spokersperson, Martin Nesirky, told journalists.
"The decision means that about one million people in southern Somalia will not be able to receive much needed assistance."
"UN offices in half a dozen locations in the south have been temporarily closed and food supply and equipment have been moved out of these areas."
Rising threats and attacks on humanitarian operations, as well as the imposition of a string of unacceptable demands from armed groups, have made it virtually impossible for WFP to continue reaching up to one million people in need in southern Somalia, the statement said.
A spokesperson for WFP, Emilia Casella, said that food agency had been asked by armed groups to remove women from all posts and pay protection to guarantee the safety of aid workers.
"Up to a million people that have been dependent on food assistance in southern Somalia face a situation that is particularly dire," Casella said in Geneva.
For two decades, Somalia has been in a state of civil war. Its present western-backed government is weak and has limited power over Mogadishu.
The UN noted that armed groups have been escalating armed attacks against its aid workers in much of southern Somalia.
"WFP is deeply concerned about rising hunger and suffering among the most vulnerable due to these unprecedented and inhumane attacks on purely humanitarian operations," the agency said.
"WFP is continuing to provide life saving food distributions in the rest of the country, including the capital, Mogadishu, reaching more than two-thirds of the hungry it has been targeting -- or 1.8 million people," it added.
WFP has closed down most of its offices in Southern Somalia and redeployed relief workers from southern areas to help people that decide to move away from areas where food distribution has been suspended.
Somalia is only able to meet 40 percent of the food needs of its population through internal production.
Two UN workers were killed in Somalia in 2010.  
"Staff safety is a key concern for WFP and recent attacks, threats, harassment and demands for payments by armed groups have decimated the humanitarian food lifeline, the agency said.
Image: Members of the hardline al Shabaab Islamist rebel group parade through the streets of Somalia's capital Mogadishu | Photograph: Feisal Omar / Reuters