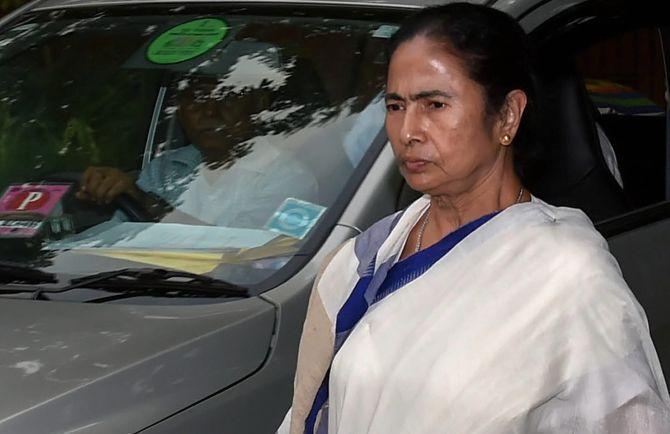 Two more FIRs have been registered in Assam against West Bengal Chief Minister Mamata Banerjee and members of her Trinamool Congress delegation, which went to Silchar, for allegedly creating disturbances on the basis of religion, a senior police official said.
A total of five FIRs have been registered against Banerjee in Assam since the publication of the NRC final draft on July 30.
Two police complaints were also filed against Assam Chief Minister Sarbananda Sonowal in West Bengal on Friday.
Police said effigies of Banerjee, who is opposing the NRC in Assam, were burnt and protests held against her across Assam during the day.
Deputy Commissioner of Police (Central) Ranjan Bhuyan said the two FIRs were registered at Guwahati and Silchar for allegedly creating disturbances on the basis of religion.
One FIR was registered at the Geetanagar police station on the basis of a complaint by the Assam Public Works' Dhrubajyoti Talukdar on Friday night and the other at the Udharband police station at Cachar on Saturday by a policewoman, who was injured during an alleged scuffle with the visiting TMC members at the Silchar airport, he said.
A police officer the first FIR has been registered against Banerjee and the eight-member TMC team under the Indian Penal Code sections 120B (criminal conspiracy), 153A (promoting enmity between different groups on grounds of religion, race, place of birth, residence, language) and 298 (uttering words with deliberate intent to wound the religious feelings of any person).
The FIR at Cachar was registered for violating Section 144, which was in place then and attacking a public servant on duty, he said.
On August 2, one FIR each was registered against Banerjee at Panbazar and Basistha and at North Lakhimpur police station for her alleged "instigating remarks" that threatened the unity of the country and her "attempt to create unrest" in Assam.
Following it, Banerjee had said in Kolkata, "We know we are living in a super emergency. There is no democracy in the country. I am not scared. I speak for the people. They (BJP) can lodge millions of FIRs against me, I do not care."
The two complaints against Sonowal were filed by TMC MLA Mohua Moitra and MP Kakoli Ghosh Dastidar, both members of the TMC team, for alleged manhandling and illegal detention at the airport after their return from Silchar.
The TMC team, comprising six MPs, one MLA and a West Bengal minister was kept under preventive detention by the Assam Police at the Silchar airport after they reached there on August 2 to take stock of the situation following the publication of the NRC final draft and were sent back on August 3.