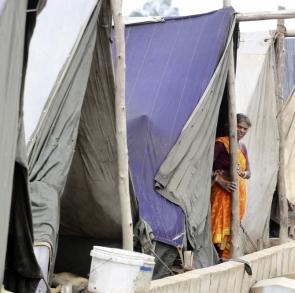 A man and an infant, uprooted from their native places after last year's riots, on Saturday died due to cold in Malakpur camp of Shamli district, where Congress vice-president Rahul Gandhi had paid a visit, taking death toll in a week to four.
A woman gave birth to a stillborn child in the same camp allegedly due to absence of proper medical care on Saturday.
Mohammed Umar, 35, and M Ali (15 days) died due to cold in the relief camp of Shamli district, the organiser of the camp, Aslam, said.
Due to unavailability of adequate medical facilities a woman, Shanno, gave birth to a stillborn child in the camp. Last month Congress Vice President Rahul Gandhi made n
unannounced visit to the camp, which falls under Kairana area, and had slammed the Uttar Pradesh government for poor condition there.
Meanwhile, the Superintendent of Primary Health Centre Ramesh Chandra said that an inquiry has been ordered. The camp organiser said that the victims belonged to Tikri Baghpat area of the district.
On January 15, a 60-year-old woman who had fled her village after riots and later moved out of relief camp in Shahpur due to alleged government pressure, died due to cold near the camp.
Next day, one more riot-hit person had died due to the harsh weather in Shahpur camp of Shamli. At least 219 displaced families of worst riot-hit areas of Muzaffarnagar, which were "forced" to vacate relief camps, have appealed to the government to provide a temporary shelter to them to escape cold.