United States President Donald Trump on Monday said he is not a racist as he sought to steer clear of the controversy surrounding his reported remarks against immigrants from certain countries.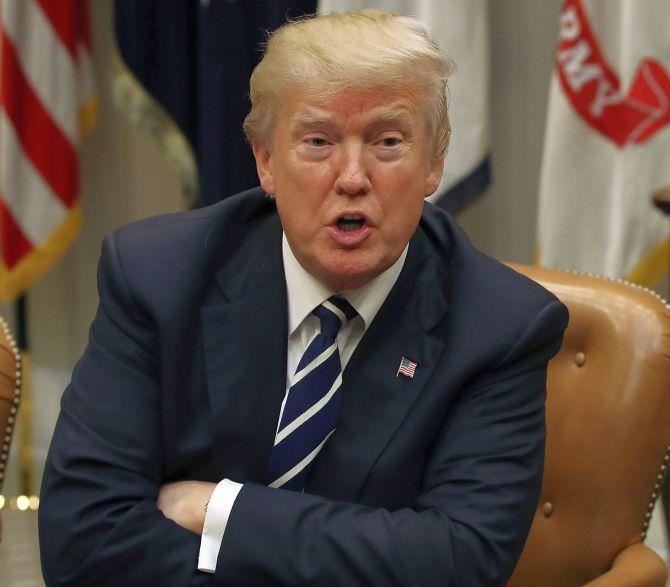 IMAGE: US President Donald Trump said he was the least racist person and denied using the word shithole. Photograph: Mark Wilson/Getty Images
During a meeting with a bipartisan group of lawmakers last week, Trump had expressed frustration over some participants pushing for immigrants from certain "shithole" countries.
The alleged slur, for which Trump is at the receiving end of a widespread condemnation, is said to have surfaced during a Thursday meeting between the US President and legislators about immigration reform.
"No, No I'm not a racist. I am the least racist person you have ever interviewed. That I can tell you," Trump told reporters in Florida when entering Trump International Golf Course for a dinner with House Majority Leader Kevin McCarthy.
Trump was responding to a question about charges from his political opponents in the aftermath of recent remarks that he is a racist.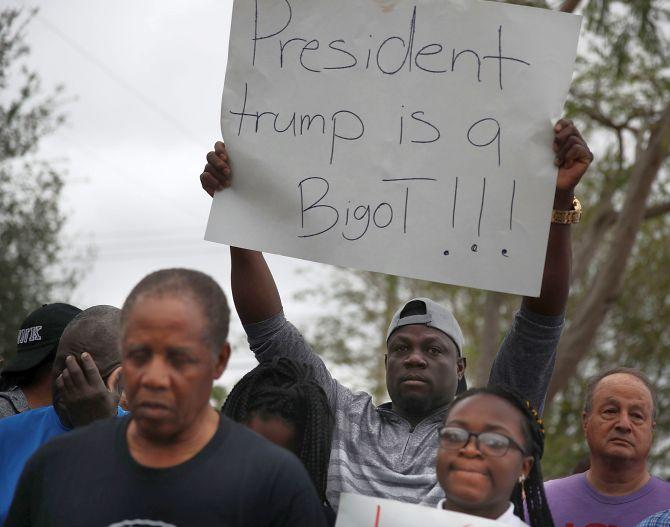 IMAGE: A man holds a sign that reads, 'President trump is a Bigot!!!' as he joins with others to mark the 8th anniversary of the massive earthquake in Haiti and to condemn President Donald Trump's reported statement about immigrants from Haiti, Africa and El Salvador. Photograph: Joe Raedle/Getty Images
The comments were was first reported by The Washington Post and confirmed later by the opposition Democratic Senators. However, one of the Republican Senators who attended the meeting on Monday claimed that Trump never used that word.
Trump has himself denied having used that word but has admitted using "tough" language in the meeting.