Another woman came forward on Thursday to accuse Republican presidential nominee Donald Trump of inappropriate physical contact, alleging that Trump unexpectedly put his arm around her and touched her breast while attending the US Open tennis tournament in 1998.
IMAGE: US presidential nominee Donald Trump takes the stage at the Alfred E Smith Memorial Foundation dinner in New York. Photograph: Johnathan Ernst/Reuters
Karena Virginia, a 45-year-old yoga coach from New Jersey, said in a statement that no one asked her to come forward but that she believed it was her "duty as a woman, a mother and an American citizen to speak out and tell the truth about what happened to me."
She said that she was 27 at the time of the incident. "I was waiting for a car to arrive to take me home. As she was waiting, she claimed, Trump approached her with a small group of other men. "I was surprised when I overheard him talking to the other men about me. He said: 'Hey, look at this one, we haven't seen her before. Look at those legs,' as though I were an object rather than a person.
"He then walked up to me and reached out his right arm and grabbed my right arm," she continued. "Then his hand touched the right side of my breast. I was in shock. I flinched. 'Don't you know who I am? Don't you know who I am?' -- that's what he said to me. I felt intimidated and I felt powerless. When my car pulled up and I got in, after I closed the door, my shock turned to shame."
Virginia said she decided to speak out publicly in support of other accusers after watching Trump dismiss their claims as "lies" and "fiction."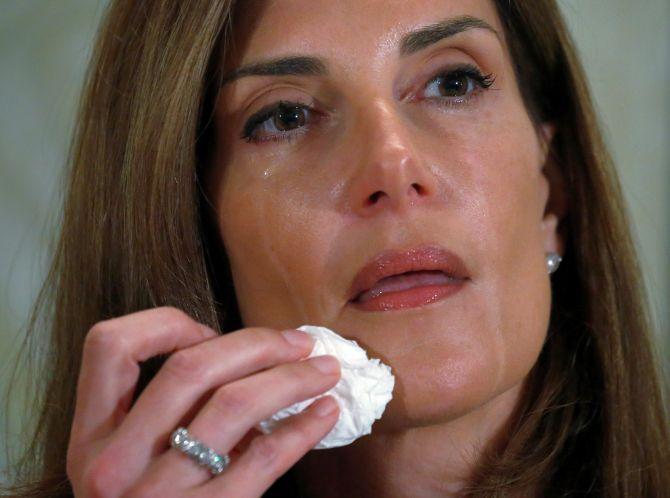 IMAGE: Tears stream down the face of Karena Virginia who claimed to be the victim of sexual assault by Republican presidential candidate Trump back in 1998. Photograph: Carlo Allegri/Reuters
A Trump campaign spokeswoman, Jessica Ditto, dismissed Virginia's allegations. "Voters are tired of these circuslike antics and reject these fictional stories and the clear efforts to benefit Hillary Clinton," Ditto said, describing women's rights lawyer Gloria Allred, a prominent supporter of Democratic presidential nominee Hillary Clinton who was by Virginia's side as as a "discredited political operative."
Virginia is the 10th woman to publicly accuse Trump of inappropriate sexual contact – the seventh since a 2005 tape revealed Trump bragging that his fame allowed him to grope and kiss women without their consent.
Trump, meanwhile, has vehemently denied the accusations. On Wednesday night, in the final presidential debate with Hillary Clinton, Trump suggested that the rush of accusations was either orchestrated by the Clinton campaign or the product of women seeking "10 minutes of fame". He had previously called his accusers "horrible, horrible liars".