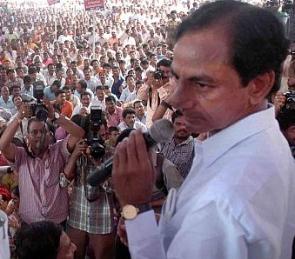 Dashing the last hopes of the Congress high command, Telangana Rashtra Samiti President K Chandrasekhar Rao on Saturday categorically ruled out even an electoral alliance with the party for the forthcoming polls to the Lok Sabha and the state assembly.
"They say KCR betrayed them but what was the betrayal," he questioned, referring to remarks made by All India Congress Committee General Secretary Digvijaya Singh on the TRS's refusal to merge with the Congress after the creation of Telangana.
Addressing his party workers at the Telangana Bhavan, KCR pointed out that they had proposed the merger of the TRS with the Congress to secure statehood for the region and prevent suicides by hundreds of youth.
"But now, people are against our merger and hence we are going by their wish," he added.
He recalled that many of those who committed suicide for a separate state had blamed the Congress.
"Now the Congress started a drama saying it will give tickets to the kin of those victims in the forthcoming elections," he said.
Dismissing the possibility of an electoral alliance with the Congress, the TRS chief said, "Let's see from tomorrow if TRS MLAs will join the Congress or the reverse will happen."
KCR's remark appear significant amid reports that two former women ministers of he Congress were all set to quit and join the TRS.
Image: TRS chief K Chandrasekhar Rao