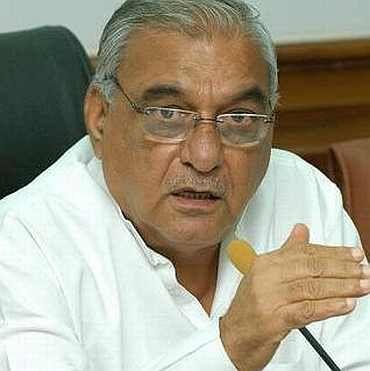 In the midst of crucial assembly elections in five states, Chief Minister Bhupinder Singh Hooda organised a huge rally in Haryana on November 10 in what is being seen as muscle flexing at the party leadership in terms of showing his following in the state. Renu Mittal reports.
Interestingly, in the run up to the preparations for the rally, there were no visible posters of either Congress president Sonia Gandhi or vice president Rahul Gandhi and even the speeches of both Hooda and son Deepender Singh Hooda made no mention of either Sonia or Rahul even as the chief minister listed his own achievements in running the state.
Haryana is flanked by Delhi on one side and Rajasthan on the other, and with high-voltage elections on in both the states, political observers are taken aback at the timing of the rally and why it should be held in this way without any particular presence of senior leadership from the Centre.
All India Congress Committee general secretary in-charge of Haryana Shakeel Ahmed was present on the dias, but spoke very briefly without saying anything much. Two important leaders of the state Selja Kumari and Virender Singh were absent.
According to a senior congress leader it was obviously a show to send the message to Delhi that they should not mess with him and he has his own power and can stand on his own also if a decision is taken to change him, as is speculated from time to time.
The rally was clearly not a 'Congress' show. It was Hooda's own. He had even distributed "gulabi pagdi" (pink turbans) among thousands of supporters
It is no secret that Rahul is not happy with Hooda's leadership, as a large number of senior leaders have complained against him over a period of time; but like Rajasthan Chief Minister Ashok Gehlot, he has continued to be in power.
Senior leaders say part of the reason is also the windfall gains made by Robert Vadra in both Rajasthan and Haryana and the question being asked is whether their survival or remaining in power is connected to the benefits accrued to Vadra.
It is also interesting that just the next day after the rally, Rahul had a review meeting on Haryana which he takes with all states and where goals for the next three months are put in place.
This time, he told Hooda that within the next three months he must ensure that 3 n non-Jat leaders are given leadership status. Rahul has obviously taken the complaints against Hooda seriously that he only patronises the Jats and that non-Jats are ignored and are not included in any meaningful exercise.
While Hooda is obviously flexing his muscles by showcasing his Jat support base, Rahul is clearly spelling out that non-Jats will also have to be taken on board. The impression is gaining ground that National Lok Dal leader Om Prakash Chautala would be the real beneficiary of the Jat support, since Hooda is limited to the Rohtak belt and has little support beyond that.
Like Gehlot's leadership has been in question from within the party, Hooda has been criticised from various leaders. Shailja, a Dalit, is the leader of the anti-Hooda faction. Despite severe atrocities against Dalits in the state, no one has been able to either take Hooda to task or even ensure that the crimes against Dalits are not repeated.
Interesting thing to watch is whether the old guards of Congress continue to back Hooda in the coming days.
Image: Haryana CM Bhupinder Singh Hooda