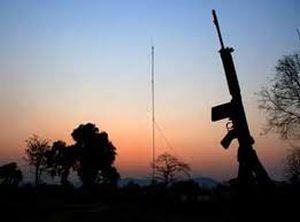 A top Naxal commander and aide of dreaded Maoist leader Kundan Pahan was on Wednesday killed by security forces in a pre-dawn encounter in the forests of Khunti district of Jharkhand.
According to security officials, the executed Naxal commander Vishal alias Tulsi alias Tadit, also the Special Committee member of CPI (Maoists) was gunned down by security forces drawn from two districts of the state, CRPF and CoBRA in the jungles of village Limba-Sosokutti under Adki police station area in the district.
Jharkhand Chief Secretary Sajal Chakraborty and Director General of Police Rajeev Kumar told reporters that Vishal was said to be the 'right hand man' of dreaded Maoist Kundan Pahan who heads activities of armed Maoist cadres in the state and along its borders.
Vishal was carrying an award of Rs 3 lakh and was wanted in connection with several naxal violence-related cases including the beheading of special branch officer Francis Indwar some years ago and the 2009 killing of five Central Reserve Police Force troops in Khunti.
Officials said the operation was led by P R Mishra, a five-time gallantry award winning officer of CRPF and at present Additional SP (Operations) of Khunti, the Addl. SP of Ranchi along with commandos of the elite CoBRA unit of CRPF.
A heavy exchange of fire took place between the two sides, amidst heavy rains, for close to an hour after which the Naxal squad present with Vishal retreated leading to the killing of the Maoist commander.
"The Naxal commander later took refuge in an abandoned house just below a hill in the forests and he was killed there. He sustained three bullet injuries," the officials said.
Security forces recovered an AK-47 rifle, 150 bullets, five magazines, a grenade, two active mobile phones and a walkie-talkie set from the spot.
The operation, based on intelligence inputs, began at 2 am and ended two hours later, the officials said.
"This is an important hit against the Maoists by security forces. Additional reinforcements are at the spot to check other Naxals in the area," they said.
An Assistant Commandant rank officer of the Commando Battalion for Resolute Action (CoBRA) has been shot under the eye in the operation and has been shifted to a hospital in the state capital, the official said.
The commando officer Manoj Yadav is now stable, the official added.
Of the award, Rs 2 lakh was distributed equally among the district police and CRPF and CoBRA personnel, he said.