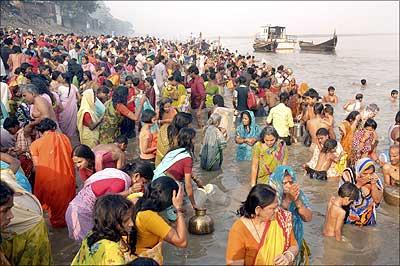 Millions of devotees, particularly married women, took a dip in the rivers, ponds and makeshift water bodies and offered prayers as the four-day-long Chhath began amidst tight security on Monday in Bihar.
"Chhath has formally begun with the holy bath, which one takes before preparing the traditional meal of boiled rice and pumpkin, locally known as nahai khai," said Kanchan Devi who was busy preparing the meal at the Collectorate Ghat near the banks of the river Ganga in Patna.
Kanchan, clad in a cotton sari, is one of thousands of devotees across the state, who gathered at the river banks early morning.
"All of us bathe to clean ourselves before we perform the rituals. Nahai khai marks the beginning of Chhath," said another devotee Malti Devi.
"Nahai khai is a symbol of purity and strict discipline. It will be followed by kharna tomorrow. Kheer will be cooked and distributed among neighbours, friends and relatives," said Malti while adding that after fasting for the next three days she will render the main offering, called arghya.
Colourful idols of the sun god riding his chariot pulled by seven horses, a new attraction this year, were sold on the river banks.
The administration, along with dozens of voluntary organisations, is working round-the-clock to manage the crowds and keep the area around the river banks clean.
Patna Divisional Commissioner Narmadeshwar Lal said the ghats have been fully cleaned and readied for the much awaited puja on Monday morning.
He said that district administration has set up 107 watch towers and deputed 112 magistrates and 15 anti-sabotage teams including a dog squad to monitor the situation.
"All district magistrates have been directed by Chief Minister Jitan Ram Manjhi to accord top priority to the safety of the devotees," an official said.
In the state capital, 200 divers of National Disaster Response Force and State Disaster Response Force have been deployed to tackle emergency situation and more than 5,000 policemen including 50 senior police officials would monitor different ghats, roads and sensitive places during the festival.
Patna Senior Superintendent of Police Jitendra Rana said a special bomb squad had already inspected all the ghats ahead of nahai khai.
The Intelligence Bureau has recently advised the state government to step up security arrangements to avoid any untoward incidents during the festival.
Chhath, which is celebrated six days after Diwali, is dedicated to the sun god, and is one of the most popular festivals in Bihar.
During the festival, married women observe a 36-hour-long fast and devotees traditionally offer wheat, milk, sugar cane, bananas and coconuts to the sun.