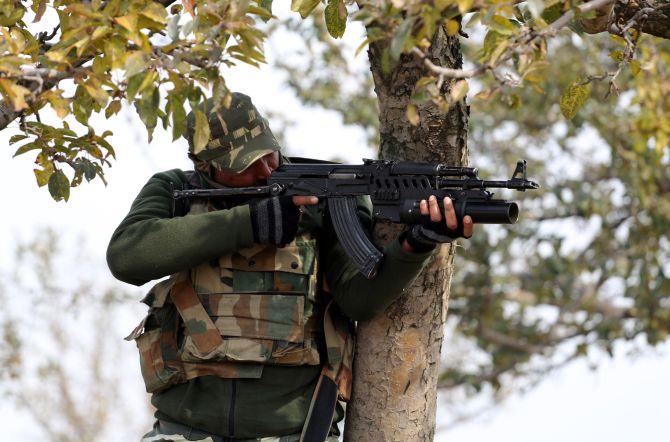 Three terrorists were killed in an encounter with security forces in Anantnag district of Jammu and Kashmir on Monday, the army said.
An anti-insurgency operation was launched in Hakura area of Anantnag district late Sunday night following information about the presence of terrorists in the area, an army official said.
He said three terrorists were killed in the pre-dawn encounter with security forces.
A police spokesman said two of the slain terrorists were identified as Eesa Fazli of Srinagar and Syed Owais of Kokernag in Anantnag.
The identity of the third terrorist was being ascertained.
"In the process, arms and ammunition which include AK 47 rifles, pistols, hand-grenades, etc. were recovered from the encounter site. There was no collateral damage during the operation, "the spokesman said.
He said one of the slain terrorists was involved in a recent attack on a police guard post at Soura in the city, in which one police constable had been killed.
Meanwhile, authorities ordered closure of schools and other educational institutions as a precautionary measure.
A senior official of the administration said the schools and colleges have been closed to maintain law and order.
Kashmir University has suspended classes for the day and postponed examinations as well.
A spokesperson of the university said the revised date for examinations scheduled for Monday will be announced later.