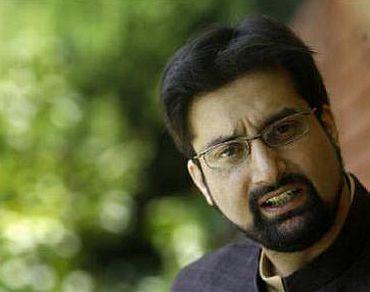 All Party Hurriyat Conference Chairman Mirwaiz Umar Farooq has claimed that he was placed under house arrest minutes after his meeting with the all-party delegation at his residence in downtown Srinagar.

Speaking to rediff.com in Srinagar, Mirwaiz said, "Minutes after the Communist Party of India leader Gurudas Dasgupta and others left, I was told by my personal security personnel that I have again been placed under house arrest."
 
Mirwaiz also claimed that the APHC was the first to condemn burning of Tindale Biscoe school, run by missionaries in Tanmarg en route to Gulmarg from Srinagar on September 13 in protest against the call to burn the Holy Quran issued by a Bishop in the United States.

Incidentally, the place where the school came up belongs to National Conference chief Dr Farooq Abdullah's sister. Dr Abdullah is also closely associated with the school.

Speaking to rediff.com, C M Khanna, part of the delegation of the school that called on the All Party delegation comprising Bharatiya Janata Party leaders Sushma Swaraj, Arun Jaitley, CPM leader Sitaram Yechuri and also Farooq Abdullah, said that three days before the school was burnt they had met the Governor as well as Chief Minister Omar Abdullah and told them that their property was under threat and that they should take adequate measures to prevent mob from setting the school on fire.
"Unfortunately, no one came forward to help and hence we met the parliamentary delegation and placed our viewpoint before them. Though missionaries have been running such institutions since late 1800 but till date we were not harmed. The burnt building came up only 16 years ago," Khanna said.
When questioned about the burning of the school by so-called peaceful demonstrations, Mirwaiz alleged that a National Conference leader led the mob that burnt the school.
"We want independent probe into the burning of the school and also the buildings burnt in Srinagar on the Eid day," Mirwaiz said.
When asked why was he and other separatist leaders are not allowing normal business in the Valley and continue insisting peace instead of helping in bringing the Valley back to normal situation, Mirwaiz said: "We have seen in the past, whenever normalcy is restored the Indian government becomes complacent."
Meanwhile Yechuri denied media reports that Sayeed Ali Shah Geelani insisted on giving the Valley to Pakistan.
"During my conversation with him, he never mentioned this. He was talking about Azadi all the time. I told him that all that needs to happen would happen in due course of time and within the framework of the Indian Constitution. The Parliament had, in 1994, passed a resolution unanimously saying that Jammu and Kashmir is an integral part of India. I am visiting hospitals to meet the people. Omar would meet the all-party delegation in the evening (Tuesday) in Jammu to place his point of view before the delegation," Yechuri told rediff.com from Srinagar on phone.
Image: All Party Hurriyat Conference Chairman Mirwaiz Umar Farooq
Photograph: Reuters