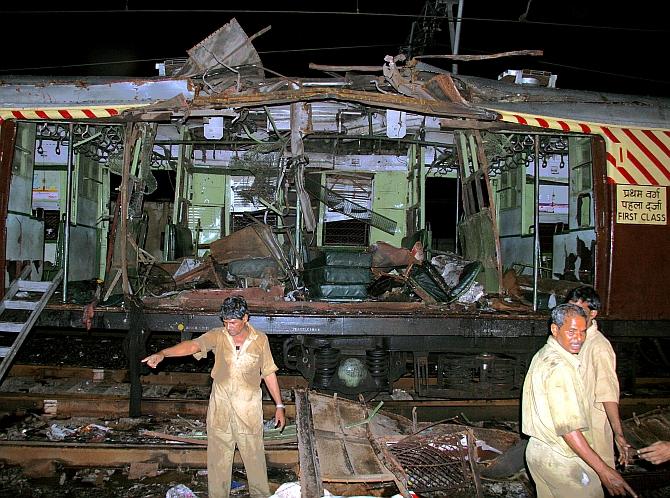 'The police wasted nine years of his precious life. Who will compensate him now?' a relative of Abdul Wahid Shaikh, the only person acquitted in the 2006 Mumbai train blasts case, asks Syed Firdaus Ashraf/Rediff.com
A thumbs-up sign by Abdul Wahid Shaikh from a distance was enough to bring a smile on his brother-in-law's face.
Nine years after seven bombs on Mumbai suburban trains exploded killing 189 people, a Maharashtra Control of Organised Crime Act, MCOCA, court on Friday, September 11, convicted 12 men in the serial blasts case.
Shaikh was the only one of the 13 accused to be acquitted.
He was at one end of the sessions court building -- his brother-in-law (who refused to reveal his identity) was at the other -- 25 feet apart. There was no other way the two men could communicate because the accused were not allowed to meet their relatives.
"I feel happy for Wahid. At last he has been proven innocent after nine years," the brother-in-law said.
"Where was the media for the last nine years?" Shaikh's wife, clad in a burqa, screamed at the media after the verdict. "You never came to ask us and accused us wrongly in the blast case."
Shaikh was accused of sheltering another accused Ehtesham Siddiqui and was subsequently arrested by the Anti-Terrorism Squad.
"We knew from day one that he was innocent. He was framed for no reason," the brother-in-law added.
"He was tortured by the police and his statement was taken forcefully," he said, adding, "The police said he sheltered Ehtesham but had no proof and no witness."
Siddiqui was convicted under Section 302 of the Indian Penal Code and various other sections; he was also convicted under Section 3 (4) of the Maharashtra Control of Organised Crime Act.
"We are a joint family. We meet each other every day. We knew details about his (Shaikh's) everyday movements. So how can they say that he was involved?" the brother-in-law asked.
Sajid Ansari, the brother-in-law's brother, was convicted in the case.
"Sajid is my younger brother and he was accused of bomb making. If you check Sajid's call records, you will find that there is no way that he could have been anywhere near the blast sites or the places where the police claimed in their chargesheet," he said.
Asked if he was confident before the judgment if Ansari and Shaikh would be acquitted, he said, "I had 50:50 hopes for Sajid, but I was very sure about Wahid. The police wasted nine years of his precious life. Who will compensate him now?"
He said he would now approach the Mumbai high court to appeal against his brother's conviction.
IMAGE: A Mumbai suburban train damaged by a blast in this photograph taken on July 11, 2006. Photograph: Prashanth Vishwanathan/Reuters