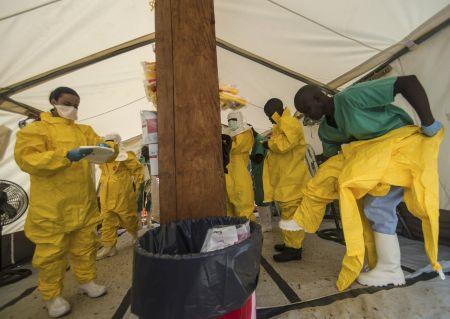 The deadly Ebola virus that has claimed 932 lives so far is now closer to home than imagined. Union Health Minister on Wedensday in a letter to Parliament said that a total of 44,700 Indians are living in different countries affected by Ebola.
Vardhan added that India is ready and has prepared all measures to deal with any case of the virus imported to India. He also announced that the government had asked people to defer non-essential travel to Ebola-affected regions.
"In view of the reports of outbreak of the Ebola virus disease in 4 countries of West Africa, namely, Guinea, Liberia, Sierra Leone and Nigeria, it is recommended that non-essential travel to these countries be deferred till such time that the Ebola virus disease outbreak situation is brought under control," he said.
He also assured the Parliament that the country was ready to deal with the virus, in case it was imported to the country. "Even though there is no vaccine or curative therapy yet for the disease, I want to apprise this house that outbreaks can be contained through early detection and isolation of cases, contact tracing and monitoring, and following rigorous procedures for infection control, if such cases were to report in our country," he added.
Vardhan added that in light of the disease spreading and claiming lives, mandatory self-reporting by passengers coming from or transiting through the affected countries would be required at the time of immigration check.
Explaining further about the disease and the danger it poses to Indians, the Health Minister said that of the 44,700 who were at threat, 300 are troops from the Central Reserve Police Force deployed in Liberia for UN peacekeeping operations.
He further said that the Armed Forces would be taking action to suitably advise their personnel in the affected region for appropriate health precautions and to apprise them about reducing the risk of contracting this infection.
The Ebola disease is dangerous and the World Health Organisation has reported 1,603 cases and 887 deaths till August 4 in four countries -- Guinea (485 and 358), Liberia (468 and 255), Sierra Leone (646 and 273) and Nigeria (4 and 1).
Image: Medical staff working with Medecins sans Frontieres put on their protective gear before entering an isolation area at the MSF Ebola treatment centre in Kailahun, Sierra Leone. Photograph: Tommy Trenchard/Reuters
Read: Here's what you MUST know about the deadly Ebola virus