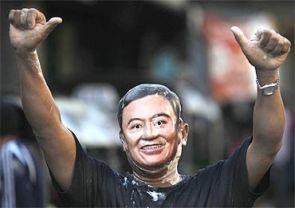 Thailand's powerful army has challenged fugitive former premier Thaksin Shinawatra to return and fight the legal charges against him, even as the military refuted reports that last month's coup was planned in advance to rid the country of the Shinawatra clan's influence.
"We would like to see him come back and fight the legal charges against him. If he is confident he can win, then he will be able to return to politics," said Gen Chatchalerm Chalermsukh, who is army deputy chief of staff and a member of the National Council for Peace and Order that now governs Thailand.
He told BBC that Thaksin, who lives in self-imposed exile in Dubai to avoid prison for a corruption conviction, and his family could still return to Thai politics.
"Everyone who is Thai and is qualified can take part in that election - even the family of Thaksin Shinawatra.
"You will see the way we run things -- we are not hunting Thaksin, as we did before. He is free to do anything," the general said.
He also refuted claims by Suthep Thaugsuban, the leader of mass protests which crippled the government of Yingluck Shinawatra, that he discussed overthrowing the government with Gen Prayuth many times in recent years.
"So far as I know there was no advanced planning," the Gen told BBC in an interview, adding "If it were planned that would be illegitimate."
If you are wondering why this happened so smoothly, that was because forces were already deployed in the city (Bangkok). So when we declared martial law, there were already joint military and police forces in place in the area," he said.
The military seized power on May 22, saying it wanted to return stability to Thailand after months of political and social unrest. It has promised a return to democracy, but only after it has carried out sweeping reforms of the political system.
Since the coup, several people have been detained in an apparent crackdown on dissent by the junta.
But Gen Chatchalerm said the places where they were being held were like "guest-houses."
He also suggested that the military would be lenient in pressing charges against those who have been arrested.
Supporters of the coup alleged that the ousted government of Yingluck Shinawatra was controlled by her brother Thaksin, who was prime minister until his removal by the military in 2006.
The Shinawatra family enjoys strong support in rural and northern areas, leading to their successive election wins.
The powerful family has varied business interests including in telecom and realty sectors. Thaksin founded Advanced Info Service, Thailand's most successful mobile phone operator in 1986.
Image: A Red Shirt supporter wears a Thaksin Shinawatra mask during protests in Bangkok Photographs: Caren Firouz/Reuters