How much is a vote worth? In Telangana, it seems the going price for a vote in the Legislative Council elections is Rs 5 crore.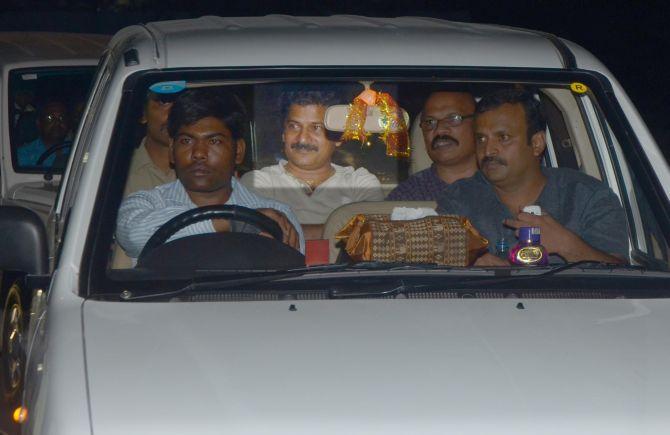 TDP MLA Revanth Reddy (seated in the middle in the backseat) had offered MLA Elvis Stephenson Rs 5 crore -- Rs 50 lakh before the vote and the rest after the voting was done. Photograph: SnapsIndia
Telugu Desam Party Telangana MLA Revanth Reddy, who was caught while allegedly trying to give bribe to a nominated MLA to vote for his party's nominee in Monday's Telangana legislative council polls, has been sent to 14-day judicial custody.
The court allowed Reddy to cast his vote in the polls.
Anti-Corruption Bureau Director General A K Khan said that Reddy and two others were sent to 14-days judicial custody.
"Reventh Reddy was allowed by the court to cast his vote in the MLC elections today," the ACB Chief said.
Election to the Telangana legislative council under the MLAs' quota from the assembly constituency is underway to fill up six vacant seats.
Earlier, Reddy, Sebastian Harry and Uday Simha were taken into custody by the ACB. After interrogation, they were officially arrested and produced before the residence of a magistrate on Monday morning after which they were remanded to judicial custody.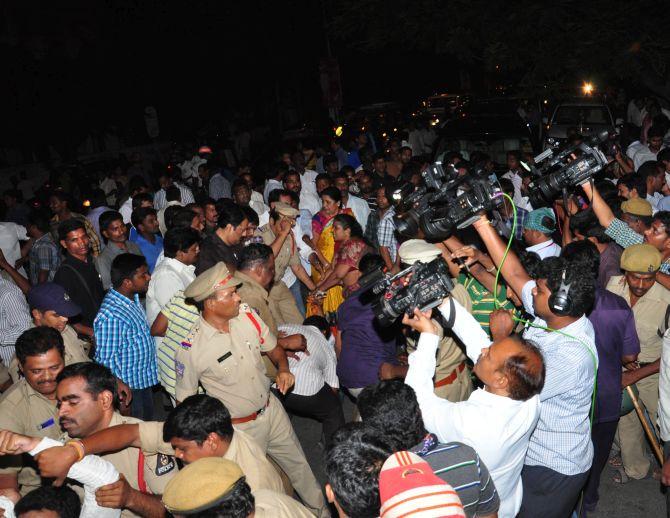 TDP activists protested the charge, saying Reddy was framed. Photograph: SnapsIndia
Based on a complaint by nominated MLA Elvis Stephenson, ACB officials took Reddy and two others into custody on Sunday night after they were caught allegedly handing over Rs 50 lakh as bribe to the nominated MLA.
"Revanth Reddy and his aide allegedly offered a bribe of Rs 50 lakh as advance, as part of the Rs 5 crore deal.
The TDP MLA and his aide had gone to the residence of Stephenson at Lalaguda in Secunderabad on Sunday to allegedly hand over the cash when ACB sleuths caught them offering the bribe, Khan had earlier said.
"After the voting, the remaining Rs 4.5 crore was to be paid," the ACB officer said.
After a preliminary probe, a case was registered on Sunday and MLA Reddy and two others were caught while allegedly handing over the cash.
An FIR has been registered against them under Section 12 of the Prevention of Corruption Act and 120-B (criminal conspiracy) of IPC, the ACB officer said.
"Cash worth Rs 50 lakh was also recovered and as per a preliminary probe it was an advance amount, as part of the bribe deal. We have audiovisual evidence about the alleged deal. It is a cognisable and non-bailable offence. Efforts are on to nab another accused M Jerusalem," Khan said.
As per the purported footage of the conversation between Reddy and Stephenson about the deal, which was aired by news channels, Stephenson asked Reddy, "Four and half what?"
Reddy replied, "Four and half crore. Total Rs 5 crore which is what you asked. I convinced my boss".
According to the footage, Reddy also promised take "care" of Stephenson if anything went "wrong".
The Telangana legislative assembly speaker and Telangana election commissioner have been informed of the ACB action.