With the Supreme Court reinforcing its stay on jallikattu, the state BJP hopes it can persuade its party leadership to bring in an ordinance.
But this is a path filled with risk, reports R Ramasubramanian.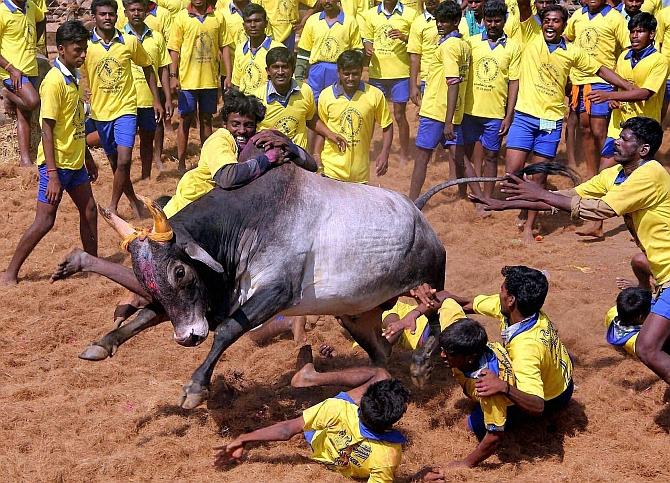 Refusing to back down following the January 12 Supreme Court stay on jallikattu, political parties in Tamil Nadu are demanding that the Centre issue an ordinance paving way for the sport during this Pongal season, which begins on Thursday with Bogi.
Jallikattu is part of the four-day Pongal festival in some parts of Tamil Nadu and there was no jallikattu in the state during the 2015 Pongal season. But this year is different, simply because the state is going to the assembly polls this April-May and one can easily understand the anxiety of the political parties to score points.
The state unit of the Bharatiya Janata Party, in power at the Centre, is in the forefront of making lavish promises that they will conduct jallikattu by hook or crook this year. It is learnt that enormous pressure exerted by the state unit, especially by Union minister of state for heavy industries and the lone BJP MP from the state, Pon Radhakrishnan, in the Uunion Council, forced the ministry of environment to issue a notification freeing bulls from restrictions. But with the apex court refusing to yield, the ball is once again back in the court of political parties.
Hours after the SC reinforced its stay, Chief Minister J Jayalalithaa wrote to Prime Minister Narendra Modi urging him to immediately promulgate an ordinance in this regard. Since this is election year, the chorus was joined by every political party in the state. DMK president M Karunanidhi, an astute politician famous for laying elaborate traps for his opponents, went one step further. He said the state government itself can bring in an ordinance in this regard and cited former Supreme Court judge Markandaya Katju who had tweeted to the effect.
But the best performance award in this drama undoubtedly goes to the state unit of the BJP. A party which commands just around two per cent of votes wants to position itself as a major player and so usurps every issue which it thinks will fetch votes. Though jallikattu is practised in only three districts -- Madurai, Ramanathapuram and Sivaganga -- the BJP thinks it can enrich its vote share by bringing back the sport and appearing as a saviour of Tamil pride.
Despite the legal setback, the BJP is keeping a brave face and a delegation is visiting New Delhi on Thursday to find a way out. "We are spending each minute in thinking about bringing back jallikattu. I am leading a six-member delegation to New Delhi tomorrow to meet BJP president Amit Shah and Environment Minister Prakash Javadekar to find a way to conduct jallikattu this year itself," Dr Tamilisai Soundarajan, state BJP president, told the media on Wednesday.
However, a tiny section within the TN unit is saddened by the over-emphasis on the sport and feels that the whole strategy is directionless. "I am at a loss to understand why the party is giving so much importance to this non-issue. Even if jallikattu is conducted, the area of influence for this sport is a small one. Since the voting pattern is a dedicated one for ages in the state, what vote share is it going to bring for the party? Putting all its eggs in one basket will boomerang," says a BJP leader with adequate knowledge of the whole issue.
Jallikattu is basically a sport practised by the dominant castes and Dalits are generally not allowed to participate in it, and neither are their bulls, and this is the general norm.
Just a year ago, Amit Shah was brought to Madurai to address a meeting of Devandra Kula Vellalars (a Scheduled Caste community). Later, a group of men belonging to this community were taken to New Delhi to meet Prime Minister Modi at his residence. This group wanted their community to be removed from the SC list because they claim that they are in fact a well developed caste and maintaining them in the SC list is an insult to them.
In fact, Dr S Krishnasami, MLA and leader of Puthiya Tamizhagam, a Dalit political party mainly consisting of Devendra Kula Vellalars, is openly opposing the revival of jallikattu. He is the only politician who has openly opposed the revival of jallikattu in the state. Naturally, the extra-emphasis on jallikattu by the state BJP is puzzling some of its own cadres.
"On the one hand you are wooing Devandra Kula Vellalars and on the other hand you are putting all your energy in reviving jallikattu. This shows the party is totally directionless in the state," says a BJP leader who did not want to be named.
Now the clamour for an ordinance to overturn the court order is growing on an hourly basis. On Wednesday afternoon Pattali Makkal Katchi founder Dr S Ramadoss urged Chief Minister Jayalalithaa to lead a delegation to New Delhi and meet the prime minister for a speedy solution. But the seasoned opinion among those in the know of things is that an ordinance is highly unlikely.
"I don't think the Modi government will promulgate an ordinance. The Modi government's experiments with ordinance are bitter. Look at the appointment of Principle Secretary to the PM, Nripendra Mishra. An ordinance was brought in to change rules to accommodate him because of his TRAI appointment. In fact, the Modi government's innings started with issuing ordinances and this created a huge controversy at that time itself. Then came the land ordinance. After the President expressed his displeasure at one point of time, the Modi government decided to stop this practice.
"But this issue is much more complicated. When the Supreme Court has openly revealed its mind, if you bring in an ordinance against it it will amount to a direct confrontation with the Supreme Court. An ordinance when it overrides a Supreme Court judgment may lead to a constitutional crisis," says M G Deivasahayam, retired chief secretary of Haryana and a former IAS officer.
Meanwhile, in Alanganallur, Palamedu and Avanipuram areas in Madurai, where preparations were in full swing till Tuesday afternoon to conduct jallikattu, shops shut down and people went on a fast to protest the ban. Fortunately, except for a few stray incidents, there were no major untoward happenings till Wednesday evening.
Since jallikattu is confined to just three districts, the furore over the issue has not touched the rest of the state in spite of political parties attempting to pitch it as a matter of 'Tamil' pride.
Image: A file photograph of bull-tamers trying to control a bull during jallikattu in Palamedu, Tamil Nadu. Photograph: PTI Photo.