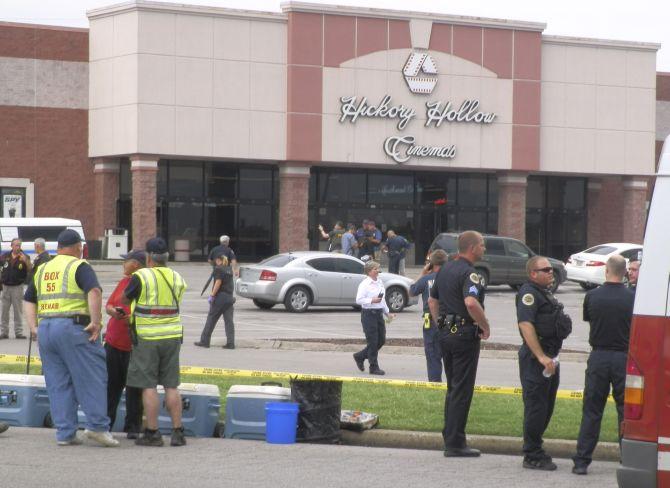 A man armed with a gun, a hatchet and pepper spray was shot dead inside a Tennessee movie theatre on Wednesday after police traded gunfire with the suspect.
Nashville police told the media that one moviegoer suffered a minor cut on a shoulder from a hatchet before the police shot dead the 51-year-old suspect as he tried to go out the back door.
The wounded man had a superficial injury to his arm.
The victim told the media that the police did a "phenomenal job" in responding to the calls for help.
He was one of eight people in the theater, and one of three who was pepper sprayed by the assailant. He said his daughter was also sprayed.
No one has been transported to a hospital, Haas said, but Steven, his daughter and another woman suffered irritation from pepper spray apparently used by the suspect, who was wearing a surgical mask.
The suspect also had two backpacks with him. The bomb squad destroyed one backpack that contained a "hoax device".
Image: Emergency workers gather outside of a Nashville-area theater where a gunman wearing a surgical mask opened fire at a showing of the movie "Mad Max: Fury Road" . The gunman was fatally shot by police and three people in the theater suffered minor injuries after the suspect sprayed a substance thought to be pepper spray. Photograph: Tim Ghianni/ Reuters